TURKEY SHOOTS DOWN RUSSIAN FIGHTER JET
IN LATAKIA ESCALATING THE SYRIA CONFLICT
Tuesday 24 November - (BBC and other combined services) - The Turkish military have shot down a Russian military aircraft on the border with Syria.
Russia's Defence Ministry said an Su-24 had crashed on Syrian territory after being hit by fire from the ground, and that its pilots had managed to eject.
But Turkish military officials said Turkish F-16s had shot down the plane after repeatedly warning its pilots they were violating Turkish airspace.
Video footage showed the plane crashing into mountains in Latakia province.
Russia launched an air campaign to bolster Syrian President Bashar al-Assad's government in late September.
The Russian Defence Ministry confirmed on Tuesday morning that a Russian Su-24 had "crashed on Syrian territory, having been hit from the ground" while it was flying at an altitude of 6,000m (19,685ft).
"Efforts are being made to ascertain what happened to the pilots. According to preliminary reports, the pilots have managed to self-eject," the Ministry was quoted as saying by the Interfax news agency.
Latest updates on the escalating crisis on Gibrahayer Facebook : www.facebook.com/Gibrahayer
A feared incident - Jonathan Marcus, BBC defence correspondent
This is exactly the kind of incident that many have feared since Russia launched its air operations in Syria. The dangers of operating near to the Turkish border have been all too apparent. Turkish planes have already shot down at least one Syrian air force jet and possibly a helicopter as well.
Russia insists that its warplane did not violate Turkish air space and that "throughout its flight, the aircraft remained exclusively above Syrian territory", adding: "Objective monitoring data shows it."
However, Turkish military officials said its F-16s had fired on an unidentified military aircraft after warning it 10 times in the space of five minutes about violating Turkish airspace.
The Syrian Observatory for Human Rights, a UK-based monitoring group, said the warplane crashed in a mountainous area of Latakia province, where air strikes and fighting between rebels and Syrian government forces had been reported earlier on Tuesday.
Qatar-based Al Jazeera TV quoted an ethnic Turkmen rebel group as saying it had captured one of the Su-24's two pilots and were "looking for the other".
Russian aircraft have flown hundreds of sorties over northern Syria since September. Moscow says they have targeted only "terrorists", but activists say its strikes have mainly hit Western-backed rebel groups.
Turkey, a staunch critic of Mr Assad, has warned against violations of its airspace by Russian and Syrian aircraft.
Last month, Ankara said Turkish F-16s had intercepted a Russian jet that crossed its border and two Turkish jets had been harassed by an unidentified Mig-29.
Next event on the Gibrahayer calendar: Friday 27 November at 8:00 pm
HAIG UTIDJIAN AND CSO CONCLUDE CENTENNIAL
EVENTS WITH A SPECTACULAR CONCERT
INCLUDING WORKS BY GOMITAS
Gibrahayer e-magazine - Nicosia - The Cyprus Symphony Orchestra, in collaboration with the Armenian Genocide Centenary Committee of Cyprus, presented two concerts devoted to the 100th anniversary of the Armenian Genocide under Cypriot maestro Haig Utidjian.
The "IN MEMORIAM" concerts took place in Paphos Thursday 22 October 2015 at the Markidion Theatre and in Nicosia on Friday 23 October at Pallas Theatre at the Paphos Gate.
The Liturgy for Strings by Gomitas (1869-1935), arranged for strings by Zareh Sahakiants is Armenian music at its most intensely beautiful and poignant. It embodies traditional liturgical melodies transmitted and sanctified through devotion, over centuries. The contrapuntal elegy Metamorshosen for 23 solo strings by Gomitas' contemporary Richard Strauss (1864-1949) mourns the destruction brought by World War II, to which the Genocide itself was a precursor.
R E T U R N E D
14th CENTURY GOSPEL RETURNED
TO ARMENIAN CHURCH OF CYPRUS
AFTER A LONG LEGAL BATTLE
Gibrahayer e-magazine - Nicosia - A few months ago the Cilician Catholicosate filed a lawsuit in the Turkish Constitutional Court, demanding the return of its historic seat in Sis, Kozan district of Turkey's Adana province. The Cilician See's former headquarters, established in 1293, were confiscated by the Turkish government in 1921, at the culmination of the Armenian Genocide.
In Nicosia - Cyprus, the Armenian Church collected the fruits of another legal battle, that claimed and brought back the handwritten 14th century Gospel belonging to the Armenian Church of Cyprus that was stolen by some Turkish-Cypriots in 1963-1964.
www.facebook.com/media/set/?set=a.943686212341020.1073742232.185812434795072&type=3
Together with the Armenian Gospel, 34 treasures were returned to the Republic of Cyprus. Among the artifacts, 24 are Byzantine relics, as well as some prehistoric antiquities mainly from Ayios Epiktitos Church. The Byzantine relics include, three pairs of bema doors from the Monastery of Antiphonitis Christ, Virgin Mary Monastery in Kantara, wall paintings from the Monastery of Antiphonitis Christ, the church of Agia Solomoni in Koma tou Yialou and the Monastery of Panayia Apsinthiotissa in Sychari as well as a 17th century handwritten manuscript from the Monastery of the Panayia Trooditissa.
The battle to bring back thousands of stolen treasures from more than 500 Churches and Monasteries in Turkish-occupied north Cyprus continues...
PICTURE: Archbishop Nareg Alemezian standing next to the 14th century Gospel that was presented to the public at the Byzantine Museum on Tuesday 15 September 2015.
www.facebook.com/media/set/?set=a.943686212341020.1073742232.185812434795072&type=3
R E T U R N E D
CAMP ARMEN RETURNED
AFTER 175-DAY BATTLE
KOHAR REBORN IN BEIRUT
FOUR CONCERTS MARK THE BEGINNING OF THE
KOHAR ERA AFTER MAESTRO SEBOUH ABKARIAN
www.youtube.com/watch?v=CRqrcGoMzV0
Watch all the episodes of Conan in Armenia here: http://teamcoco.com/armenia
Watch all the episodes of Conan in Armenia here: http://teamcoco.com/armenia
TURKISH ARMED FORCES GENERAL PROMISES
"LIBERATION" OF "OCCUPIED" TERRITORIES
BAKU (AZERNEWS) - Chief of the General Staff of the Turkish Armed Forces, Army General Hulusi Akar, has said that Turkey will do its utmost for the "liberation" of "occupied Azerbaijani territories," local media reported on October 30.
Akar emphasized that Turkey and Azerbaijan are one nation and two states.
"Everything will be good. Be sure of that. Turkey will do its utmost," Akar said, commenting on a question on joint steps by Turkey and Azerbaijan for the liberation of Azerbaijani territory from Armenian "occupation."
Ankara has previously stated its demand for Armenia to immediately and unconditionally leave the region in view of restoring Azerbaijan's territorial integrity and internationally recognized borders. For that reason, the two countries regularly hold joint military exercises and strengthen their armed forces.
Commenting on Akar's remarks, Azerbaijan said that the military cooperation between Azerbaijan and Turkey is aimed at liberating Azerbaijan's occupied territories.
The Azerbaijani Defense Ministry told Trend News that such support comes from strong friendship and fraternal relations, as well as the traditional spirit of solidarity between the two countries that rely on their shared historical and moral values.
"Azerbaijani national leader Heydar Aliyev's famous slogan, 'One nation, two states,' signifies a national conception characterizing Azerbaijan-Turkey relations, and it's also indicative of the high-level bonds between the two countries in the political, economic, humanitarian, and military areas," the Ministry said.
The Defense Ministry noted that under the bilateral action plan that is signed annually between the military authorities of Azerbaijan and Turkey with the support of Presidents Ilham Aliyev and Recep Tayyip Erdogan, live fire drills carried out by the ground forces, air forces, and other types of troops, mutual visits of high-ranking military representatives as well as further expansion of cooperation in the military, military education and military technical areas, are taking places systematically.
It went on to add that high-level dialogue between the militaries of Azerbaijan and Turkey is held in order to coordinate strategic military opportunities.
"The soldiers and armies of both countries have supported each other in hard times and established justice after destroying the enemy by force of arms. As our ancestors gained victory over the enemy, our armed forces decently continue this honorable duty. The expansion of military cooperation between Azerbaijan and Turkey is aimed at liberating Azerbaijan's occupied territories and ensuring stability and peace in the region," the Ministry underlined.
Military cooperation between the two states dates back to 1992 when they signed an agreement on military education. Since then, the Azerbaijani and Turkish governments have been closely cooperating in both defense and security.
In December 2010, both countries signed a range of treaties provisioning for military assistance should either of them be attacked by a third party. Based on numerous agreements on joint military exercises as part of bilateral efforts towards military cooperation, the Azerbaijani and Turkish armed forces hold regular drills, featuring various tactical and combat tasks.
The joint tactical exercises entitled "TurAz Qartali-2015″ of the Azerbaijani and Turkish Armies were held in Azerbaijan in September. The exercises, which were conducted as part of an annual joint military plan, lasted until September 18.
Fix your Desktop / Laptop instantly for ONLY €30
Call Merouzh Mirzoyan on 99989889
News in Brief
► Paraguay's Senate passed a resolution recognizing and condemning the Armenian Genocide
► Armenia's Mika won second prize at Junior Eurovision 2015. Malta won this year's event.
► Azeris attacked the Armenian Art Pavilion at the Beijing Biennale
► Arda & the Stolen Moon "You're not you lately" www.youtube.com/watch?v=h7M7S0h8XQ0
► Oxford University's Bodleian Library is exhibiting (until February 2016) its collection of Armenian manuscripts. On display are more than 100 items spanning more than 2,000 years of history.
► In a recent poll 80% of minority Turks said they cannot openly express themselves on social media.
► Turkish supporters booed a minute's silence for Paris attack victims chanting "Allahu Akhbar" before an international friendly match last week.
► 600 Jihadists were killed in a Russian cruise missile strike launched from the Caspian Sea, towards the Armenian killing fields of Der Zor in Syria.
► 17-Year-Old Lola Ouzounian's death was confirmed as the only victim in the Paris Attacks.
► Arthur Abraham won a split decision over Martin Murray on Saturday night retaining the WBO super middleweight Boxing title.
►Oxford University's Bodleian Library is exhibiting its collection of Armenian manuscripts. The exhibit, "Armenia: Masterpieces from an Enduring Culture," will remain open until February 28, 2016. On display are more than 100 items spanning more than 2,000 years of history.
Gibrahayer Calender
► Friday 27 November 2015 at 8:00pm - Hamazkayin Cyprus presents a photographic exhibition by Talar Kouyoumdjian-Torossian, under the auspices of the Armenian Representative in Parliament Vartkes Mahdessian. Opening by the Hon. Mayor of Nicosia Constantinos Yiorkadjis.
► Saturday 28 November at 7:30 pm - ARF Dashnaktsoutiun's 125th Anniversary celebrations in Cyprus at NAREG School Hall with the participation of the Sourp Asdvadzadzin Church Choir, Hamazkayin's SIPAN and NANOR Dance Ensembles, Homenetmen AYMA's Scouts.
Dinner with singer Hovig Manoushian to follow at Homenetmen - AYMA after the commemoration. Sign up with Marine Tavitian on 99437612.
► Sunday 20 December - ARS Cyprus "Sosse" Chapter, Christmas Bazaar, at HMEM - AYMA.
► Friday, 25 December - Homenetmen - AYMA Dinner Dance at The Lemon Park.
► Friday, 1 January 2016 - Santa Claus will visit Homenetmen - AYMA.
► Sunday, 3 January 2016 at 8 pm - Hamazkayin's "Oshagan" Cyprus Chapter presents the theatrical satire "Baroniani Veratartse".
► Sunday 6 March 2016 - ARS Cyprus "Sosse" Chapter, Michink Lunch at 1:00pm at Homenetmen - AYMA.
► Saturday 2 April 7:00 pm - Sourp Asdvadzadzin Church Choir's Annual Concert at Pallas Theatre, Nicosia
► Saturday 19 March 2016 - ARS Cyprus "Sosse" Chapter, Easter Tea Party.
► Saturday 7 May 2016 - "SIPAN" Dance Ensemble and "NANOR" Junior Dance Group Annual Dance Performance - at Strovolos Municipal Theatre, Nicosia.
► Wednesday, 1 June 2016 - ARS Cyprus "Sosse" Chapter AGM.
ARMENIAN NATIONAL COMMITTEE
OF CYPRUS CONTINUES DIALOGUE
WITH CYPRIOT POLITICAL PARTIES
http://www.birlesikkibris.com/kibris-ermeni-ulusal-konseyi-birlesik-kibris-partisini-ziyaret-ederek-bkp-genel-baskani-izzet-izcan-ve-parti-yetkilileri-ile-gorusme-gerceklestirdi/
As part of the ongoing dialogue initiated by the Armenian National Committee of Cyprus with Greek-Cypriot and Turkish-Cypriot political parties, the President of the BKP United Cyprus Party Izzet Izcan (above) and his delegation met with Simon Aynedjian with whom they had an hour-long meeting at their party headquarters, while a delegation of the Armenian National Committee of Cyprus comprising of Varteni Kassabian and Simon Aynedjian, were welcomed at the headquarters of the Republican Turkish Party (CTP) and met with Foreign Affairs Secretary of Muhittin Özsagla Tolga, who was accompanied by academician Ali Dayioglu (below)
http://www.kibrispostasi.com/index.php/cat/35/news/174082/PageName/KIBRIS_HABERLERI
As part of the ongoing dialogue initiated by the Armenian National Committee of Cyprus, its members Hagop Manougian, Simon Aynedjian and Hagop Kazandjian met with leaders of Greek-Cypriot political parties meeting the Chairman of the Democratic Rally Party Averof Neophytou, Vice-Chairman of the Socialist EDEK Party Costis Evstathiou and the leader of the Democratic Party Nicolas Papadopoulos.
For more details visit the FB Page of The Armenian National Committee of Cyprus on
https://www.facebook.com/haytadcy
ORDER YOUR DVD (+357) 99-437073
or Online at http://goo.gl/OCV3qI
Theatrical performance in Armenian of the play "All rise, the court is in session" based on the trial of Soghomon Tehlirian. Written by Berj Zeytountsian. Directed by Harout Tahmazian. Presented by the "Timag" theatrical group of the Hamazkayin Cultural Association Cyprus "Oshagan" Chapter on Saturday, 18 April at 7:00pm at Pallas Hall as part of the events organised by the 100th anniversary commemoration committee.
ARMENIAN CHURCH IN TURKISH-OCCUPIED
NICOSIA WINS EUROPA NOSTRA AWARD 2015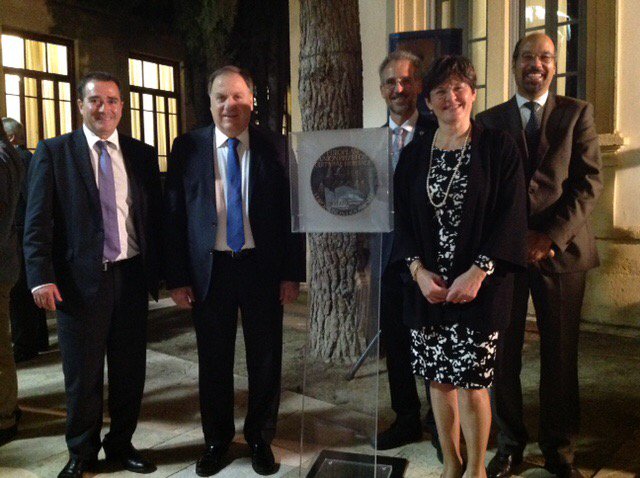 The outstanding conservation of the Armenian Church and Monastery in Nicosia, winner of a European Union Prize for Cultural Heritage / Europa Nostra Award 2015, considered Europe's highest honour in the field, was celebrated at a special ceremony at its premises.
George Markopouliotis, Head of the European Commission Representation in Cyprus, Sneška Quaedvlieg-Mihailović, Secretary General of Europa Nostra,Paolo Vitti, Architect responsible for the restoration project, Christopher Louise, from the United Nations Development Programme – Action for Cooperation & Trust in Cyprus (UNDP-ACT), and Kathleen Ann Doherty, US Ambassador to Cyprus, addressed the audience.
Vartkes Mahdessian, the Representative of the Armenian Community in the Cyprus House of Representatives joined the speakers in the inauguration of the Europa Nostra Award plaque."
Funding for the restoration work was provided by the United States Agency for International Development (USAID).
The event brought together experts from across the island as well as people keenly interested and committed to preserving Cyprus' cultural heritage. Androulla Vassiliou, former EU Commissioner for Culture (2010-2014), who made a major contribution to the development of an integrated approach for cultural heritage at the European level and co-hosted several award-giving ceremonies of the EU Prize for Cultural Heritage / Europa Nostra Award, was among the guests of honour.
Architect Paolo Vitti received the EU Prize for Cultural Heritage / Europa Nostra Award for the rehabilitation of the Armenian Church and Monastery in Nicosia at the European Heritage Awards Ceremony on 11 June 2015 at the City Hall of Oslo in Norway. Last month's special event marked the arrival of the Award in Cyprus.
The Armenian Church and Monastery are located in the Arab Ahmed neighbourhood in the Turkish-occupied northern part of Nicosia, one of the most historic and culturally diverse areas within the walled city. The architectural compound comprises three Armenian school buildings, the premises of the Armenian Prelature, an important historical mansion, courtyards and open‐air areas, all fenced by a boundary wall. The restoration of the Church aimed to preserve a masterpiece of gothic architecture that, since 1963, had suffered from neglect.
Despite several imperfect interventions over the years and its desperate condition at the onset of the project, the Church contained significant architectural and decorative elements from the original 14th century construction, including frescoes, carved bosses and capitals, tracery and metal elements belonging to the stained-glass, some of which were only discovered during the restoration. Using traditional materials and techniques and appropriate landscaping methods, the ancillary buildings and courtyard area have also been rebuilt and refurbished for appropriate use.
The project was begun in 2007 as part of a larger peace-building effort in Cyprus. It was designed both to restore one of the most noteworthy parts of the island's cultural heritage and to provide the Armenian, Greek-Cypriot and Turkish-Cypriot communities with the opportunity to work together with international experts to preserve their common heritage.
The Awards' Jury saw this project "as a definite success story, partly of conservation, with high quality research and meticulous conservation techniques, but also as an exercise in the even more challenging process of rebuilding a community. The architectural element is wonderful and precious, but so is the need to restore and develop the social cohesion of the community in the city."
The ceremony in Nicosia was organised by the European Commission Representation in Cyprus and Europa Nostra in collaboration with UNDP-Action for Cooperation and Trust.
AN AWARD FOR THE CENTENNIAL CYPRUS
COMMITTEE FROM PRESIDENT SARGSYAN
The Armenian Genocide Centenary Committee of Cyprus was amongst the organisations receiving a special certificate of appreciation for its organisation of the events in Cyprus. Sebouh Tavitian, representing the Cyprus Committee, collected the award from President Serzh Sargsyan.
REMEMBERING AYF CYPRUS CAMP 2015
https://www.facebook.com/media/set/?set=a.967314456644862.1073742241.185812434795072&type=3
more links from AYF Panagoum 2015
www.facebook.com/media/set/?set=a.941802312529410.1073742229.185812434795072&type=3
www.facebook.com/media/set/?set=a.939536522755989.1073742226.185812434795072&type=3
www.facebook.com/media/set/?set=a.938491049527203.1073742224.185812434795072&type=3
www.facebook.com/media/set/?set=a.937175372992104.1073742219.185812434795072&type=3
www.facebook.com/media/set/?set=a.935464409829867.1073742218.185812434795072&type=3
www.facebook.com/media/set/?set=a.933304233379218.1073742213.185812434795072&type=3
www.facebook.com/media/set/?set=a.933183500057958.1073742212.185812434795072&type=3
www.facebook.com/media/set/?set=a.932547460121562.1073742211.185812434795072&type=3
www.facebook.com/media/set/?set=a.928746590501649.1073742197.185812434795072&type=3
All Links on Gibrahayer Facebook at: https://www.facebook.com/Gibrahayer
HAY TAD BRIEFING
The Armenian National Committee of Cyprus organised a Hay Tad Briefing on Sunday 18 October 2015 by Kasbar Karabedian, President of the EUROPEAN ARMENIAN FEDERATION for JUSTICE & DEMOCRACY.
Links here: https://www.facebook.com/media/set/?set=a.467629956742621.1073741843.377191855786432&type=3
ON VIOLENCE AGAINST TURKISH CYPRIOTS:
Tuesday 17 November, 2015 - The Armenian National Committee of Cyprus condemns the recent acts of violence against our Turkish-Cypriot compatriots and call upon the Government of Cyprus to take a firm stance on racist acts, wherever they may come from. Armenians in Cyprus believe in the common goal to re-unite our homeland and are actively participating in building bridges with all communities on the island.
The exemplary good relations that Armenians in Cyprus have had with all communities on the island, should serve as an example for everyone striving for a border-free society that is the homeland for all its citizens, in which violence has no place.
At the same time we reiterate our support to the efforts of President Anastasiades and Turkish-Cypriot community leader Akinci to bring about a just and viable solution that will respect all the fundamental rights and freedoms of each citizen and which will put an end to the ongoing occupation of the Republic of Cyprus.
PRESIDENT SARGSYAN & CATHOLICOS KAREKIN
ATTEND CHARITY IN BUCKINGHAM PALACE
LONDON - Prince Charles of Wales hosted a charitable evening gala at Buckingham Palace in London on October 27, for the benefit of British-Armenian charitable projects, Assadour Guzelian reports for Public Radio of Armenia.
The gala was attended by President Serzh Sargsyan, His Holiness Karekin II Catholicos and Supreme Patriarch of All Armenians, and other representatives of Armenia and the Armenian community of Britain.
The evening began with a reception followed by a special concert by the world famous Mariinsky Theatre Orchestra from St. Petersburg, conducted by Maestro Valery Gergiev. The orchestra performed Debussy's Prelude a l'apres midi d'un faune, which Maestro Gergiev dedicated to the memory of Contessa Yoko Nagae Ceschina (5 April 1932 – 10 January 2015), a noted patroness of classical music.
Tchaikovsky's Rococo Variations was breathtakingly performed by the orchestra and young cellist Narek Hakhnazaryan, 1st Prize Gold Medal winner of the XIV International Tchaikovsky Competition 2011.
Accompanied by the orchestra, the Grand Prix winner of the XV International Tchaikovsky Competition 2015, Mongolian baritone Ariunbaatar Ganbaatar sang Tchaikovsky's Yeletsky's aria from Queen of Spades.
After Verdi's Overture to La Forza del Destino and Wagner's Prelude to Lohengrin, Act I, masterfully performed by the orchestra, the artistic part of the evening concluded.
In his speech, Dr. Armen Sarkissian thanked Prince Charles for his untiring efforts and dedication to both the saving of Dumfries House and Yerevan My Love projects. He also thanked everyone attending the gala for their generous donations.
Prince Charles expressed his gratitude to Dr. Sarkissian and all the benefactors, particularly Haik and Elza Didizian, and Vatche and Tamar Manoukian.
Yerevan My Love (YML) is a regeneration project dedicated to preserving architecturally significant buildings in Yerevan and, by adaptive reuse, to improve the life experience of disabled children, young people and disadvantaged families.
Following the successful charity events at Windsor Castle (2010), Buckingham Palace (2011) and in Yerevan (2013), Yerevan My Love has been working on restoring and revitalizing the oldest neighborhoods of the city.
The proceeds of this year's fundraising will be dedicated to helping Syrian Armenian children and their educational needs. Thousands of families have escaped the devastating war in Syria and have found refuge in Armenia. Beyond reconstruction, a key dimension of YML is social impact: to improve the education and life experience of children and young people, especially orphans and those who come from disadvantaged communities.
Dear Subscribers,
With this issue, we re-launch Gibrahayer e-magazine's circulation which had been suspended since April 2015.
Over the past 16 years, we have circulated our e-magazine through the donations of the very few, the enthusiastic contribution of volunteers and primarily, through the personal financial backing of the Editor.
Gibrahayer e-magazine has been circulating on a weekly basis for 16 years since 1999 bringing Armenian and Cyprus related news and community alerts to 32,000 subscribers, daily multiple updates reaching 50,000 - 100,000 weekly readers through its 7,500 Facebook friends and over 1,000,000 unique visitors on www.gibrahayer.com.
However, in these times of economic hardship, the above formula had not been working.
We are glad that a few of our subscribers have responded to our appeal and have assisted us kick-starting our publication yet again.
In order to continue sustaining what we consider ours, we all need to do our proportional little bit.
We appeal to you to preserve this media platform by sustaining it by a contribution towards its real costs so that our steady publication is not jeopardized in the future.

Simon Aynedjian – Editor – Gibrahayer e-magazine
You can make your PayPal transfer by clicking the button at the top of the page of www.gibrahayer.com by sending a text on 99437073 or by making a contribution at the following account:
The Bank of Cyprus - Account Number: 357010047760
IBAN: CY39002001950000357010047760 - SWIFT / BIC: BCYPCY2N

With thanks,
Simon Aynedjian - Editor - Gibrahayer E-Magazine.

Click here to make a contribution through PayPal
Your contributions:
► 100 euros - Anonymous
► 75 euros - Anonymous (Se.Dem)
► 50 euros - Anonymous
► 100 euros - Anonymous
► 500 dollars - Anonymous
The six Kardashians/Jenners photographed together
for the first time in four years for Cosmopolitan's
50th birthday for the November 2015 cover
AYF CAMP VIDEO CLIP IS A HIT
Click here to watch the AYF Camp video clip here: www.youtube.com/watch?v=QTbDwYkF1kY
UNIQUE EXHIBITION - EDGAR CHAHINE (1874-1947)
A unique exhibition of etchings took place at the Centre of Visual Arts and Research, 285, Hermes street, Nicosia, from 7th November till 17th November 2015 of the famous French/Armenian artist of the Belle Epoque Edgar Chahine (1874-1947).
The exhibition was opened by Androulla Vassiliou and was under the auspices of the Armenian representative Vartkes Mahdessian. The opening ceremony was attended by foreign diplomats, His Eminence Archbishop Nareg Alemezian and Greek, Turkish and Armenian Cypriot art lovers."
The exhibition featured about 50 works on paper. In addition it was supported by the collector's limited edition books by Anatole France, Colette, Joris K. Huysmans, Gustave Flaubert, Maurice Barres, Octave Mirbeau, Paul Verlaine and Charles Baudelaire, all major authors of considerable caliber, illustrated by the artist.
www.facebook.com/media/set/?set=a.971219299587711.1073742245.185812434795072&type=3
Chahine was born in Vienna to Armenian parents. He spent his youth in Constantinople where he received his initial education. He then went on to study in Venice at the Catholic Mekhitarist school of Murat-Rafaelian. After graduating he attended the Accademia di Belle Arti where he studied under Antonio Paoletti and Antonio dal Zotto. In 1895 he moved to Paris where he attended the Academie Julian.
Chahine's success was astonishingly rapid. He was awarded the gold medal for his work at the 1900 Exposition Universelle de Paris. In 1903, he received another gold medal for graphics at the 5th Esposizione in Venice, which later became known as the Venice Biennale. The same year he was also elected an associate of the Royal Society of Painter-Etchers and Engravers in London. In 1904 he was inducted as a member of the Societe Nationale des Beaux-Arts. He was also the youngest member of the group that revived engraving techniques in France, at the end of the 19th and beginning of the 20th century, better known as "The Etching Revival". These honors occurred when Chahine was still in his twenties, an unusually young age for such memberships.
In 1932 the French government honored him with the "Legion d'Honneur".
His works have been exhibited in many famous museums and galleries like The Hermitage in St. Petersburg, Musee Carnavalet and the Bibiotheque Nationale in Paris, The Smithsonian in Washington, The Royal Library in Stockholm to name a few.
He continued to produce works until his death in 1947.
Click on the link below for images from the opening.
www.facebook.com/media/set/?set=a.971219299587711.1073742245.185812434795072&type=3
206 PREVIOUSLY UNPUBLISHED IMAGES OF THE
CENTENNIAL ANNIVERSARY MARCH IN NICOSIA
www.facebook.com/media/set/?set=a.896946827014959.1073742180.185812434795072&type=3
www.facebook.com/media/set/?set=a.896946827014959.1073742180.185812434795072&type=3
www.facebook.com/media/set/?set=a.896946827014959.1073742180.185812434795072&type=3
HOMENETMEN AYMA BOWLING TEAM SUCCESSES
KOKO KELESHIAN TAKES OVER
SIPAN & NANOR DANCE ENSEMBLES
ETHIOPIAN COFFEE NOW IN CYPRUS
SUPPORT THE ARTSAKH PEACE PROCESS
The Artsakh State Lottery is being circulated in Cyprus. We urge our compatriots to support Nagorno-Karabakh Republic's effort to build a peaceful and secure country, once deprived of justice and freedom.
You can contact Sarhad Demirdjian on 95119510 to support the peace process.
Have you been following our stars on TV?
www.youtube.com/watch?v=2brYHyV57BM