ISLAMIC STATE DESTROYS ARMENIAN GENOCIDE MEMORIAL CHURCH IN DER ZOR
Islamic State (IS) has destroyed the Armenian Genocide Memorial Church in Der Zor, Syria - considered the Auschwitz of the Armenian Genocide. The first photos of Armenian Genocide Memorial Church in Der Zor blown up by IS emerged on Sept. 24.
Armenia's Foreign Minister Edward Nalbandian issued a statement condemning the destruction of the church, which housed the remains of victims of the Armenian Genocide, calling it a "horrible barbarity."
Nalbandian called on the international community to cut the Islamic State's sources of supply, support, and financing, and eradicate what it referred to as a disease that "threatened civilized mankind."
The church was built in 1989-90, and consecrated a year later. A Genocide memorial and a museum housing remains of the victims of the Genocide was also built in the church compound.
Thousands of Armenians from Syria and neighboring countries gathered at the memorial every year on April 24 to commemorate the Genocide.
Hundreds of thousands of Armenians perished in Der Zor and the surrounding desert during the Genocide. In the summer of 1916 alone, more than 200,000 Armenians, mostly women and children, were brutally massacred by Ottoman Turkish gendarmes and bands from the region.
if history repeats itself and the unexpected always happens, how incapable must Man be of learning from experience.
George Bernard Shaw
TURKEY ACCUSED OF COLLUDING WITH ISIS FOLLOWING SURPRISE RELEASE OF 49 TURKISH HOSTAGES
With Turkish President Erdogan refusing to explain why ISIS decided to release 49 of the country's diplomats, suspicions are growing about Ankara's murky relationship with the self-styled caliphate.
The Independent - Mystery surrounds the surprise release of 49 Turkish diplomats and their families held captive for three months by Isis. The Turkish government is denying any deal with the hostage-takers, making it unclear why Isis, notorious for its cruelty and ruthlessness, should hand over its Turkish prisoners on Saturday without a quid pro quo.
Hailed in Ankara as a triumph for Turkey, the freeing of the diplomats seized when Mosul fell to Isis on 10 June raises fresh questions about the relationship between the Turkish government and Isis. The Turkish President Recep Tayyip Erdogan says the release is the result of a covert operation by Turkish intelligence that must remain a secret.
He added on Sunday that "there are things we cannot talk about. To run the state is not like running a grocery store. We have to protect our sensitive issues; if you don't there would be a price to pay." Turkey denies that a ransom was paid or promises made to Isis.
The freeing of the hostages comes at the same moment as 70,000 Syrian Kurds have fled across the border into Turkey to escape an Isis offensive against the enclave of Kobani, also known as Ayn al-Arab, which has seen the capture of many villages.
The assault on Kobani is energising Kurds throughout the region with 3,000 fighters from the Kurdistan Workers' Party (PKK) based in Iraq's Qandil mountains reported to be crossing from Iraq into Syria and heading for Kobani.
THE TIME HAS COME FOR THE US
TO RECONSIDER ITS REGIONAL ALLIES
24 September - The Jerusalem Post - Ankara's flirtation with the Muslim Brotherhood and other jihadist outfits long ago turned into a sour disposition toward Israel. Is Turkey now showing its true colors to the rest of the world as well? Of late Turkey has gone beyond an uncooperative stance vis-à-vis the Islamic State strongholds in Syria and Iraq. Evidence is mounting that Ankara is double- dealing. While posturing as an ally of the West, it offers succor to the very forces the West is out to destroy.
In his heart of hearts, public proclamations notwithstanding, US President Barak Obama must be deeply disappointed by the anti-Islamic State coalition he stitched together. Most of his supposed allies are friends in name only, since they made it clear that they will not employ force against the terrorists. Though they might cheer America on, they will do little more than make the noises expected of them, while continuing to pursue their own narrow interests.
Turkey is the biggest disappointment of the lot. It refuses to make even a pro forma allegiance to the coalition's loosely phrased goals. This is most serious because Turkey has long borders with Iraq and Syria, making it a key player in any scenario.
But Ankara opted to do more than remain demonstratively inactive. It is actively throwing spanners in the coalition's works.
Glaringly, Turkey has prohibited American reconnaissance and bombing sorties against jihadist concentrations from the 60-year-old US air base at Incirlik, about 100 km. north of the Syrian border. Turkey, it needs be stressed, is a NATO member and was formerly a staunch ally of the US.
This looks like a rerun of the Turkish refusal to allow any air strikes from its territory in the Second Gulf War against Saddam Hussein's Iraq. But it still gets worse – lot worse – than noncooperation.
Not only is the Turkey of President Recep Tayyip Erdogan obstructing the fight against Islamic State, it appears to aid and abet the very fanatics Obama and his coalition have vowed to take out.
Reports are rife that Turkey helps Islamic State stay prosperous and self-sufficient. Much of the terrorist group's wealth comes from the sale of oil pumped from 10 oil fields and refineries – mostly in Iraq – that it has seized. This nets Islamic State around $2 million a day.
It may be peanuts for the potentates of the oil-glutted Arabian Peninsula, but it is a sweet set-up for rogue militias that can use the money to bankroll their warriors and spread their influence.
It is an open secret that this oil makes its way from Iraq to Turkey, where black-market transactions take place in unabashed defiance of Washington's ban.
Erdogan has shown little inclination to sever the trade conduit or disrupt the unconcealed flow of manpower and weaponry from Turkey into Islamic State-held portions of Syria and Iraq.
All this rings familiar to anyone who kept tabs on the broad violations of commercial sanctions on Iran over recent years. Turkey always loomed large among the offenders – right up there with pseudo sanction-backers such as China and Russia and radical regimes in South America. Iranian oil somehow flowed to Turkey despite international embargoes.
While in the past Erdogan denied knowledge of the use of Turkey as a transit point for goods and troops to Islamic State, word now is that he denies that Ankara can in any way control any of the cross-border shenanigans.
Relations between Turkey and the al-Qaeda affiliate in Syria, Jabhat al-Nusra, are especially chummy.
In Obama's effort to reorient American diplomacy toward an Islamic bloc, he visited Ankara and Istanbul in April 2009 and, heaping effusive praise, upheld the Turks not solely as strategic partners, but as model Muslims. After the advent of the "Arab Spring," Turkey featured in Obama's rhetoric as an example of "Islamic democracy" that others ought to emulate.
The time has come for Washington to reconsider who its real regional allies are.
RAF TORNADO JETS MASSING IN CYPRUS AND WAITING
FOR ORDERS TO ATTACK ISLAMIC STATE TARGETS
Gibrahayer e-magazine - Saturday 27 September - On Friday The House of Commons voted to allow British jets to join attacks by the US-led coalition against Islamic State targets in Iraq.
The launch pad of the attacks – that are expected to begin in hours rather than days - will be the British Base in Akrotiri – Cyprus.
The Tornado crews in RAF Akrotiri have expected the call to arms for the last month, and have been building up a bank of knowledge about the terrain they will be targeting on reconnaissance flights.
Some of Britain's 10 Tornado and Typhoon female pilots could be involved in strikes against ground targets. Britain has bought 20, million-pound Tomahawk missiles which could be fired at Islamic State targets from UK submarines. British papers on Saturday said that Royal Navy hunter-killer nuclear submarine carrying Tomahawks, is already in place in the region awaiting target co-ordinates for attack.
ARMENIAN PRESIDENT ADDRESSES
69th SESSION OF THE UNITED NATIONS
RFE/RL September 24, 2014
Addressing the UN General Assembly, Armenian President Serzh Sargsyan has criticized Baku for preventing a resolution of the dispute over Azerbaijan's breakaway Nagorno-Karabakh region.
Tensions have recently flared up again in the de facto independent region, with fighting between Azerbaijani soldiers and pro-Armenian fighters from Karabakh.
In his September 24 speech, Sargsyan also thanked countries from around the world that have recognized the Genocide of Armenians by Ottoman forces during World War I as Genocide.
Sargsyan also urged the international community to protect Armenians in war-torn Syria.

View the address of the Armenian President here
SIMON AYNEDJIAN AWARDED
"MOVSES KHORENATSI" MEDAL
BY PRESIDENT SERZH SARGSYAN
CATHOLICOSSATE OF CILICIA TO SUE TURKEY OVER HISTORIC HEADQUARTERS OF SIS
YEREVAN (A.W.) Catholicos Aram I of the Great House of Cilicia of the Armenian Apostolic Church said the Holy See was preparing to initiate legal claims against Turkey to regain ownership of the historic headquarters of the Catholicosate of Sis.
"The Armenian Catholicosate of the Great House of Cilicia will soon present its legal claims to Turkey's Constitutional Court, demanding the return of its historic seat, the Sis Catholicosate, to its rightful owners - the Armenian Church and the Armenian people," said His Holiness.
Aram I's message was delivered before attendees of the fifth Armenia-Diaspora Pan-Armenian meeting at the Yerevan Opera House on Sept. 19, organized and hosted by Armenia's Ministry of the Diaspora.
HRANT DINK INTERNATIONAL AWARD
The 2014 International Hrant Dink Award was presented to laureates Şebnem Korur Fincancı from Turkey and Angie Zelter from Britain, on September 15, 2014, with a ceremony organized by the Hrant Dink Foundation held at the Cemal Reşit Rey Concert Hall in Bolis.
QUARTER OF A MILLION PEOPLE TRAVELLED THROUGH ZVARTNOTS INTERNATIONAL AIRPORT IN AUGUST
265,391 people traveled through Zvartnots International Airport this August, up by 34% from last year. The number of flights also rose by 31% with 2,262 flights compared to last August's 1,726. 33 airlines are now flying to Armenia, compared to 27 to last year.
Watch the title fight here
ARSEN JULFALAKYAN WINS GOLD FOR ARMENIA IN
WORLD GRECO-ROMAN WRESTLING CHAMPIONSHIPS
Click here to watch the title fight
LEFTERIS NEOS AND EDMOND AYNEDJIAN DEFEAT TURKISH PAIR
IN QUARTER FINALS IN TIRANA - ALBANIA TENNIS TOURNAMENT

Tennis Zone 20 September- After their successful endeavours in Jordan last month, Lefteris Neos and Edmond Aynedjian travelled to Albania last week to participate in the under 18 international tournament.

Both player's bid, this time was halted at the quarter finals. However, before their exit, the Cypriot duo defeated the Turkish pair of Atakan Gezer and Tolunay Sumer of Turkey 6-3, 6-4.

Both players continue their tournaments in Cyprus, before going out to tournaments in Europe and the Middle East in late October.
MESSI'S AND NEYMAR'S BARCELONA WIN BY NARROWEST
OF MARGINS AGAINST CYPRUS CHAMPIONS APOEL 1-0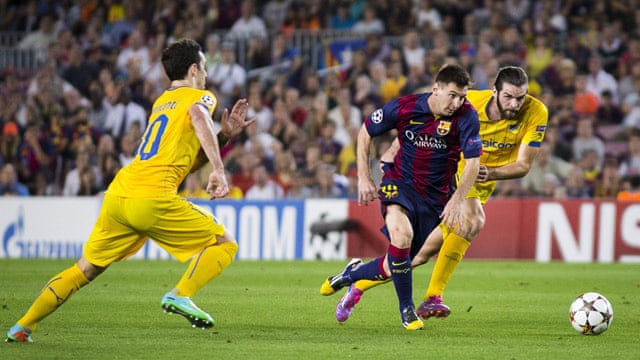 Gibrahayer-emagazine - Barcelona had to make do with the narrowest of wins against Cypriot champions APOEL Nicosia to get their quest to regain the Champions League underway. Gerard Piqué headed in Lionel Messi's fine free-kick in the 28th minute at the Camp Nou, but the hosts surprisingly failed to add to their advantage. APOEL, which captivated Europe during a run to the quarterfinals three seasons ago, again punched above their weight and frustrated the four-time European Cup winners.
APOEL face AJAX on Tuesday 30 September at 9:45 pm in Nicosia.
ARSHAK SARKISSIAN EXHIBITION
OPENING ON MONDAY 29 SEPTEMBER
A few words about the artist by Vardan Jaloyan
The courage of Arshak the painter is featured in a renovated connection of the real and the fantastic, the human and the inhuman, the cultural and the savage. His drawings exhibit a complexity and subtlety that exceed imagination; he is one of the few artists capable of creating vast canvasses with multiple figures and complex structure. As a painter he is, at the same time, an anthropologist of states of mind. The artist often depicts animals along with his characters, a fact that also leaves room to physiognomic confusing interpretations.
The characters are diverse and condense the enormous heritage of Western Europe. Arshak is able to create a new harmony between reality and irreality. According to his own testimony, he takes the prototypes of his characters from the subcultures of large cities, recording their anthropological mutations. There is a vital area where the human and the animal become indistinguishable. The inhabitants of this zone are characterized as monsters, a mixture of human and animal.
When we say politics today we mean biopolitics, namely, political control over the manifestations of human life, which implies exclusion of the monstrous. The heroes of Arshak perhaps are those who have fled that biopolitical control. One of the reasons that figurative plastic art is not possible anymore is that modern life has stopped being plastic. Arshak seeks and finds that plastic life in subcultures that avoid control, but mostly in his imagination.
Arshak has several graphic works and paintings with the title "Orchestra Rehearsal". The orchestra, certainly, is the model of society, but of what kind of society? Orchestra musicians have a particular social character, admirably introduced in Theodor Adorno's article "Conductor and Orchestra". Adorno writes that orchestra musicians are prone to sadistic humor and continuous jokes; they like obscene practical jokes. One may recall Federico Fellini's film, Orchestra Rehearsal. This feature is probably related to the fact that many ways of sublimation are closed to man in musical space. It is particularly reflected in the famous stubbornness of musicians. They are constantly disappointed with their position in the orchestra and constantly disillusioned with their chosen profession. Orchestra is a mini model of modern society, where freedom of self-expression entails disappointments.
One may assume that, with their social character, all of Arshak's heroes are "orchestra musicians" and can express themselves by means of instruments. For example, a woman has a fan in one hand and a piece of watermelon in the other. They are free and vibrant, often look negligent, are probably stubborn like Fellini's heroes, but in that noise a hubbub is continuous and always present, and nothing significant will happen.
Costumes have a primary significance in Arshak's paintings and sculptures. His vivid visual stories are told not only through gestures, mimics and poses, but especially through costumes. The clothes of the characters are often hanged like a sack; they look casual, sometimes even miserable. Clothes symbolize social exploitation and sometimes escape from the social, since a person lives and acts inside of clothes.
Besides paintings and graphic works, sculpture has also an important place in Arshak's art. Arshak's sculptures have "come out" from his paintings and graphic works, and they also need to be looked in a different way. For example, a unique character emerging from a graphic work may be transferred afterwards to painting and finally may become a sculpture. During these transformations, those characters become more vivid, more alive, because the subject is the secret of life, that life coming out of its own boundaries.
Both paintings and sculptures of Arshak have dramatic contents; there, life stages itself and shows its whole power. I would like to call his sculptures "dimensional painting", but we know that this term has been used by great goldsmith and sculptor Julio Gonzalez for completely different sculptures. In his sculptures, Arshak remains a painter, which brings to mind Degas' "Dancers": Degas' wonderful sculptures were the outcome of his desire to see his painted images in tangible form.
Modern society is trying to find and define what is allowed, while science and bio-technologies are questioning boundaries between humane and inhumane, life and lifeless. More and more frequently we are changing our behavior, as if something inhuman had invaded our life. I think Revolutionism is typical of Arshak's paintings, yet it is not a social, but an anthropological revolution.
JOIN THE SUPPORT TEAM
FOR OUR YOUNG ATHLETES

Dear friends,
Nine years ago we initiated a campaign to assist a young Armenian tennis champion Zaruhi Harutyunyan in her quest for stardom.
Nine years later we have decided to invest in two more young talents, that have shown commitment and exceptional results.
We introduce Lusine Chobanyan and Edmond Aynedjian to you, as already accomplished athletes, champions in their own right both at home and in the international sports arena, making Armenians proud everywhere.
We invite you to visit their Support Page.
You too can become part of the Team enabling Lusine and Edmond to continue doing what they are capable of doing best.
Winning !
Through a lifestyle quite different to many kids their own age, both have shown samples of their capabilities that can only multiply if we can meet them half way.

Support Team of Lusine & Edmond
Click here to see how you can join the global team supporting Armenia's Ladies champion Lusine Chobanyan and under 16 and under 18 Cyprus Champion Edmond Aynedjian by visiting this Page. http://gibrahayer.com/index.php5?&page_id=256&path=256
ARCHBISHOP ALEMEZIAN WELCOMES HOMENETMEN AYMA COMMITTEE MEMBERS
HISTORIC: THE FIRST SELFIE TAKEN AT THE
HOMENETMEN - AYMA FOOTBALL GROUND
HISTORIC: 2004 AYF CAMP TROODOS -
THE FIRST ICE-BUCKET CHALLENGE
LAST SURVIVOR OF THE ARMENIAN GENOCIDE PASSES
AWAY AT 107 YEARS OLD IN MARSEILLES - FRANCE
Osvanna Kaloustian was born in November 1907 in Adabazar. Throughout her life she participated in ceremonies commemorating April 24 and fighting for the rights of the Armenian people and against Armenian Genocide denial. This is what she said about the perpetrators of the Genocide.
«They behaved like savages".
In an interview she had said
«God... let me live so long, so that I can tell this story.»
coming up in November
Dear friends,
Gibrahayer e-magazine has been circulating on a weekly basis for 15 years since 1999 bringing Armenian and Cyprus related news and community alerts to 20,000 subscribers, daily multiple updates to 6,200 Facebook friends and 800,000 visitors on www.gibrahayer.com .
During this time it has documented more than 18,000 images of community events, happenings and historic moments.
In the absence of a solid financial backing, and only through the contribution of the very few, Gibrahayer e-magazine has stretched its financial resources.
An online platform such as Gibrahayer has real costs in dispatch, alerts and in preserving an online presence.
In order to continue sustaining what we consider ours, we all need to do our proportional little bit.
Especially in these times of crisis, we appeal to you to preserve this media platform by sustaining it by a contribution.

Simon Aynedjian – Editor – Gibrahayer e-magazine

Click here to make a contribution through PayPal
Donations to Gibrahayer e-magazine
►
LET US SAY IT CORRECTLY
Gibrahayer Calendar
► Wednesday 1 October 8:00pm - Literary Evening with Smpad Derounian organised by
Hamazkayin "Oshagan" Cyprus Chapter at Homenetmen - AYMA.
► Saturday 11 October at 7:30 pm - Charity Music Event for Rosanna Baghdasarian's treatment at Kasteliotissa Hall at the Paphos Gate. Soloists: Lucy Hovhannesyan (violin), Michael Constantinou (Piano). Accompanied by Olga Talianos. Entrance 10 euros.
► Saturday 11 October 9:00pm - Vahe Berberian's "Yete" in Cyprus at Nareg school Hall, organised by Homenetmen AYMA.
► Wednesday 22 October 8:00pm - Literary Evening organised by Hamazkayin "Oshagan" Cyprus Chapter - at Homenetmen - AYMA.
► Thursday 23 October 8:00pm at Utudjian Hall – KRAVADZ OR – Office Armenian Representative.
► Sunday 26 October 1:00pm - Autumn Dinner organised by the Armenian Relief Society's Cyprus "Sosse" Chapter at Homenetmen -AYMA.
► Saturday 15 November 7:00 pm – Inka and Anush Arshakyan perform at the Strovolos Municipal Hall. Performing with them will be Hamazkayin "Oshagan" Cyprus Chapter's SIPAN Dance Ensemble. The event is organised by the Office of the Armenian Representative Vartkes Mahdessian.
► Saturday, 22 November 5:00pm - Official Inauguration Ceremony - NANOR Armenian Childcare Centre.
► Saturday 22 November 8:00pm - Dinner-Keyf - organised by the ARF Dashnaktsoutiun Cyprus Gomide - at Homenetmen - AYMA.
► Sunday 7 December 12.01 pm - Food Bazaar-Fete organised by the Armenian Relief Society's Cyprus "Sosse" Chapter at Homenetmen - AYMA.
► Friday 12 December 8:00 pm - Comedy Evening – Café Theatre organised by Hamazkayin "Oshagan" Cyprus Chapter.
► Sunday 21 December - Concert by Sourp Asdvadzadzin Choir. Details to follow.
► Thursday 25 December - New Year's Dinner Dance organised by Homenetmen- AYMA.
► Thursday 1 January 2015 - Santa Claus visits Homenetmen - AYMA.
► Wednesday 28 January - Lecture organised by Hamazkayin "Oshagan" Cyprus Chapter at Homenetmen - AYMA.
► Friday 13 February - St. Valentine's Dinner at Homenetmen - AYMA organised by Hamazkayin "Oshagan" Cyprus Chapter.
► Sunday 15 March - Michink Lunch at Homenetmen - AYMA organised by by the Armenian Relief Society's Cyprus "Sosse" Chapter.
► Saturday 28 March - Easter Tea - at Homenetmen - AYMA organised by the Armenian Relief Society's Cyprus "Sosse" Chapter.
GREECE BECOMES THIRD COUNTRY TO CRIMINALIZE GENOCIDE DENIAL
While Turkey was pressuring the French President not to support a bill criminalizing denial of the Armenian Genocide, it had to cope with Greece, yet another country that just adopted a law making it illegal to deny Genocides, including the Armenian Genocide. Greece is the third European country, after Slovakia and Switzerland, to pass such a law. The Swiss law, however, is under review by the European Court of Human Rights (ECHR) for violating a Turkish defendant's freedom of speech.
The French Parliament (2011) and Senate (2012) adopted a similar law to punish Genocide denial which was overturned by the French Constitutional Council. To replace the failed law, French Deputy Valerie Boyer submitted a new bill to the Parliament last week. President Francois Hollande has also pledged to back the criminalization of Armenian Genocide denial.
Despite legal uncertainties regarding such laws in Europe, the Greek Parliament adopted by a vote of 54 to 42, on Sept. 9, an anti-hate crime law -- Combating Discrimination, Xenophobia, and Racism -- making it illegal to deny the Jewish Holocaust, and Genocides recognized by international courts or by the Greek Parliament, i.e., the Genocide of Pontus Greeks, the Genocide of Asia Minor Greeks, and the Armenian Genocide. Those violating this new law would be fined up to 30,000 euros, and imprisoned for up to three years.
The Greek law stems from the European Union's 2008 "Framework Decision against Racism and Xenophobia," which urged all EU states to adopt laws that punish racism, xenophobia, denial of Genocide, crimes against humanity, and war crimes.
Caught by surprise, Turkish officials and Azerbaijani propagandists made confusing statements about the Greek law. Initially, the Turkish Foreign Ministry condemned the Greek law, claiming that "it contradicts democratic principles and freedom of speech." Soon however, the Foreign Ministry reversed itself and expressed the hope that the new Greek law would help protect the rights of Turks living in Greece! It should be noted that Greece adopted this law, despite Pres. Erdogan's warning at the NATO Summit in Wales on Sept. 5 to Greek Prime Minister Antonis Samaras who flatly told the Turkish President that the Greek law would not violate international law. A similar warning was issued by Erdogan to the French President that adopting any new laws on the Armenian Genocide could complicate the relationship between their countries.
Azeri commentators also made contradictory claims even though the Greek law has nothing to do with Azerbaijan. One Azeri writer alleged that the Greek law does not mention the Armenian Genocide and that the Greek Parliament has never recognized the Armenian Genocide. Of course, both of these claims are completely false. Clearly, this Azeri writer does not know that the Greek Parliament recognized the Armenian Genocide on April 25, 1996, and on July 10, 1996 Pres. Konstantinos Stefanopoulos signed a decree, declaring April 24 to be "the memorial day of the Genocide of the Armenians by Turkey."
A second Azeri, V. Seyidov, not only acknowledged that the Greek law covers the Armenian Genocide, but went ahead and dared Greek police to arrest him after planning to state in Athens that "the Armenian Genocide is not a historical fact"! Assuming Mr. Seyidov would dare to carry out his bluff, it remains to be seen whether he will be thrown into a Greek jail or hailed as a 'hero' by denialists in Turkey and Azerbaijan, depending on ECHR's final ruling.
Armenia's Foreign Minister and Parliament praised Greece for adopting the law on criminalizing denial of the Armenian Genocide. However, it is high time that the Armenian Parliament officially recognize the Greek Genocide in Ottoman Turkey. Past efforts to do so have been quashed by the Armenian government for unknown and incomprehensible reasons!
On Sept. 22, Catholicos Aram I of the Great House of Cilicia is scheduled to meet with Greek Prime Minister Samaras in Athens, during which His Holiness is expected to express his gratitude to the Greek government for adopting the law against Genocide denial.
On the eve of the Centennial of the Armenian Genocide, it would be most salutary if ECHR would overturn its earlier ruling on the Swiss law and if France would adopt a new law criminalizing denial of the Armenian Genocide, paving the way for other European countries to follow suit.
Harut Sassounian
ICON STOLEN IN 1974 TURKISH INVASION TO BE RETURNED
TO CYPRUS CHURCH FROM SWISS AUCTION HOUSE
Combined sources -

A 16th century church icon stolen from the Christ Antiphonetes church in the occupied village of Kalogrea was discovered at an auction house in Switzerland and will be returned to Cyprus, the Church of Cyprus said in a statement issued on Wednesday.
The icon was one of many removed by looters from the Antifonitis church just after the Turkish invasion in 1974.

The icon is a classical depiction of Christ. It was supposed to be auctioned on Friday at the "Schuler Auktionen" auction house in Zurich.
The statement said that church officials stumbled upon the auction announcement online and immediately contacted the auction house.
"We put together a file proving the icon's provenance and coordinated with all competent authorities. We contacted Interpol, the Swiss Embassy in Cyprus and managed to remove the icon from auction. It is now up to the Legal Services and the Antiquities Department to convince the Swiss government and arrange for the shipping of the icon back to the island," said the statement, reminding that Cyprus and Switzerland signed a memorandum of understanding in 2013 for the repatriation of stolen artefacts and holy relics.
This is not the first icon originating from the Antifonitis church that found its way back to the island. In 1998, another 16th century icon depicting the Virgin Mary holding the Christ child was also returned.
"We wish to thank everyone who aided in removing the icon from auction. We now wish the icon can be returned to us as soon as possible," said the Church statement.
ON SUNDAY ARCHBISHOP NAREG WILL PRESIDE OVER THE DIVINE LITURGY AT SOURP KEVORK CHURCH IN LIMASSOL
A few words about our Church in Limassol - It is located on Vassilis Michaelides Street on a piece of land donated in 1935 by Satenig Soultanian, in memory of her father-in-law, Kevork.
Sourp Kevork was built in 1939-1940 and its consecration took place on 11 April 1948 by Bishop Ghevont Chebeyian. The church has been renovated twice in 1975–1976 and again in 2006 with donations from Armenians living and visiting Limassol.
Happy name day to all named Kevork, George, Georges, Jorgen, Giorgi ...
Armenian wins World Championship title in 36th World Arm Wrestling in Lithuania

In the U-21 tournament, Ashot Adamyan (60kg) took the title after defeating his Azerbaijani opponent.

David Nersisyan (75kg), who also represented Armenia, was very close to victory after qualifying in the semi-finals, but his two consecutive defeats pushed him back to fourth position.
BETTY TO REPRESENT ARMENIA AT
JUNIOR EUROVISION SONG CONTEST 2014
Listen to the song here
4th Armenian School Boys & Girls Scouts & Cubs
Artin Anmahouni photo archive (1968)
MEET THE MEMBERS OF AYF VARICH MARMIN OF CYPRUS
JOIN HOMENETMEN - AYMA FOOTBALL ACADEMY
WITH FOOTBALL LEGEND ROMIK KHATCHADRYAN
APOEL and Armenian national football team superstar Romik Khatchadryan and his assistant coach Alexis Avakian have already started training the young football players of our community at the Homenetmen - AYMA Football Academy.

Training sessions take place every Monday, Wednesday and Thursday. For 4 to 7 age group from 5:45 until 7:00 pm and for 8+ age group from 5:15 until 6:30 pm.

Participation is open to all members of the Armenian community.
GIBRAHAYER E-MAGAZINE
IS 15 YEARS OLD !
September is Gibrahayer e-magazine's 15th anniversary:
On 3 September 1999, I sent out the first email to a list of 35 recipients. Exactly 15 years later, 21,000 recipients receive Gibrahayer e-magazine across the globe, more than 800,000 people have visited our website since 2007 and more than 6,500 Friends and their friends get daily multiple news updates from Armenia, Cyprus, Artsakh and issues related to our world.
Throughout the last 15 years, we have archived 20,000 images and several videos of community events and happenings in Armenia and Artsakh.
I stand before the Turkish Airlines office celebrating the 15th anniversary of Gibrahayer e-magazine with a wish, that in the near future the Turkish Airlines will add three more cities on their 220 destination list, advertised in the picture.
Larnaca, Yerevan and Stepanakert.
If this is achieved, it will mean that as neighbours and as people - destined to live together - we have made a few steps forward as Cypriots, Armenians and Turks.
It will mean that we have been able to overcome some of the problems served on our plate.
I truly wish that we are granted the power and the wisdom to do just that!

Simon Aynedjian - Gibrahayer e-magazine