The largest circulation Armenian e-magazine
Circulates every Thursday. Established in 1999
You can read the latest issue at www.gibrahayer.com
TURKEY TO BOYCOTT THE CYPRUS PRESIDENCY OF THE EUROPEAN UNION
Gibrahayer e-magazine - 29 November, 2011 - Nicosia - Turkish "European Union Minister" Egemen Bağış continued their provocations on the diplomatic front and declared that Turkey will not participate in any EU session attended by Cyprus when Cyprus will take over the rotating presidency of the 27-nation Union.
Bağış said that while Turkey will boycott the Presidency of the European Union, it will continue its cooperation with the European Commission and the European Parliament.
"Our relations with the EU Commission and the EU Parliament will remain intact. We will just not sit across the same table as the term's presidency," the representative of the occupation regime declared.
Turkey had previously threatened to freeze all relations with the EU if Cyprus was to undertake EU Presidency, a threat that like many is not being carried out.
European member Cyprus, which is not recognized by Turkey, will take over the Presidency of the EU for six months, during the second half of 2012.
ACCORDING TO TURKISH PRESIDENT GUL, EUROPE IS A "MISERABLE UNION" AND CYPRUS IS A "HALF COUNTRY"
TURKISH President Abdullah Gul has slammed the prospect of Cyprus taking over the European Union presidency next year as "half a country" leading a "miserable union".
Gul said the failure to open new chapters in Turkey's negotiating process was harming the 27-nation bloc's reputation and that it could suffer its biggest loss of credibility in 2012 when Cyprus takes over the rotating EU presidency in July.
"Now this half a country, this incomplete country will take over the EU presidency," Gul was quoted as saying. "There will be a half-presidency leading a miserable union. That is exactly the expression I said to EU leaders."
IRAN THREATENS TO BOMB TURKEY
Daily Mail - Iran will bomb Turkey if the U.S. or Israel try to destroy its nuclear installations, a senior military commander warned today.
General Amir Ali Hajizadeh, head of the aerospace division of the powerful Revolutionary Guard, threatened to target Nato's missile defence shield in the neighbouring country.
The system, which Turkey only agreed to install in September, is designed to prevent Iranian missile attacks on Israel.
General Hajizadeh said: "Should we be threatened, we will target NATO's missile defense shield in Turkey and then hit the next targets."
Tensions have been rising between Iran and the West since the release of a report earlier this month by the International Atomic Energy Agency.
TURKEY OFFERS TO OPEN PORTS, AIRPORTS TO CYPRUS IN EXCHANGE FOR DIRECT FLIGHTS INTO BREAKAWAY NORTH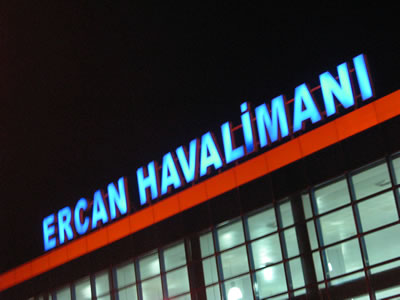 Cyprus Mail - Turkey offered to bow to EU demands and open its ports, airports and airspace to Cyprus under what it called a "Taiwanese-style" diplomatic arrangement to help drive Cypriot reunification talks resuming on Monday under U.N. pressure for a breakthrough.
The European Union Ankara seeks to join demands Turkey end an embargo on traffic from Cyprus. Turkey, for its part says the EU should ease isolation of Turkish Cypriots, something Greek Cypriots reject as implicit recognition of a renegade state.
Turkish EU minister Egemen Bagis told Reuters he believed a simple arrangement could help free up talks over Cyprus.
"The minute a British Airways, an Air France, a KLM, a Lufthansa plane lands at Ercan airport (in northern Cyprus), Turkey is ready to open all of her airports, sea ports and air space to Greek Cypriot planes and vessels," Bagis said.
The breakaway Turkish Cypriot state in north Cyprus, recognised only by Ankara, has direct air links only with Turkey. It is also excluded from international sport, finance and trade.
"The fact that an Al Italia or an Air France plane is landing at Ercan would not mean that they recognise the TRNC," Bagis said in an interview late on Sunday. "This would be like the Taiwanese model - a trade relationship."
Many states, forced by Beijing to choose between China and breakaway Taiwan, choose diplomatic ties with the former; but Taiwan retains international contacts on a trading basis.
HAMAZKAYIN CYPRUS CALENDAR IS OUT !
Our calendar is out, which celebrates the milestones of Armenian artists and intellectuals. You can pick up your copy for 10 euros from AYMA or by contacting any of our committee members.
Armenian Cultural & Educational Society of Cyprus HAMAZKAYIN "Oshagan" chapter
ARMENIAN RELIEF SOCIETY'S CYPRUS "SOSSE" CHAPTER'S XMAS FUNDRAISER
Click here for 94 images from the event or click on the following link:
www.facebook.com/media/set/?set=a.281112578598390.71196.185812434795072&type=1
News in Brief by Sevag Devletian
In the wake of Turkish Prime Minister Recep Tayip Erdogan's unprecedented apology for the 1937 Dersim Massacres last week, rights groups and historians say that now is the time for igniting public debate over the darkest chapters of Republican history. The Wednesday apology, which was the culmination of a debate which erupted earlier this month in the ranks of the opposition Republican People's Party (CHP), responded to growing calls to `face up to the historical legacy of Dersim' among a torrent of major Turkish politicians and intellectuals.

The Turkish government is supposedly preparing a gesture to the 100th anniversary of the 1915 Armenian Genocide, Turkish historian, professor at Clark University in the U.S. Taner Akcam stated. Commenting on the statement of Turkish PM Recep Tayyip Erdogan regarding Dersim massacres, Akcam noted that many documents are preserved which assert that the massacres were aimed at the extermination of a nation. `It was one of the biggest taboos in Turkey. Many materials are preserved. Survivors of these events are still alive,' Akcam said.

The head of European Parliament Jerzy Buzek strongly criticized the `unusually high number of journalists imprisoned and arrested in Turkey,' Hurriyet Daily News reportes. `The argument that journalists are active against the government is unacceptable. It is typical for journalists to write and question the government. That should not be surprising,' he said at a press conference in Ankara. He stressed that the European Parliament is concerned with the current state of affairs in Turkey regarding freedom of the press and freedom of expression.

Turkey's southeastern province of Diyarbakır is working on how to increase trade with Armenia three to five times the existing trade volume, according to the Diyarbakır Chamber of Commerce Deputy Chairman Diyadin Gezer after a seven-day visit to Yerevan. Gezer had accompanied a delegation of 50 businessmen to meet with Armenian counterparts in a bid to increase cooperation and trade between the two countries. Turkey's trade with neighbor countries has increased from 10 to 35 percent of the country's whole trade volume, according to Gezer, who said they aimed to make this figure 60 percent, an average figure according to world standards. "We think Armenia is very important for this region. We want to increase the existing $300 million trade volume between the two countries three to five folds," Gezer said.

In an unprecedented development, seven Federal Members rose in the House of Representatives to affirm the historical reality of the Armenian, Greek and Assyrian Genocides and call for Australian recognition of these crimes against humanity, reported the Armenian National Committee of Australia (ANC Australia). MPs Craig Kelly, Malcolm Turnbull, Michael Danby and Joel Fitzgibbon (new supporters of this fundamental issue of humanity) added their voices to long-time friends of the Armenian, Greek and Assyrian communities in MPs John Alexander, Joe Hockey and Paul Fletcher and paid tribute to the victims of the first genocide of the 20th century.

Israel's Knesset Committee for Education, Culture, and Sports chaired by Alex Miller will discuss the Armenian Genocide recognition issue in early December. Knesset Speaker Reuven Rivlin, who publicly expressed support for Genocide recognition in May 2011, will attend the discussions, similarly to another supporter of Genocide recognition campaign, representative of parliamentary coalition Ze'ev Elkin. A resolution to submit the issue for Committee consideration was adopted at Knesset plenary sitting in May 2011. Preliminary estimates show the majority of Committee members are opposed to recognition of the Armenian Genocide for fear the issue might harm strategic cooperation with Azerbaijan.
SOURP ASDVADZADZIN IN NICOSIA IS 30 YEARS OLD
Alexander-Michael Hadjilyra - As many of you know, a few days ago the Nicosia Armenian church became 30-years-old. But what is its story? When extremist Turkish-Cypriots ousted Armenian-Cypriots from their ancient quarter in walled Nicosia (January 1964), the community lost its church. Thanks to Archbishop Makarios III, the chapel of Ayios Dhometios was used, while for large Liturgies St. Paul's Anglican cathedral was made available to the community. But the Turkish-stricken community felt the need to have its own church, as well as its own school, Prelature and Genocide Monument.
The school issue was settled relatively quickly, as the state is, by Law, the hovanavor of minority education in Cyprus; the land was acquired in 1966 thanks to the efforts of Representative Berge Tilbian, while the actual building was erected between 1971-1972 thanks to the efforts of his successor, Dr. Antranik L. Ashdjian.
However, the church issue was different matter. After 1973, the government had proposed various hali lands, abundant in the Acropolis region, but the Azkayin Ishkhanoutiun and particularly der Vazken Sandrouni felt the need to have the church next to the school. Finally, thanks to the combined efforts of Representative Ashdjian, der Vazken and others, the government gave its blessing. The church was built on top of what was to be a theatre room for the school, whose foundations had been laid simultaneously with the school construction.
The foundation stone was laid on 25 September 1976 by Archbishop Makarios III and Bishop Nerses Pakhdigian on a rainy day, something which Makarios though as "bereket". Construction officially started after the signing of the contracts on 4 January 1978 with architects Iacovos & Andreas Philippou and contractor Nicolas Shacolas; architect Kevork Emmiyan of Lebanon was invited to help give the church an Armenian flavour - indeed, stylistically it is the only Armenian church on the island. On 16 April 1978, Coadjutor Catholicos Karekin II consecrated the 16 columns of the church. On 10 December 1979, thanks to the combined efforts of Bishop Zareh Aznavorian, Zcon der Nshanian and others, Strovolos Improvement Board decided to re-name Cyclops street into Armenia street, as a gesture of solidarity to the Armenian people; the street sign was officially unveiled on 15 January 1980.
After the auspicious completion of the construction work, the church was to be inaugurated on 12 April 1981; however, due to the civil war in Lebanon, consecration and inauguration were held on 22 November 1981 by Catholicos Khoren I and Coadjutor Catholicos Karekin II, in the presence of Archbishop Chrysostomos I. Together with the numerous big and small donations by the faithful (£36.900), the following organisations significantly contributed to its construction: the Evangelical Church of Westphalia (£44.400), the Republic of Cyprus (£35.000), the World Council of Churches (£5.200) and the Holy Archbishopric of Cyprus (£1.000). Thanks to the efforts of Representative Aram Kalaydjian, the government gave the church a freehold title deed of the land on 31 March 1983 (the plot was originally given to the community in trust).
The church's interior is dominated by paintings and icons of painter Zohrab Keshishian, while the khachkar on the base of the khoran was, surprisingly, sent by the Catholicosate of Etchmiadzin. The church also has a vernadoun for the choir - unlike the other two Armenian churches in Cyprus. In 2005, after the untimely death of the Tutundjian family and der Vazken Sandrouni, a general restoration took place, while a small-scale renovation took place in 2008.
In the years that followed the construction of this elegant church, the adjacent land accommodated - amongst others - the new Prelature building (1984) and the new Genocide monument (1991), in the image and after the likeness of the old hamalir on Victoria street. Sourp Asdvadzadzin is still, as much as it can be nowadays, the centre of Armenian-Cypriot life, a meeting place of local and foreign Armenians, even Armenians and non-Armenians. It is a powerful symbol of this community and, in my opinion, it serves as a living reminder of its medieval namesake in walled Nicosia, which is currently under extensive restoration.
So, this is the story of this beautiful church; may its 30th anniversary be simply one of many to come…
URGENT APPEAL FOR A CHEMOTHERAPY DOSAGE CYCLE
The medication for a chemotherapy cycle for a patient in Armenia has been found both in Athens and in Nicosia and friends in Lebanon, Armenia, Cyprus, Greece and London are trying to raise 1,616 euros.
We would like to thank subscribers that have already started contributing.
Have you?
Pls send your pledge. Click here
You can also contribute online by visiting www.gibrahayer.com
Community calendar at a glance:
Sunday 27 November at 4:00 pm - HOM (Armenian Relief Society) Cyprus "Sosse" Chapter's Christmas Fund Raiser at Cleopatra Hotel for humanitarian projects in Armenia, Artsakh and Cyprus. Click here for images from the event:
www.facebook.com/media/set/?set=a.281112578598390.71196.185812434795072&type=1
Wednesday 30 November at 7:00 - Hay Tad Movie Night at the Larnaca Armenian Club. "The Lark Farm". Followed by pizza.
Thursday 1 December at 7:30 pm - 30th anniversary choir concert of Sourp Asdvadzadzin Church, conducted by Nara Sarderian, under the auspices and presence of His Holiness Aram I, Catholicos of the Holy See of Cilicia.
Sunday 4 December - HOM (Armenian Relief Society) Cyprus Sosse Chapter's Stassikratous street Bazaar for humanitarian projects in Armenia, Artsakh and Cyprus.
Sunday 25 December at 9:00 pm – Homenetmen - AYMA Christmas Ball.
Sunday 1 January 2012 – Santa will be visiting Homenetmen - AYMA. Details to follow.
Saturday 21 January 2012 - Homenetmen AYMA presents "Taline & Friends". Details to follow.
Saturday 11 February 2012 - Kravadz Or by Hamazkayin Cultural and Educational Association's "Oshagan" Cyprus Chapter.
Sunday 4 March 2012 - Kravadz Or.
Sunday 11 March 2012 - Kravadz Or - Office of the Armenian Representative.
Saturday 31 March 2012 - Armenian Relief Society (HOM) "Sosse" Cyprus Chapter's Easter Fund-Raiser. Details to follow.
Saturday 5 May 2012 - Kravadz Or by Hamazkayin Cultural and Educational Association's "Oshagan" Cyprus Chapter.
Saturday 12 May 2012 - Kravadz Or by Hamazkayin Cultural and Educational Association's "Oshagan" Cyprus Chapter.
STASSIKRATOUS STREET BAZAAR
ON SUNDAY 4 DECEMBER
The Armenian Relief Society's Cyprus "Sosse" Chapter is participating in the Stassikratous Street Bazaar, on Sunday 4 December, 2011 to raise funds for its humanitarian projects in Armenia, Artsakh and Cyprus.
Also participating in the annual event are other Cypriot benevolent organisations.
Members of "Sosse" Chapter have already began preparations to make this event a success and appeal to all members of our community to participate in the Stassikratous event and support their effort in collecting funds for the needy.
CYPRUS TO HOST MIDDLE EAST COUNCIL OF CHURCHES
Gibrahayer e-magazine - Wednesday 30 November - Armenian Catholicos Aram I, Patriarch of Alexandria Theodoros, Patriarch of Jerusalem Theophilos and the Presidents of Christian Families of the Council, Archbishop of the Maronite Church of Antioch Bulos Mattar, Bishop of the Evangelical Lutheran Church of Jordan Munib Yunan, and the other members of the Council from Syria, Lebanon, Israel and Egypt will be in Cyprus for the General Assembly of the Middle East Council of that began in Paphos yesterday, which is being hosted by the Greek Orthodox Church of Cyprus.
The focus of this years' Assembly will be on finding a more decisive role for the Council in respect of human rights, religious freedom and the unity of Christians in the Middle East.
Delegates will also review the work of the Council over the past few years and elect a new Secretary-General.
FOR RENT
Two Bedroom Apartment - 1 Democritos Street, Flat 5 - Ayios Dhometios - Tel. 22493560 (mornings only)
Flat on complete floor (220 sq.m). 3 Bedrooms with big verandas, big lounge, 2 WC's, Storage heating, covered parking facility, fully painted, quiet neighbourhood.
Rent 700 Euros. Telephone on 99643702 or 99878878.
You can now also order online on
www.armenaki.com
Armenian Sports by Sevag Devletian
CHESS: With 8 points Armenia's Samvel Ter-Sahakyan won U18 tournament of the World Youth Chess Championship in Caldas Novas, Brazil. In the last round Ter-Sahakyan tied his game against Das Debashis (India) after scoring 7 wins. Robert Aghasaryan finished 14th with 6 points. In the U16 category Hovhannes Gabuzyan beat Denis Kadric (Bosnia & Herzegovina) to come 4th with 6.5 points. Karen Grigoryan finished 14th with 6 points.
BOXING: Vic Darchinyan (37-3-1, 27 KO) still doesn't think there's anything special about Panama's Anselmo Moreno (31-1-1, 11 KO), the WBA's super champion at 118 pounds. The confident Armenian slugger sees Moreno, a fellow southpaw, as a minor obstacle in his path toward rematches against Abner Mares or Joseph Agbeko, both of whom out-pointed Darchinyan in closely contested bantamweight title fights. The Darchinyan-Moreno match will be the co-featured fight of a "Showtime Championship Boxing" card Dec. 3 from Honda Center in Anaheim, California.
FOOTBALL: Armenia will clash against Belarus on February 29 2012 for a friendly match. No details to the venue have been provided, but it is rumored that the friendly will be on the sidelines of the Belarus - Turkey hosted team practice sessions in Turkey.
CHESS: London Chess Classic 2011 will be staged at the Olympia Conference Centre in Kensington from December 3 through 12. The 3rd edition of what has already become one of the world's most prestigious tournaments will be bigger and better than its predecessors.the following top-ranking grandmasters participating: Magnus Carlsen (Norway), Vishy Anand (India), Levon Aronian (Armenia), Vladimir Kramnik (Russia), Hikaru Nakamura (U.S.), Michael Adams, Nigel Short, Luke McShane and David Howell (England).
WOMEN'S FOOTBALL: Armenia lost 0-11 to Denmark in UEFA Women's Euro 2013 Group 7 qualifier. On February 17, Armenia will face off against Portugal.
Gibrahay Sports by Sevag Devletian
AGBU Ararat defeated Achilleas Kaimakliou 4-0 in the Cyprus Futsal 1st Division. Ararat are currently ranked 3rd in the league table with 6 points behind leaders Omonoia.
Homenmen managed a 6-6 draw against MEAP Pera Chorio in the Cyprus Futsal 3rd Division. Homenmen currently rank 9th in the league table with 5 points on top of last place Thoi Anagias.
Direct to Yerevan
HOW TO CONTRIBUTE TO GIBRAHAYER E-MAGAZINE
SUBSCRIBERS IN CYPRUS - (euro)
Marfin Popular Bank Public Company Ltd - A/C No: 101-1100-3421
INTERNATIONAL SUBSCRIBERS - (US Dollar)
Bank Name: Marfin Popular Bank Public Company Ltd,
Bank Address: Strovolos Industrial Area sub-Branch,
Stavrou Avenue 96-I, 2034 Nicosia - Cyprus.
A/C Name:Aynedjian Simon. A/C No: 101-33-002517(USD)
IBAN (International Bank Account Number)
CY41 0030 0101 0000 0101 3300 2517
The Swift Code No. of Marfin Popular Bank is: - BIC: LIKICY2N
You can now also contribute online on
www.gibrahayer.com
You can read all the issues of 2011 on
www.gibrahayer.com
Development project overlooking Larnaca Salt Lake, by three young Armenian professionals of our community. Click here .
You can read the latest issue of Gibrahayer e-magazine and all of last year's issue here