The Melkonian complex: the new City in the diaspora will be in Yerevan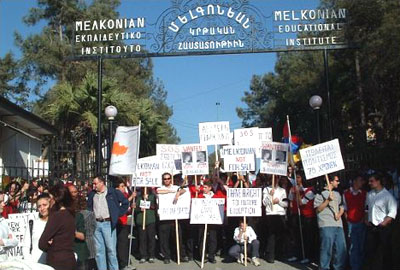 Issued in Armenia News Magazine (February 2008)
It is the greatest gift that AGBU could give to the Armenian youth: a modern university, located in the city centre and which will hold the best terms 1000 students per year. We spoke with its designer Aris Atamian.
Armenian News Magazine: In our previous issue, Alexis Govciyan, new president of the AGBU in Europe, announced the creation in Yerevan of a large university. Can you give us more information about this?
Aris Atamian (AA): The AGBU decided to invest in Armenia in three major projects: summer camps, a city summer around Lake Sévan Melkonian and complex, which is its flagship program for this decade. An accomplishment that is especially for the diaspora, but in Armenia. The aim is to achieve a university city with a capacity of 400 students on cycles of three to six months. So a thousand people that can be accommodated each year. The decision was taken in October 2007, during a meeting of the Board of the World AGBU. The land, with an area of one hectare and a half, ideally situated in the centre of Yerevan, has already been purchased. The complex, located 700 meters from the Place
de la Republique, will be accessible from the second device. The start of work is scheduled for the end of this year or at the latest, early 2009. Their duration is planned for a period of 18 to 24 months.
NAM: Why this project, in particular, was it used?
AA: When you know how much a two-week visit marks strongly youth, we can imagine the impact of a stay of three or six months. We want to make a unique experience in the motherland at a key moment in life. This is not the case of tourism. It is a project that is both ambitious and realistic, near the youth.
NAM: What are the conditions for the admission of students?
AA: This is welcome young people from throughout the diaspora who have already started a university course and want to benefit from a graduate program in Armenia. In recent years, many American and European universities encourage students to make semesters in institutions abroad. Our goal is that students get modules equivalency type Erasmus. Agreements have been engaged with universities Armenian, American, French and Russian in Armenia.
NAM: This campus is aimed only to students of the diaspora?
AA: Not. We decided to include 20% of students from Armenia in order that there be harmony among young people from diverse backgrounds. It will be deserving students who will receive a total free accommodation. It is a flagship project for the AGBU but it is also an essential project for Armenia. This programme, which is intended primarily for young people in the diaspora, will be both useful to people who are invited in Armenia and also to the Armenians in Yerevan.
NAM: Why this complicated deals in the Melkonian name?
AA: Our project called Melkonian Complex because it will be funded in large part by funds obtained through a partial disposal of the land of Cyprus. The dream initial brothers Melkonian was to establish an academy in Armenia. This was not possible at that time was today 16 years after independence: devote himself to the development of the Armenian youth from around the world. The Institute of Cyprus Melkonian was gradually closed between 2004 and 2007. At the same time the idea of creating a
major international university in Armenia took shape under the name Melkonian Complex.complexe-melkonian2.jpg It is a logical sequel to the original vision Melkonian brothers. It is obvious that the interest of residence for students of diaspora does not only reside in their university course. It is this time to carry out a project in Armenia dedicated to young various diasporas. To those who accuse the AGBU not finance projects located in Armenia, I remind you that this is an investment to 80% in the diaspora as a whole. And the only way to link all elements of the diaspora is in Armenia. I do not see a better meeting point, without any demagoguery. And for me, the language should not be a barrier.
NAM: In what spirit did you devise your plans?
AA: It is a totally open on Armenia and the city. This site will be visible both day and night. We wanted an architecture of both contemporary and Armenian. I think that we should perhaps not always built in a style néopasséiste because it is in Armenia. The complex is located in a contemporary architecture with reminiscences of the Armenian symbolic. Thus, one of the many courtyards, a chapel emerge
glass. We hope that our project is exemplary. Of course it will be the anti-seismic standards and will be as flexible as possible so that they can evolve over time. The outward appearance of this base will consist of windows. Today's technology allows us to avoid the problems caused by large temperature variations experienced Yerevan.
NAM: How is this complex structured?
AA: As it is on a hill, the slope of 10% allows us to have two levels of ground floor. In fact, all the functionality will be located on the double base with over three buildings
reserved for the accommodation of students and teachers. In keeping with the spirit of the City University of Paris, we organized into three groups of buildings: the United States, Europe and Russia, rather than by desire to partition the
diaspora because we want to complete a mix, but rather to attract any grants. They are extremely simple structures for which we use a rock to which Armenia will not be tuff or basalt. Accommodation will be held in single or double, of course, totally accessible for the disabled. Without falling into the luxury, we want to give the best young Armenians.
NAM: The university will it host symposiums?
AA: Of course, as well as exhibitions. At the ground floor are superior reception rooms, exhibition, 3 types of restaurants, not to mention an international centre of failures as well as the headquarters of the virtual university underway which will be announced in the near future. At the lower deck, we allocated the classrooms, language labs, a library, sports facilities and a meeting room that can accommodate 500 people. Our goal is to create a functional, user-friendly, without seeking the monumental nor ostentatious.
NAM: What is the cost of such a project?
AA: Costs are being developed. The difficulty is that most of the supplies coming from outside. During the past ten years, Armenia has made a colossal effort, we built a high quality, but unfortunately all
that is innovative, finishing work, comes from outside. But things are changing, I know that there is now a unit of glassmaking in Armenia.
NAM: Is this your first project in Armenia?
AA: Absolutely. Building in Armenia was my dream. Our ambition at the architectural level is to give a boost to modernity and sustainable development. The latter concept has not yet penetrated the Armenia because it had other priorities, but our goal is to achieve a harmonious development. We can not escape this change. We are not here to give lessons because even in Europe the concept of sustainable development is relatively recent. We simply want to show by this example that another
type of construction is possible. Over the AGBU focus ambitious plans and we will have more successful teams to be interested.

for the article in French as it appears on AGBU Europe click here
---
AZAD HYE BLOG - MIDDLE EAST ARMENIAN PORTAL

Below is an interview with Simon Aynedjian specially for the readers of our webiste:
To read the interview in French click here as it appeared in Yevrobatsi.org
Could you tell us a few words about the Armenian community in Cyprus?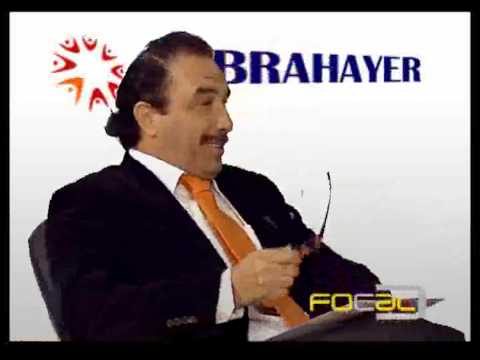 The Armenian community in Cyprus is not a newly formed one. It has a continuous history of almost one thousand years. However, the biggest wave of Armenians arrived in Cyprus after the Adana massacres (1909) and continued up to the time of the Genocide (1915-1921). The survivors of these two tragic historical events have created the Armenian community as we know it today numbering around 3,000. There have been population fluctuations though.
In the 1940s and 50s we witnessed the repatriation of hundreds of Armenians from Cyprus to Armenia. When the EOKA struggle and the inter-communal disturbances began in Cyprus in the 1950s another wave of movement, this time to the United Kingdom further reduced the number of Armenians. After the Turkish invasion in 1974, a fresh wave of emigration took place chiefly to the UK, further decreasing the numbers.
The Lebanese Civil War (1975-1991) and the Islamic Revolution in Iran (1979) resulted in an influx of temporary immigrants in Cyprus. They considered Cyprus as a transit station to the West, although some of them settled down in Cyprus and others returned back to their respective countries.
The latest wave comes from Armenia itself, after the collapse of the Soviet Union. The economic difficulties in Armenia caused many to find shelter in countries providing employment and prosperity. However it should be noted that the majority of these Armenians were actually the children and grandchildren of those who had emigrated to Armenia during the repatriation period of 1940s and 50s.
In numeric terms the number of Armenians in Cyprus are about 3,000, around one third of them consist of Armenians who have come to Cyprus during the last 15 years. Unfortunately, this portion of Armenians is not yet fully integrated in the Armenian community, except for the elementary school where their children attend. I believe that this pattern is more or less true in all diaspora communities.
How about the political structures of the community?

The present political structure of the community could be characterized by the presence of two factions: Dashnaktsoutiun (ARS, AYMA/HMEM, Hamazkayin, AYF, ANC) and AGBU "affiliated" organisations (Ramgavars, Henchaks, Communists) pretty much in the same structure as all Armenian diaspora communities globally.
Recent elections (October 2005) for the post of the community Representative in the House of Representatives of Cyprus resulted in the election of Dr. Vahakn Atamyan (AGBU "affiliated") with a margin of 52% while Dr. Antranig Ashdjian (Dashnaktsoutiun) received 44 % and Parsegh Zartarian (independent) 4%.
And the life of Armenians in Cyprus?

The Armenian community of Cyprus is fully Armenian spoken. The average Armenian Cypriot speaks also fluent Greek and English. The older generation knows also Turkish to
a certain degree. Before the 1974 invasion Armenians lived with the Turkish Cypriots in harmony. The invasion resulted in loss of considerable Armenian properties, which are now under Turkish occupation such as the Armenian monastery of Sourp Magar in Kyrenia, the Ganchvor Church in Famagusta and the Sourp Asdvadzadzin Church, Armenian elementary schools and Armenian Prelature in Nicosia.
The community has been active for the last three decades in supporting the Armenian Cause in all possible ways, especially propagating awareness about the Genocide in Cypriot political and media circles.
The community has sent large amounts of humanitarian and other assistance to Artsakh. In this effort which continues presently through the programs of the Armenian Relief Society Sossee Cyprus Chapter, the community always has the moral and financial support of Greek Cypriots. Currently, through a program administered by The Armenian Relief Society (HOM), some 400 orphans in Armenia and Artsakh are sponsored by Armenian and Greek Cypriots.
Relations between Armenia and Cyprus are cordial and at a very high level, with frequent visits of state delegations. The State Dance Ensemble of Armenia has recently performed in Larnaca and Nicosia.
A major setback in the life of our community has been the closure of Melkonian Education Istitute, and I believe that the full extent of the damage will surface in years to come. In the mean time I feel it is important that all parties - the AGBU and local administrators - involved in the scandal of the closure of the school account for their role in it.
Thousands of Armenians worldwide, especially those who use the Internet and electronic media, have been receiving Gibrahayer e-magazine. Could you give us an idea about this extremely popular project?
Gibrahayer is seven years old. It started with a list of 50 subscribers and has reached 20,000 subscribers globally (only 15% of the subscribers are from Cyprus). Cyprus is in the center of civilizations and conflicts. It is a politically vibrant area where Armenians live and prosper. The political, social and religious mix no doubt creates an active atmosphere and the need to communicate both at a community level and globally at Diaspora level and build bridges of communication between Cyprus, the diaspora and our homeland.
We feel we are an integral part of Cyprus. It is important that Armenians in Cyprus live and prosper. We feel that we have to stay here to safeguard whatever belongs to us: our church, our schools, our history, our homes, having in mind our new role of aiding economically and politically our newly formed Republic of Armenia and newly liberated lands in Artsakh and supporting our national cause. I am convinced that the Armenians of Cyprus will also become an example of co-existence with the Turkish Cypriots and as an extension will pave the road for a new Armeno-Turkish understanding.
The role of Gibrahayer therefore is to form a kind of bridge. You will be amazed - as you already know yourself as a subscriber of our e-magazine - by the articles received, letters as well as the discussions that have been taking place lately by our readers. A number of our subscribers have re-discovered each other through the pages of Gibrahayer.
Old friends, past students of the Melkonian Educational Institute, emigrants, people who have left Cyprus a long time ago and now live in other countries, have found each other and have renewed their friendships.
Where does the funding of Gibrahayer e-magazine come from?

The subscription of the e-magazine is free and will remain as such. It is neither funded by any organization nor does it accept financial assistance from anyone. We sometimes urge readers to donate sums for noble causes, our latest appeal being the assistance to a young Armenian tennis star, 15 year old Zarouhi Haroutyunyan from Armenia who currently practises with the Cyprus National Tennis Team. During the period that our readers have funded her tours, she has climbed an incredible 700 positions on the ITF Tour from 1245 to 575.
Is there any political line adopted by Gibrahayer e-magazine?

Any opinion or any event, even the simplest of statements, contains a degree of political attributes. Gibrahayer therefore has its political direction and a unique way that it views society and politics. This is visible in the way it presents news and the choice of articles and editorials.
Personally I have been involved in Dashnaktsoutiun and its affiliated organizations. That does not mean that I always adopt the "party line" as it comes.
We need to keep under check our organisations and parties and this is done through democratic institutions and procedures as well as transparency. In the case of party members and people involved in community affairs it is achieved through increased participation in our community structures and decision making processes.
I would like to think that Gibrahayer is also a tool that besides the information gateway it provides to its readers, it also invites them to think and act on the way we live our life in our communities and the way we contribute to our homelands.

Azad Hye interview as it appears on the web. Click here