Aram I celebrates Christmas in liberated
Aleppo and visits damaged institutions
Aleppo - His Holiness Aram I, Catholicos of the Great House of Cilicia, celebrated Christmas Mass on Friday 6th of January, with hundreds of community members from this city besieged by war flocking to St. Mary's Armenian Church in the heart of the city.
Click here for the complete story from Asbarez
CYPRUS TALKS CONTINUE IN
GENEVA WITH LIMITED PROGRESS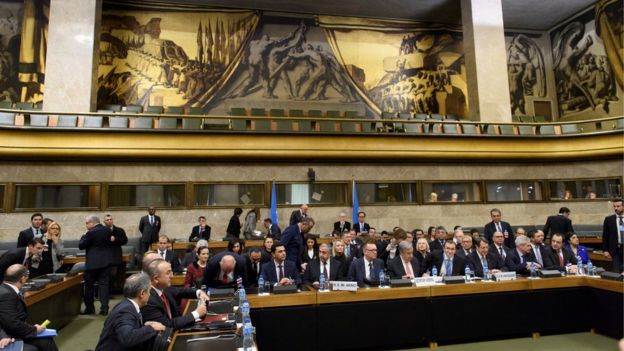 The Guardian - Rival Cypriot delegations have failed to agree on maps for new borders on the divided island state, each slamming the other's proposals as "unacceptable", Turkey's Foreign Minister said on Saturday after peace talks stalled.
Mevlut Cavusoglu said the Greek Cypriot and Turkish Cypriot delegation had delivered letters to the UN Secretary-General, Antonio Guterres, "saying they would not accept the maps they had seen".
A week of UN-brokered talks in Geneva between Greek Cypriot President Nicos Anastasiades and Turkish Cypriot leader Mustafa Akıncı had sparked optimism that an agreement to reunify the island could be at hand.
Each side unveiled their vision on Wednesday of how they saw the borders of a reunified Cyprus. But hopes stalled on Friday, with the rival sides in the decades-old dispute at loggerheads over the future of Turkish troops on the divided island – and its boundaries.
Turkish Cypriot leader Mustafa Akıncı "strongly stressed that the Greek offer could not be taken seriously, (and) that no Turkish Cypriot would accept this map", Cavusoglu told reporters in Ankara. "The same goes for us," he added.
The thorny issue centres on how the boundaries are redrawn, including around the once Greek Cypriot town of Morphou on the northern coast. Anastasiades has warned that there can be no deal without a full return of Morphou, while some in the Turkish Cypriot camp have declared its return a non-starter.
The maps swapped on Wednesday will not be disclosed publicly, with the UN hoping that both sides eventually agree on a compromise version. But Turkey has cast a shadow over the peace talks, with President Recep Tayyip Erdogan saying Friday that Greek Cypriots still have "different expectations".
"These maps are not open for discussion," Cavusoglu said. "This is neither the time nor the place." He added that more pressing issues would have to be resolved first.
One such issue is troop deployment. Cyprus's so-called guarantor powers – Britain, Greece and Turkey – were at the UN on Thursday to talk about security, a bedrock issue in the peace process aimed at creating a two-zone federation.
Turkish Cypriot leaders have agreed in principle to return some of the land controlled by Greek Cypriots before the 1974 invasion by Turkish troops, which came in response to an Athens-inspired coup seeking union with Greece.
GARO PAYLAN SUSPENDED FOR THREE SESSIONS
OF THE TURKISH PARLIAMENT FOR COMMENTS
MADE ABOUT THE ARMENIAN GENOCIDE
PanARMENIAN.Net - Garo Paylan, a member of the Turkish Parliament of Armenian origin from the Peoples' Democratic Party (HDP), was banned from Parliament for the next three sessions after he used the words "Armenian Genocide" during his speech on Friday, 13 January, 2017.
"We used to account for 40 percent [of the population]. Now we are barely one per thousand. It seems likely that something happened to us. I define this as Genocide," Paylan said.
The abovementioned part of the deputy's speech was removed from parliamentary minutes.
Paylan has on numerous occasions raised the question of the Armenian Genocide and has addressed, problems Armenians face in Turkey.
CHRISTMAS ON THE ISLAND
Click here for more images:
Turkey pays for Erdogan's
overreach into Syria
The "Santa Claus" shooting rampage one hour after midnight, killing 39 New Year revelers and injuring 69 at the Istanbul Reina nightclub, was the first terrorist event of 2017. It came on the heels of the assassination of the Russian Ambassador Andrew Karlov in Ankara on Monday, Dec. 19, by a Turkish special forces officer, 22-year old Mevlit Mert Atlintas, shouting "This is for Syria!" on behalf of Al Qaeda's Syrian arm, the Nusra Front.
That murder had the historic distinction of marking the opening of the floodgates for the Syrian war and its terrorist adjuncts to start surging across the border into Turkey.
The Turkish army's August invasion of northern Syria triggered a sharp escalation of devastating terrorist attacks in the country by Syrian-based organizations, the Islamic State, then Nusra and TAK-the Kurdistan Freedom Falcons, on top of the local Kurdish separatist PKK's regular outrages.
However the impact of even those crippling events pales against the earthquake rumbling through the country and threatening to blow its society, armed forces and ruling institutions apart, under the weight of the three wars which President Tayyip Erdogan has ignited:
Click here to read on:
Birthright Armenia (Depi Hayk) is a non-profit organization established in 2003 by Edele Hovnanian. Birthright Armenia runs a year-round program for Diasporan Armenian youth, aged 20-32 years old, to experience Armenia as active participants: to come, volunteer and connect deeply with the country.
Our participants stay in Armenia from 1-12 months, immersing themselves in the diverse Armenian experience. They are provided with professional internships, subsidized home stays, language classes and lecture series, free of charge. It also reimburses the airfare if the participants meet all the requirements of the program.
Birthright Armenia envisions:
► A significant percentage of Diasporan youth having personal ties to Armenia, a better understanding of the social, cultural, economic, and political issues and needs there, and globally participating in Armenia's development.
► Energized and inspired Armenian homeland youth, committed to remaining in Armenia, as a result of a better understanding of their critical role in nation building and a stronger connection to their Diasporan counterparts.
► The development of future leaders of the Diaspora with a better understanding of and strong ties with the homeland, promoting the importance of participation in Armenia's development within their local communities worldwide.
Our mission is to strengthen ties between the homeland and Diasporan youth by affording them an opportunity to be a part of Armenia's daily life and to contribute to Armenia's development through work, study and volunteer experiences, while developing life-long personal ties and a renewed sense of Armenian identity.
As of 2016, more than 1200 individuals from more than 44 countries have participated in the Birthright Armenia program; around 70 alumni moved to Armenia for long-term stays.
For more information, please refer to Nina Baghdasaryan, Social Media and PR Coordinator at Birthright Armenia. She can be reached via phone on 010 54 00 37 (13), email
nina@birthrightarmenia.am
, or through the website,
www.birthrightarmenia.org
Watch Birthright's video on Facebook by clicking here:
www.facebook.com/BirthrightArmenia/videos/10153737630684481
Watch Birthright's video on Youtube by clicking here:

www.youtube.com/watch?v=f1Fl7dd-U0Y&feature=youtu.be
Apply here: www.birthrightarmenia.org/en/apply-now
VISIT ARTSAKANK
www.artsakank.com.cy
Established in 1981, now in its 35th year, Artsakank newspaper brings to
your home free of charge, Armenian news and happenings, promoting
and protecting at the same time the western Armenian language
through the volunteer work of dedicated editors.
View it here, save it on your favourites and visit it for
daily updates in Armenian and English
News in Brief
► A total of 165 Armenian soldiers were killed in 2016, according to a new report released by Armenia-based Razm.info.
► The United Nations Population Fund (UNFPA) says that, due to sex-discriminatory abortions, Armenia will become "a society of single men."
► Turkey's President says a full withdrawal of its forces from divided Cyprus is "out of the question", unless Greece also agrees to pull out troops.
► 2017 chess tournament has brought together 760 chess players who will compete in Yerevan in the annual tournament dedicated to the late Prime Minister Andranik Margaryan.
► Henrikh Mkhitaryan has claimed the Carling Goal of the Month for December. The Manchester United midfielder's acrobatic scorpion kick helped his side earn a 3-1 victory over Sunderland on Boxing Day.
Gibrahayer Sport
► On Friday 13 January, Vana Habeshian was decorated by the Municipality of Latsia on her achievements in Air Pistol Shooting.
► Omonia/Ararat face AEK Larnaca in the semi-finals of the Cyprus Futsal Cup.
► Teamed up with Christos Kyrillou, Edmond Aynedjian won the Men's Doubles event at the Masters National Tennis Championships, finishing the season in the number 1 position in the Men's Doubles. In the finals they defeated Dean Georgiou and Constantinos Elia 6-4, 5-7, 10-8.
► Multiple medal winner of th Pan-Armenian Games Marie Somakian Georgiou, from Larnaca, has been training hard in preparation of her upcoming swimming competitions, that begin in April 2017.
► Mikela Aynedjian representing GSP, won Silver in the 1500 meters race at Athalassa Park. In the Pancyprian game that were held a few days later on Thursday 11 January she won the Bronze in the 1,500 meters in the Pancyprian High Schools Athletic Meeting that was held in Kokkines in Ayia Napa.
The proverb of this issue:
"Those who make peaceful revolution impossible, make violent revolution inevitable"
John F. Kennedy
Turkish Flags Spark Controversy at
Homenetmen Lebanon Basketball Game
BEIRUT, Lebanon (A.W.) - Two Turkish flags raised at the Jan. 8 Lebanese basketball match between Armenian club Homenetmen and Riyadi has sparked much controversy in the past few days. Photographs of the flags began circulating on social media networks shortly after the game—a display that many are calling a targeted attack against the Homenetmen players and fans.
Mohammed Khoder, a supporter of the Riyadi club, tweeted "Tonight we'll be raising the Turkish flag in the basketball game against Homentmen Armenian Lebanese team! BURNNN," prior to tip off. The tweet, which was later taken down, led people to believe that the premeditated act was deliberately provocative.
Amman-based Al Bawaba news outlet reported on the incident and published a photo that a Riyadi fan page posted on Facebook with the following message: "If you want to prevent us from raising the Turkish flag at the stadium, then prevent them from singing the Armenian national anthem at their stadium," in Arabic.
On Dec. 9, Riyadi issued an official statement on its Facebook page in response to the incident, denouncing the raising of the Turkish flag and condemning the provocation.
While Homenetmen suffered its first loss of the season to Riyadi on Jan. 8 after losing
73-66, the team continues to sit atop the standings in the first division of the Lebanese Basketball league. After eight games, the Armenian club has seven wins and one loss.
The Homenetmen Beirut basketball team was founded in 1924 and is considered one of the oldest in the country. The team has one of the biggest fan-bases in Lebanon and thousands of supporters worldwide.
MELKONIAN BROTHERS' MEMORIAL
Images by Armen Demirdjian - click here for more images
Gibrahayer Calendar
►

Saturday 21 January at 5 pm - at Melina Mercouri Hall - A book presentation by Brigadier General Stylianos Petasis on Kythrea, with extensive references to the Armenians of Kythrea.


►

Saturday 28 January at 6:00 pm - Hrant Dink Commemoration organised by the Armenian National Committee of Cyprus and the Armenian Youth Federation


►

Wednesday 15 February at 8:00pm - Homenetmen - AYMA AGM.
►

Saturday 18 February - Valentine's Day. Details to follow.


►

Wednesday 22 February at 8:00pm-Hamazkayin's literary evening. Details to follow.
► Sunday 19 March at 1:00 pm - Michink, organised by the Armenian Relief Society (HOM) Cyprus "Sosse" Chapter at Homenetmen - AYMA.


►

Wednesday 22 March at 8:00 pm - Hamazkayin's literary evening. Details to follow.


►

Saturday 8 April at 4:00 pm - Easter Tea, organised by the Armenian Relief Society (HOM) Cyprus "Sosse" Chapter at Homenetmen - AYMA.


►

Sunday 9 April - Dzaghgazart.


►

Sunday 16 April - Armenian Orthodox and Greek Orthodox Easter.


►

Wednesday 19 April at 8:00pm - Hamazkayin's literary evening. Details to follow.
► Sunday and Monday 23 and 24 April - 102th commemoration of the Armenian Genocide. Details to follow.


►

Saturday 20 May - Hamazkayin Cultural and Educational Association Cyprus "Oshagan" Chapter's Sipan and Nanor Dance Ensemble's annual performance at Strovolos Municipality in Nicosia.


►

Saturday 27 May - May 28 Armenian independence celebrations in Cyprus.


►

Wednesday 31 May - Annual AGM of Armenian Relief Society (HOM) Cyprus "Sosse" Chapter at Homenetmen - AYMA.


►

Sunday 23 July - Khanasor anniversary commemorated by ARF Dashnaktsoutiun Cyprus Gomideh and affiliate organisations at Troodos.


►

August - AYF Camp in Troodos. Final dates to be announced shortly.


►

August - Open day for parents and community members, lunch and closing ceremony of AYF Camp in Troodos. Final dates to be announced shortly.
A MESSAGE FROM AYF CYPRUS
Nicosia, Sunday 15 January 2017,

We would like to thank the families that welcomed us to their homes on Christmas Eve.
We would also like to thank the badanis and youth who attended our January 1 Santa party and the AYF Party on 30 December. A rich, fun and educational 2017 awaits us all.
Finally, we would like to remember Vicken Mouradian who passed away this week. It was the wish of the Mouradian family that the amount raised in his memory be donated to the AYF.
We promise that the trust shown to our organisation will be returned tenfold, through our activities in Cyprus, which we call our community and especially the youth to support.

AYF Varich Marmin
HAMAZKAYIN'S "TIMAG"
THEATER GROUP PRESENTS
"SUPER BOEING"
For more images click here:
For more images click here:
SUPPORT GIBRAHAYER E-MAGAZINE
Nicosia, Sunday 15 January 2017

Dear Subscribers,

During the week that we reached 17,000 Fans on Facebook. we ask you to assist us to ensure continuity of Gibrahayer e-magazine's website and social media platform by making a contribution the following account:
The Bank of Cyprus - Account Number: 357010047760
IBAN: CY39002001950000357010047760 - SWIFT / BIC: BCYPCY2N

With thanks,
Simon Aynedjian - Editor - Gibrahayer E-Magazine.
Click here to make a contribution through PayPal
Kim Bu Ermeniler
Who are the Armenians?
in the Turkish-Cypriot press
Adres Kibris that came out on Sunday 25 December together with Yeni Düzen newspaper, featured an interview with Dr. Susan Pattie.
SIMON AYNEDJIAN'S NEW YEAR'S
MESSAGE FOR YERKIR MEDIA TV
From Alexander-Michael Hadjilyra -

Sireliner,
Just like every year since 2009, I have prepared a themed calendar for this year, beginning with January 2017 and ending in January 2018. It features beautiful engravings depicting our Cyprus as it was in the 19th century and it is available in Armenian, English, Greek and Turkish.
Below is a panorama of the Armenian calendar's various months. Please note that the calendar uses light grey for Saturdays, dark grey for Sundays and orange for public holidays. Also noted on the calendar are astronomical information (new moon, full moon, lunar eclipse, equinox, solstice, meteor shower) and the days when the time changes.
The A4 printed version of the calendar is available on demand, for the price of €10 in full colour and good-quality paper. Interested parties should contact me on katoomba@cytanet.com.cy
The Armenian PDF is available on https://www.scribd.com/document/335338345/2017-Calendar-19th-century-Cyprus-Armenian;
the English PDF on https://www.scribd.com/document/335338305/2017-Calendar-19th-century-Cyprus-English;
the Greek PDF on https://www.scribd.com/document/335338098/2017-Calendar-19th-century-Cyprus-Greek
and the Turkish PDF on https://www.scribd.com/document/335338391/2017-Calendar-19th-century-Cyprus-Turkish
Warm regards,
Alexander-Michael Hadjilyra