EU PARLIAMENT FREEZES TURKEY'S
ACCESSION TO THE EUROPEAN UNION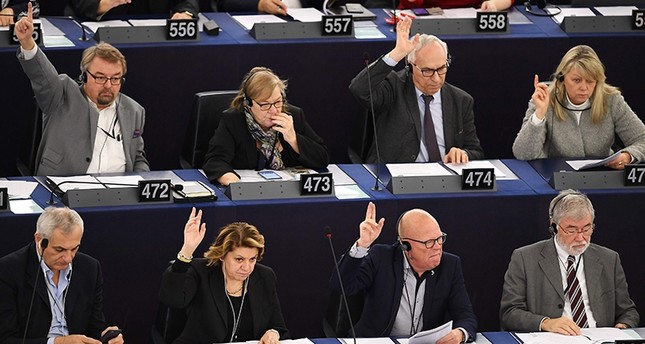 The European Parliament adopted a motion on Thursday, urging member-states to freeze Turkey's accession to the bloc.
The vote threatens to deepen the rift between Ankara and the European Union.
The motion was approved by 479 votes to 37, with 107 abstentions.
MEPs agreed on nine clauses, which include the 'freeze' expression, arguing that Turkey is violating seven of 72 criteria crucial for the continuation of membership talks.
The text said Turkey used "non-proportional security measures" during the country's state of emergency, extended for another 90 days in October following the July 15 unsuccessful coup.
LEGAL ACTION AGAINST TURKEY FOR THE RETURN
OF SIS CATHOLICOSATE SUBMITTED TO THE
EUROPEAN COURT OF HUMAN RIGHTS
ANTELIAS, Lebanon (Armenian Weekly) - Catholicos Aram I of the Great House of Cilicia announced on Monday that the Cilician Catholicosate will be submitting the legal case for the return of the Sis Catholicosate to the European Court of Human Rights on December 6.
"Tomorrow, the sixth of December will be an important day for the Armenian people in general and the Armenian church in particular," Catholicos Aram I announced in a live video address from the current seat of the Catholicosate in Antelias, Lebanon.
The Catholicos said that the decision was made after Turkey's constitutional court denied the request of the Catholicosate.
"This is the first legal action taken against Turkey after the Armenian Genocide of 1915.
This legal action is the result of a long and serious reflection, consultation, and study, and is based on the provisions of international Law, including the decisions of the Lausanne Conference pertaining to the minorities living within the boundaries of the Republic of Turkey," Catholicos Aram said in his December 5 address.
The Catholicos first announced that the Cilician See was preparing to initiate legal claims against Turkey to regain ownership of the historic headquarters of the Catholicosate of Sis back in September 2014.
On April 28, 2015, the Catholicosate of Cilicia submitted a brief to the Constitutional Court in Turkey requesting the return of its historic spiritual center in Sis.
The Catholicosate's St. Sophia church and monastery, and their surrounding lands, are located in the city of Kozan, in the Adana Province of the present-day Republic of Turkey. The headquarters, a center of Armenian religious life for more than seven centuries, was confiscated by the Turkish Government during the Armenian Genocide.
ARF DASHNAKTSOUTIUN'S 126th
ANNIVERSARY CELEBRATIONS IN CYPRUS
ARMENIAN GENOCIDE
PARK IN PAPHOS
From the Facebook Page of the Armenian MP Vartkes Mahdessian - An idea which was initiated in early 2016, has now materialised by the unanimous decision taken by the Paphos Municipal Council. The public green area, on the corner of Charalambos Mouskos and Evagoras Pallikarides Streets, will be named "Armenian Genocide Park", in memory and in honour of the 1.5 million innocent victims of the 1915 Genocide. The Park will also serve as a symbol of the friendship and mutual respect enjoyed between the Greek and Armenian communities of Cyprus. The inauguration ceremony will tentatively take place in February 2017, which will include the placing of a cross-stone (khachkar) specially flown over from Armenia.
I am especially privileged to address the Armenian community of Cyprus as a "pesa" of "Hamshenahay" Yana Akopyan with whom we have two boys aged 11 and 2.
We have been living in Cyprus for 18 years and I am a lawyer by profession.
My family originates from Kars and I feel that I am addressing brothers and sisters of the same community when I address the Armenian community of Cyprus and ask for their support.
Having established contact with the Armenian community of Cyprus, my family and I intend to be part of it from now on.
Cherm maghtanknerov,
Valerios
JOIN THE AYF
not just the Facebook Page :)
www.facebook.com/AYFCyprus
Hamazkayin's SIPAN and NANOR Junior Dance Group's choreographer Koko Keleshian. Committed in preserving Armenian culture in the Diaspora.
Watch the video of the last practice session of Nanor Junior Group on www.facebook.com/Gibrahayer
Birthright Armenia (Depi Hayk) is a non-profit organization established in 2003 by Edele Hovnanian. Birthright Armenia runs a year-round program for Diasporan Armenian youth, aged 20-32 years old, to experience Armenia as active participants: to come, volunteer and connect deeply with the country.
Our participants stay in Armenia from 1-12 months, immersing themselves in the diverse Armenian experience. They are provided with professional internships, subsidized home stays, language classes and lecture series, free of charge. It also reimburses the airfare if the participants meet all the requirements of the program.
Birthright Armenia envisions:
► A significant percentage of Diasporan youth having personal ties to Armenia, a better understanding of the social, cultural, economic, and political issues and needs there, and globally participating in Armenia's development.
► Energized and inspired Armenian homeland youth, committed to remaining in Armenia, as a result of a better understanding of their critical role in nation building and a stronger connection to their Diasporan counterparts.
► The development of future leaders of the Diaspora with a better understanding of and strong ties with the homeland, promoting the importance of participation in Armenia's development within their local communities worldwide.
Our mission is to strengthen ties between the homeland and Diasporan youth by affording them an opportunity to be a part of Armenia's daily life and to contribute to Armenia's development through work, study and volunteer experiences, while developing life-long personal ties and a renewed sense of Armenian identity.
As of 2016, more than 1200 individuals from more than 44 countries have participated in the Birthright Armenia program; around 70 alumni moved to Armenia for long-term stays.
For more information, please refer to Nina Baghdasaryan, Social Media and PR Coordinator at Birthright Armenia. She can be reached via phone on 010 54 00 37 (13), email
nina@birthrightarmenia.am
, or through the website,
www.birthrightarmenia.org
Watch Birthright's video on Facebook by clicking here:
www.facebook.com/BirthrightArmenia/videos/10153737630684481
Watch Birthright's video on Youtube by clicking here:

www.youtube.com/watch?v=f1Fl7dd-U0Y&feature=youtu.be
Apply here: www.birthrightarmenia.org/en/apply-now
I am happy to address my Armenian Cypriot friends - a select group of Cypriot citizens in my constituency - towards whom I hold great respect, ever since my friendship with so many of my classmates and old boys and girls from the English School.
I follow the achievements of so many of my dear friends as individuals and as members of a community, who have rebuilt their lives many times over.
With so many of the events of the Armenian community in Cyprus taking place in our Strovolos area, I follow their rich and versatile activities in the fields of culture, education, sports and politics.
Furthermore, I follow the political developments in Armenia - especially after its independence - as well as the liberation struggle of Nagorno-Karabakh towards freedom and statehood.
I ask for your vote to help me get elected in the upcoming Municipal elections in Strovolos.
I feel I have the moral right to ask for your vote, as I feel you would want someone like myself who is knowledgeable and sensitive towards issues that concern you.
Thank you for taking time to read my message.
Kyriacos Psaras - DISY Candidate No. 23 in Strovolos
VISIT ARTSAKANK
www.artsakank.com.cy
Established in 1981, now in its 35th year, Artsakank newspaper brings to
your home free of charge, Armenian news and happenings, promoting
and protecting at the same time the western Armenian language
through the volunteer work of dedicated editors.
View it here, save it on your favourites and visit it for
daily updates in Armenian and English
EARTHQUAKE with English subtitles in Cyprus
17, 18, 24, 25 December at 5pm and
21 and 28 December at 8pm
at K-CINEPLEX in Nicosia
News in Brief
► Community and religious leaders, government officials, and benefactors gathered in Paris on 10 December - the International Day of Human Rights - at a fundraiser dinner organized by the ARF Dashnaktsoutiun Bureau, in support of the worldwide Armenian National Committee activities (ANC/Hay Tad) at the Cercle de l'Union interalliée Elysian Palace. It was announced that $3,860,000 was raised.
Click here for the report and here for the images.
► Russian Defense Minister Sergey Shoygu, and his Armenian counterpart signed an agreement on establishing combined forces.
► France's new Minister of Internal Affairs Bruno Le Roux, who had visited Artsakh, remains in a list of undesirable persons compiled by the Foreign Ministry of Azerbaijan.
► A twin bomb on Turkish police officers outside Beshiktash Football stadium killed 38 people and injured 155, 14 of whom are in intensive care. 32 of the killed are police officers. Turkey believes Kurdish militants are behind the blasts, one of which was carried out by a suicide bomber.
Gibrahayer Sport
► Antranik Sarkis Ashdjian won Gold in the 75 meters race (age group 2006) at GSP Nicosia District Games.
► Panayiotis Panayi won Gold in the High Jump (age group 2007) at the GSP District Games.
► Mikela Aynedjian won Silver in the 1500 meters race at the District Gymnasium Games.
► Vana Habeshian won Silver in the Pancyprian pistol shooting competition.
The proverb of this issue:
The world is composed of three groups:
- The very small group who make things happen.
- The much larger group who watch things happen.
- The great multitude who don't know what is happening.
Gibrahayer Calendar
►

Monday 19 December - Christmas Amanori Hantes Nicosia Nareg Kindergarten, pre-school,1st and 2nd Classes at 5pm, in school Hall.


►

Tuesday 20 December - Christmas Amanori Hantes Limassol Nareg Elementary School, at 6.30pm, in school Hall.


►

Tuesday 20 December - Christmas Amanori Hantes Larnaca Nareg Elementary School, at 4pm, in school Hall.


►

Thursday, 22 December - Christmas Amanori Hantes Nicosia Nareg Elementary School, at 6.30pm, in school Hall.


►
Friday 23 December at 7:00 pm - Christmas Concert by Sourp Asdvadzadzin Church Choir.
►
Sunday 25 December - Homenetmen AYMA dinner dance at Tzellari. For reservations please contact Hagop Kazandjian on 99394414 or Lena Bahadourian on 99111501.
► Friday 30 December - AYF party at Homenetmen - AYMA.
►
Sunday 1 January - Santa at Homenetmen - AYMA, organised by AYF Junior Chapter.
►
Thursday 5 January - Christmas Eve: Avedisi Kisher by members of AYF.
►
Friday 6 January – Christmas.


►

Sunday 15 January at 6:00 pm - "Super Boing" a comedy by Harout Tahmazian at the Russian Cultural Center, by the "Timag" Theater Group of Hamazkayin Cultural and Educational Association's Cyprus "Oshagan" Chapter.
The 20th instalment of Parev, featuring the celebrations for Melkonian Educational Institute's 90th anniversary and an interview with researcher-scholar, Alexander-Michael Hadjilyra, regarding his contribution to the monumental publication on the Armenians of Cyprus by Phileleftheros and his overall research on the Armenian-Cypriot community.
Click here to watch Parev 1
ARMENIAN RELIEF SOCIETY'S CHRISTMAS
FAIR AND VINTAGE FASHION SHOW
Congratulations to the committee and members of the Armenian Relief Society "Sosse" Cyprus Chapter for another successful event. The Christmas Fair and Vintage fashion show, raised funds for the number of humanitarian projects in Artsakh, Armenia and the Diaspora.
SUPPORT GIBRAHAYER E-MAGAZINE
Nicosia, Thursday 14 December, 2016

Dear Subscribers,
You can ensure continuity of Gibrahayer e-magazine's website and social media platform through PayPal, by clicking the button at the top of the page of www.gibrahayer.com or to the following account:
The Bank of Cyprus - Account Number: 357010047760
IBAN: CY39002001950000357010047760 - SWIFT / BIC: BCYPCY2N
With thanks,
Simon Aynedjian - Editor - Gibrahayer E-Magazine.
Click here to make a contribution through PayPal
DR. SUSAN PATTIE AND MARAL KEROPIAN
LAUNCH "KIM BU ERMENILER" IN CYPRUS
Dr. Susan Pattie talking to Turkish-Cypriot journalist Simge Cerkezoglu. We will publish the interview in our next issue.
Kim Bu Ermeniler? the Turkish translation of "Who Are the Armenians?", was released in August 2016. Created for children, this popular book is a colourful and lively introduction to
Armenians for people of all ages. Published by the Armenian Institute (London) in partnership with Aras Publishing (Istanbul), the project received generous funding from the Calouste Gulbenkian Foundation.

Author Susan Pattie and co-authors Gagik Stepan- Sarkissian and Maral Kerovpyan worked with translator Lora Sari to adapt the text and images for Turkish language readers, adding a further eight pages to the already expanded 2nd edition of the original English version. With pages on language, history, games, food, customs, music and much else, the book includes activities and audio supplement now found on the website. Its Portuguese edition has been the best-selling book in the Gulbenkian Foundation's bookstore for many months.
Please visit www.whoarethearmenians.com to learn more about the book and find Sample pages in Turkish as well as the English and Portuguese editions.
Books can be ordered directly from www.arasyayincilik.com, through the book's website (above) or from www.armenianinstitute.org.uk in London.
... and then the following day, Dr.Susan Pattie and Maral Keropian presented the book and had a discussion with AYF members in Nicosia.
... and then met with members of the Junior Chapter.
Click here for some image of the meeting
Click here for some image of the meeting
Click here for some image of the meeting
This week, we reached another milestone ... 16,000 ... and today we stand at 16,136 friends who are reading, watching and following our activities.
Thank you.
Simon Aynedjian
PACIFIC PRODUCTS IN CYPRUS
With the acquisition of the Fischer Tennis & Racquet Division a new union becomes one Brand: PACIFIC. Starting in late 2009, PACIFIC expands into a complete Tennis Line Company with the purchase of Fischer Tennis. The esteemed FISCHER TECHNOLOGY, long associated as a global leader in racquet innovations, joins together with the equally renowned PACIFIC TECHNOLOGY – now combined together bringing more then 70+ years of cutting-edge & technical know-how in the design/development, and manufacturing of racquet sports equipment.
The addition of successfully proven FISCHER TECHNOLOGY incorporated into the new PACIFIC Racquet Line, assures the continuation of quality and innovative design. The unique production process, increased investments into new Research & Development, German Engineering, and the heritage of quality Products insure continued future success.
PACIFIC is a family owned & operated German Company. Since 1972 they have been the worlds leading Brand in the developing and manufacturing of racquet sports accessories. Whether in Germany (Hochdorf) or New Zealand (Manaia/Taranaki) PACIFIC Factories lead the way in producing the highest-quality strings for all racquet sports. As the Official ATP-Partner for Strings, Grips and Stringing Machine in the years 2007-2012, PACIFIC has been actively present at many ATP World Tour events assisting the professional players - as well as gaining feedback from the world's best players to better assist us with continuing to be the leading Company in the development of new Product innovations.
The continued implementation of Fischer Technology combined with PACIFIC German Engineering, has already resulted in a new development called: BasaltX® Technology. Already being used in the new racquet manufacturing process – proving that this new union is already successful. This success is not only for technological reasons, but also the even more increasingly important environmentally friendly attitude – as BasaltX® is a natural commodity, and 100% recyclable.
Pacific rackets and accessories are represented in Cyprus by Tennis Zone. 22 Michael Georgalla Engomi-Nicosia-Cyprus. Tel: +357 22353860, Mobile: +357 99437073.
Email: simon@tenniszone.eu - Facebook: www.facebook.com/cypruspacific