GAS DEAL BETWEEN TURKEY AND AZERBAIJAN MAY LEAD TO FURTHER TENSIONS WITH CYPRUS
Combined sources from the Turkish press: 7 November 2014 - Turkey has reached an agreement with Azerbaijan to start exploration in search of gas fields off the coast of the unrecognized Republic of Northern Cyprus.
Cyprus has attracted Israeli gas exploration companies and in response, Turkey demanded from Cyprus to cease those activities immediately and that they too had a share of the spoils. Speaking at the UN General Assembly, the then Prime Minister of Turkey had warned that if Cyprus does not suspend these works, his country would take all the necessary steps.
Now, Turkey and Azerbaijan have reached an agreement to lease two offshore platforms for gas exploration in the Mediterranean sea, with a lease agreement of two floating platforms being signed between Turkey and Azerbaijan last week.
Turkish state company TPAO has asked the Azerbaijani side to provide only one platform, but Azerbaijan officials have stated that they are willing to provide two platforms at once.
CYPRUS, EGYPT AND GREECE DRAW COMMON STRATEGY ON ENERGY AND SECURITY ISSUES
Presidents Nicos Anastasiades, Abdel Fatah al Sisi of Egypt, and Greek Prime Minister Antonis Samaras met at the Egyptian capital on November 8 and ratified the tripartite cooperation agreement on energy and security issues.
The governments of Cyprus, Greece and Egypt have condemned Turkey for sending warships and a seismic data ship to chart gas deposits in an area claimed by Cyprus as its own exclusive economic zone.

Turkey claims sovereign rights in a marine area south of Cyprus in which Cypriot authorities have issued concessions to several foreign energy companies for natural gas and oil exploration.
Cyprus discovered an estimated 5 trillion cubic feet (tcf) of gas in one offshore field in late 2011 and has licensed US energy firm Noble, Italy's ENI and France's Total to search for gas.
Cypriot specialists said that the area of the eastern Levantine basin contains up to 62 trillion cubic feet of natural gas that could be an alternative source of energy for European countries, now dependent of Russian gas.
Turkey reacted to the start of the drilling by sending Barbaros seismic vessel for exploration until December 2014.
Cyprus has also concluded agreements with Israel and Egypt for joint development of gas deposits lying on the borderlines of their respective exclusive economic zones.
Egypt, has penned a deal with the Nicosia government recognizing sea boundaries between the two countries for the purpose of commercial exploitation. Cyprus has also signed a similar deal with Israel. Egypt is facing its worst energy crisis in decades, with declining gas production and high consumption that has turned the country from an energy exporter to a net importer in the past three years.
LARGE SCALE MILITARY EXERCISES IN CYPRUS
WITH THE PARTICIPATION OF ISRAELI AND GREEK AIR FORCES,
COMMANDO UNITS, HELICOPTERS, TANKS AND ARTILLERY
Gibrahayer e-magazine - Nicosia Saturday 8 November 2014 -
A large-scale military exercise involving the Air Force of Israel and Greece, as well as all units of the Cyprus National Guard, was conducted on Thursday in utter secrecy, being only revealed by the Cyprus Government spokesman, after it was completed.
Israeli and Greek F-16 jet fighters kicked off the first-of-a-kind military exercise and after completing their manoeuvers, they landed at Andreas Papandreou Air base in Paphos. Large-scale military exercises were conducted from Larnaca Airport to Mazotos, in which Greek paratroopers were dropped from C-130 planes of the Greek Air Force and were later joined by National Guard and ELDYK forces on the ground.
The theatre of exercises also included the area of Zygi in which tanks, special forces, commando and reservist units, attack helicopters, anti-tank weaponry abd artillery of both Greece and Cyprus also participated.
BOYER INTRODUCES NEW BILL CRIMINALIZING DENIAL OF THE ARMENIAN GENOCIDE AND SAYS SHE WILL NEVER GO BACK TO TURKEY AGAIN BECAUSE SHE IS SCARED FOR HER LIFE
French Member of Parliament Valérie Boyer has introduced another bill criminalizing the denial of the Armenian Genocide. The bill envisages 5-years' imprisonment and a €45,000 fine for denying the Armenian Genocide.
In statements this week to the Turkish press, she said that she would never go to Turkey again over security fears.
100th ANNIVERSARY OF AGBU NICOSIA
CHAPTER COMMEMORATED IN CYPRUS
Click here for all images
A NOTE OF THANKS ON RECEIVING
THE MOVSES KHORENATSI MEDAL
I would like to thank all those who congratulated me on the occasion of my decoration with the MOVSES KHORENATSI medal by the President of the Armenian Republic.

I'm delighted that next to the 16 Armenians who received the Medal in 2014, the Armenian community of Cyprus has its representative as well. I'm also humbled by the fact that in this list are our compatriots, whose work I consider to be much more important than mine, among whom are benefactors of schools and volunteers in culture and education.

I'm honored by the selection that the President of the Armenian Republic Serzh Sargsyan has made, whom I have criticized on numerous occasions in the pages of my magazine.
This award is also the result of the very existence of community structures and media outlets that operate in Cyprus. If we did not have an organized community in Cyprus, we would not be able to pursue the Armenian cause and we would not have media to echo of our accomplishments.

Therefore, I would like to share this award first and foremost with all those friends and comrades who not only now but in the last four decades continue their exemplary dedicated work for the revitalization and rebuilding of our community.

In order for us to proudly proclaim that on an island in the eastern Mediterranean, opposite the Cilician shores, in a Turkish-occupied island, under unparalleled difficulties, we can maintain an Armenian-speaking, politically active and vibrant community, we must all realize that these riches were not accomplished overnight and were not delivered to us on a plate.
We must all realize that - against all odds - they were created and maintained by a group of people who made it their mission in life to bring Gibrahay life to a new plateau of riches and accomplishments.

I would like to share this award with all the spirited volunteers, who have created the cultural, educational, political, athletic, benevolent and media outlets of Gibrahay life.

Simon Aynedjian
MEP Dr. ELENI THEOCHAROUS
VISITS ARF DASHNAKTSOUTIUN HEADQUARTERS IN YEREVAN
Eleni Theocharous praised the party and noted her long acquaintance with the ARF - Dashnaktsoutiun, since she has been cooperating with the party's branch in Cyprus.
Member of the European Parliament (EPP, Cyprus), Chair of the EU - On 10 October, Armenia Friendship Group in the European Parliament, Dr. Eleni Theocharous visited the Kristapor Mikaelian center headquarters of the Armenian Revolutionary Federation - Dashnaktsoutiun (Armenian Socialist Party) and held a meeting with Hrant Markarian, representative of the ARF World Bureau.
Dr. Theocharous was accompanied by her aide, Dr. Ioannis Charalambides, and European Armenian Federation for Justice and Democracy President, Kaspar Garabedian.
MEP Theocharous and H. Markarian discussed the Nagorno-Karabakh - Artsakh issue, Armenia and other regional issues. Theocharous praised the party and noted her long acquaintance with the ARF - Dashnaktsoutiun, since she has been cooperating with the party's branch in Cyprus. Markarian handed to Eleni Theocharous ARF publications and albums, as a souvenir.
Later, they visited the Armenian Revolutionary Federation Dashnaktsoutiun History Museum.
TURKEY SUMMONS GERMAN ENVOY
OVER "ERDOGAN AS DOG" CARTOON
The Turkish Foreign Ministry on Monday summoned the German Ambassador to protest at the appearance in a German school textbook of a caricature of President Recep Tayyip Erdogan as a dog, the Middle East Online reports.
German Ambassador Eberhard Pohl was summoned over the cartoon which appeared in a school textbook in the southern state of Baden Wuerttemberg, a Foreign Ministry spokesman told AFP.
According the reports, the cartoon had been taken from a 2011 article in the Sunday edition of the Frankfurter Allgemeine Zeitung newspaper which showed Erdogan as a guard dog with teeth bared coming out of a kennel marked "Erdogan."erdogan as dog.
The cartoon, which had the sarcastic title "Turks in Germany– a success story", was used in a high school textbook for social studies.
"We strongly condemn the appearance in a school textbook of a cartoon insulting our respected President and all Turks living in Germany," the Foreign Ministry said in a statement.
"There is no place in democracies for attempts to incite hatred in society, xenophobia and Islamophobia", it added, calling on Germany to prevent any re-occurence of the incident.
Erdogan has in the past drawn criticism for his intolerance of cartoonists poking fun at him, taking them to court on several occasions.
Musa Kart, a cartoonist for the anti-Erdogan Cumhurriyet daily, was last month acquitted on charges of insulting the president that could have landed him in jail.
His case prompted several cartoonists outside Turkey to publish caricatures mocking Erdogan, under a Twitter hashtag campaign #Erdogancaricature.
While still Prime Minister in 2005, Erdogan sued a magazine called Penguen (Penguin) after it caricatured him as an elephant, a giraffe, a monkey and several other animals under the title "The World of Tayyips".
That case was thrown out by an Ankara court in 2006.
HRANT DINK COMMEMORATION
ON MONDAY 10 NOVEMBER 6:00pm
AT THE UNIVERSITY OF CYPRUS
SIX ARMENIANS IN THE FORBES WORLD'S BILLIONAIRES LIST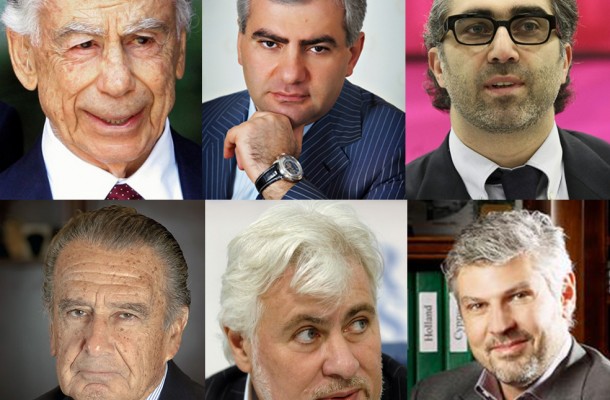 www.armradio.am - There are six Armenians in the World's Billionaires list published by Forbes. Kirk Kerkorian (328th) is still the world's richest Armenian with an estimated net worth of $4.5 billion. The other Armenian billionaires are Samvel Karapetyan (345th), Danil Khachaturov (663rd), Eduardo Eurnekian (931st) and Sergei Sarkisov and Nikolai Sarkisov (both ranked 1465th).
The ranks of the world's billionaires continue to scale new heights–and stretch to new corners of the world. The global wealth team found 1,645 billionaires with an aggregate net worth of $6.4 trillion, up from $5.4 trillion a year ago. In total, there are 172 women on the list, more than ever before and up from 138 last year.
Bill Gates is back on top after a four-year hiatus, reclaiming the title of world's richest person from telecom mogul Carlos Slim Helu of Mexico, who ranked No. 1 for the past four years. Gates, whose fortune rose by $9 billion in the past year, has held the top spot for 15 of the past 20 years. Spanish clothing retailer Amancio Ortega (best known for the Zara fashion chain) retains the No. 3 spot for the second year in a row, extending his lead over Warren Buffett, who is again No. 4. American gambling tycoon Sheldon Adelson, who added $11.5 billion to his pile, makes it back into the top ten for the first time since 2007. Another first: A record net worth of $31 billion was needed to make the top 20, up from $23 billion last year.
Kirk Kerkorian, a hotel magnate is still making money — even at the age of 96. Despite selling $750 million worth of shares of MGM International Resorts in recent years, the Chairman emeritus (till owns nearly one-fifth its shares, which have nearly doubled in the past year — helping boost his net worth by $1.2 billion.
Samvel Karapetyan heads the Tashir Group, a real estate firm that owns 27 shopping centers, seven office complexes, and seven hotels.
In late 2013 Danil Khachaturov listed shares in his insurance giant Rosgosstrakh, one of Russia's highest-volume insurers, on the Moscow Exchange. Khachaturov studied construction and finance at Moscow schools and went to work at privately-held BIN Bank and then at Slavneft, an oil company led at the time by billionaire Mikhail Gutseriev.
Through the years, Eduardo Eurnekian, now 71, has proven he is a flexible businessman and entrepreneur. The son of Armenian immigrants, he first delved into the textiles industry, and then the cable TV business in the 1980s.
Sergei Sarkisov got his start at the Soviet state insurance firm Ingosstrakh. In 1991 he founded his own insurer, RESO-Garantiya where he serves as chairman of the board.
Nikolai Sarkisov, the younger brother of billionaire Sergei Sarkisov, oversees the largest clients at Sergei's insurance company, RESO-Garantiya. The brothers own 63% of the company, while French insurer AXA owns the remaining 37%.
VOTE FOR ALEX MOURADIAN
Alex Mouradian, SAP country manager for Cyprus and Malta is a contender, for Manager of the Year in the IN BUSINESS Awards.
You can vote for him here www.inbawards2014.com
AN ADVERTISEMENT FROM THE PAST:
ENCOURAGING SMOKING TO SAVE
ORPHANS OF THE ARMENIAN GENOCIDE
ARMENIAN ARCHITECTS OF BOLIS
Click here to see all the works:
ARMENIA'S TENNIS CHAMPION LUSINE CHOBANYAN ARRIVES IN LONDON
With the initiation of Gibrahayer e-magazine, Armenian tennis champion Lusine Chobanyan has arrived in London to participate in tournaments and follow an intensive training program before returning back to Yerevan.
We will give additional information about her London project in one of our upcoming Video Casts. In the mean time, we urge you to support Lusine Chobanyan by visiting the below Page we have compiled for her.
We also include memorable picture taken a few days ago at the Queens Club in London with world number 1 Novak Djokovic, preparing for the Best 8 Masters tournament at the O2 Arena.
JOIN THE SUPPORT TEAM
FOR OUR YOUNG ATHLETES

Dear friends,
Nine years ago we initiated a campaign to assist a young Armenian tennis champion Zaruhi Harutyunyan in her quest for stardom.
Nine years later we have decided to invest in two more young talents, who have shown commitment and exceptional results.
We introduce Lusine Chobanyan and Edmond Aynedjian to you, as already accomplished athletes, champions in their own right both at home and in the international sports arena, making Armenians proud everywhere.
We invite you to visit their Support Page.
You too can become part of the Team enabling Lusine and Edmond to continue doing what they are capable of doing best.
Winning!
Through a lifestyle quite different to many kids their own age, both have shown samples of their capabilities that can only multiply if we can meet them half way.

Support Team of Lusine & Edmond
Click here to see how you can join the global team supporting Armenia's Ladies champion Lusine Chobanyan and under 16 and under 18 Cyprus Champion Edmond Aynedjian by visiting this Page. http://gibrahayer.com/index.php5?&page_id=256&path=256
Watch the Voice of America documentary on Artsakh by clicking here:
www.youtube.com/watch?v=5747OPGy1EA&feature=youtu.be
Picture of the week: Peyia shipwreck as seen from the coast last week
Fans of the week:
coming up in Nicosia on Saturday 15 November
News in Brief:
► Carrefour supermarket to open in Armenia January 2015.
► Armenia and Russia to sign an agreement to extend Armenian power plan.
► Biden denies apologies to Turkey over Islamic State.
► Islamic State beheads 8 Syrians.
► Like in Cyprus, armed forces of Armenia and Artsakh were engaged in maneuvers this week.
► Armenian Cancer Centre to become operational Spring 2015.
► UK Minister for Europe visits Armenian Genocide Memorial.
► Misserlian couple donates quarter of a million dollars to Armenian school in San Francisco.
► Gibrahayer Facebook recorded an all time high of 39,000 weekly visitors.
Photo Albums of the month:
Homenetmen AYMA Scouts and Guides march in Nicosia
Boy Scouts and Girls Guides PA Cake Bazaar & Event
Larnaca Monument of the Armenian Genocide
Football Academy BBQ
Armenian Relief Society HOM - Luncheon
100th Anniversary of AGBU Nicosia
Hamazkayin" BBQ Party
Vahe Berberian's "Yete"
Sempad Devletian's Literary Evening - (video)
Sempad Devletian's Literary Evening - (images)
ARF Dashnaktsoutiun Cyprus Gomide's Dinner
Dear friends,
Gibrahayer e-magazine has been circulating on a weekly basis for 15 years since 1999 bringing Armenian and Cyprus related news and community alerts to 20,000 subscribers, daily multiple updates to 6,200 Facebook friends and 800,000 visitors on www.gibrahayer.com.
During this time, it has documented more than 18,000 images of community events, happenings and historic moments.
In the absence of a solid financial backing, and only through the contribution of the very few, Gibrahayer e-magazine has stretched its financial resources.
An online platform such as Gibrahayer has real costs in dispatch, alerts and in preserving an online presence.
In order to continue sustaining what we consider ours, we all need to do our proportional little bit.
Especially in these times of crisis, we appeal to you to preserve this media platform by sustaining it by a contribution.

Simon Aynedjian – Editor – Gibrahayer e-magazine

Click here to make a contribution through PayPal
Gibrahayer Calendar
► Monday 10 November 6:00 - Hrant Dink commemoration event organised by prof. Niyazi Kizilyurek and the Department of Turkish Studies of the University of Cyprus.
► Saturday 15 November 7:00 pm – Inka and Anush Arshakyan perform at the Strovolos Municipal Hall. Performing with them will be Hamazkayin "Oshagan" Cyprus Chapter's SIPAN Dance Ensemble. The event is organised by the Office of the Armenian Representative Vartkes Mahdessian.
► Saturday, 22 November 5:00pm - Official Inauguration Ceremony - NANOR Armenian Childcare Centre.
► Sunday 7 December 12.04 pm - Food Bazaar-Fete organised by the Armenian Relief Society's Cyprus "Sosse" Chapter at Homenetmen - AYMA.
► Friday 12 December 8:00 pm - Comedy Evening – Café Theatre organised by Hamazkayin "Oshagan" Cyprus Chapter.
► Sunday 21 December - Concert by Sourp Asdvadzadzin Choir. Details to follow.
► Thursday 25 December - New Year's Dinner Dance organised by Homenetmen- AYMA.
► Thursday 1 January 2015 - Santa Claus visits Homenetmen - AYMA.
► Wednesday 28 January - Lecture organised by Hamazkayin "Oshagan" Cyprus Chapter at Homenetmen - AYMA.
► Friday 13 February - St. Valentine's Dinner at Homenetmen - AYMA organised by Hamazkayin "Oshagan" Cyprus Chapter.
► Sunday 15 March - Michink Lunch at Homenetmen - AYMA organised by the Armenian Relief Society's Cyprus "Sosse" Chapter.
► Saturday 28 March - Easter Tea - at Homenetmen - AYMA organised by the Armenian Relief Society's Cyprus "Sosse" Chapter.
Receive your information package from the
Armenian Heritage Cruise XVIII by sending
an email to info@armenianheritagecruise.com
HAMAZKAYIN'S LITERARY EVENING DEDICATED TO SEMPAD DEVLETIAN
Click here for all images
Click here for the video
ARF DASHNAKTSOUTIUN CYPRUS GOMIDEH DINNER
click here for all images
HOMENETMEN AYMA'S SCOUTS MARCH IN NICOSIA
Click here for more images
THE ARMENIAN NATIONAL FOOTBALL TEAM
JOIN HOMENETMEN - AYMA
FOOTBALL ACADEMY WITH
LEGEND ROMIK KHATCHADRYAN
APOEL and Armenian national football team superstar Romik Khatchadryan and his assistant coach Alexis Avakian have already started training the young football players of our community at the Homenetmen - AYMA Football Academy.

Training sessions take place every Monday, Wednesday and Thursday. For 4 to 7 age group from 5:45 until 7:00 pm and for 8+ age group from 5:15 until 6:30 pm.

Participation is open to all members of the Armenian community.
VAHE BERBERIAN'S Եթէ IN NICOSIA
www.facebook.com/media/set/?set=a.779104825465827.1073742034.185812434795072&type=3
ALL THE IMAGES OF THE FIRST ALL-LADIES FOOTBALL MATCH AT HOMENETMEN - AYMA
Sipan Dance Ensemble girls face Homenetmen Vs AYMA Ladies - click here for all the images
A HAUNTING STORY BEHIND
A WONDERFUL BUILDING
This is Haydarpasha Train Station in Bolis from where 220 Armenian intellectuals were sent to their death on April 24, 1915.
In April 2014 people gathered there in a special commemoration, dedicated to the victims of the Armenian Genocide. They held the photographs of Armenian intellectuals and a banner that read, "We commemorate the victims of the Armenian Genocide", in Turkish, Armenian and English.
A bird sitting on a tree is never afraid of the branch breaking, because her trust is not on the branch, but on its own wings.
selfie with Christapor Rostom Zavarian
REMEMBERING A LEGEND: VAHAN TERZIAN
GIBRAHAYER E-MAGAZINE PARTICIPATING
IN ONE ARMENIA'S PHOTO COMPETITION
Picture taken in Turkish-occupied Cyprus, at the destroyed and abandoned Greek Cypriot Monastery of Ayios Panteleimon in Myrtou. The two girls Lori and Maral, are members of the Armenian SIPAN Dance Ensemble of Cyprus, returning from a cultural festival in the Maronite village of Turkish-occupied Kormatiki in which the Greek, Turkish, Armenian and Maronite communities participated.
VICTORIA STREET AS ONLY A FEW REMEMBER IT IN THE TURKISH-OCCUPIED ARMENIAN NEIGHBOURHOUD OF NICOSIA
CIRCULATING ON THE INTERNET:
KARABAKH AND THE MURSIS