Next community event:
Armenian Independence celebrations
on Saturday 1 June at 7:30 pm at NAREG school
Dinner will be followed at Homenetmen - AYMA on Saturday 1 June, right after the "May 28" celebrations at Nareg School.
Strict reservation is required so please reserve your table by either calling or by sending an sms with the names to 99680944, latest by Thursday 30 May.
SIPAN AND NANOR
PUT ON ANOTHER SPECTACULAR SHOW
For more images of Saturday 11 May's SIPAN and NANOR performances.
Click here
90 images of the performance - click here
90 images of the performance - click here
90 images of the performance - click here
90 images of the performance - click here
DRILLING TO BEGIN IN TWO WEEKS
May 28 Nicosia - The Cyprus Mail - US firm Noble Energy is to begin appraisal drilling at the Aphrodite offshore prospect in early June, Cyprus officials have confirmed.
Energy and Trade Minister Giorgos Lakkotrypis was commenting on an announcement posted on Sunday by Delek Drilling and Avner - subsidiaries of Israel's Delek Group - saying the companies had approved a decision to drill at the Aphrodite 2 well in the Block 12 prospect.
The announcement said Noble Energy, the prospect's operator, had recommended to its Aphrodite partners to green-light the appraisal well at Aphrodite 2 as part of the work plan approved by the Cyprus government under the production-sharing contract.
A budget of $ US117m (€90m) has been approved for the drilling operations.
"It is noted that this drilling may be used as a production well in the future," the announcement said, adding that drilling was expected to start "in the coming two weeks and last for approximately four months."
Confirming the news, the Energy Minister told the state broadcaster that drilling is expected to be wrapped up by October.
HEIR TO THE BRITISH THRONE PRINCE CHARLES VISITS ARMENIA
YEREVAN, May 29 (RIA Novosti) - Prince Charles, the 64-year-old heir to the British throne, arrived in Armenia on Tuesday 28 May on a first-ever visit by a member of the British royal family, the News Armenia agency said.
The private visit will last until May 30, the press service of the UK Embassy in Yerevan said. The visit was organized following an invitation from the "Yerevan, My Love" charity foundation, whose activities are directed at preserving landmark historic sites of Armenia's ancient capital.
During his planned visit to Matenadaran, an ancient manuscript repository and research center in Yerevan, Prince Charles was greeted by a group of environmentalists protesting against the opening of the Amulsar gold mine.
During his visit, Prince Charles is also expected to meet with President Serzh Sargsyan and leader of the Armenian Orthodox Church, Catholicos Karekin II.
Public organizations representing Armenia's neighbor and arch-enemy, Azerbaijan, have already reacted to the visit. The European Azerbaijan Society (TEAS), a UK-registered organization dedicated to raising awareness of Azerbaijan issues, invited Prince Charles to "find the opportunity to cross the border to neighboring Azerbaijan," in a statement carried by a leading independent Azerbaijani news agency, APA.
"Of course, Prince Charles will have some difficulty in crossing the border, as some 20% of Azerbaijan's lands are still under Armenian occupation," the statement reads.
RUSSIA RAIL CO EXPRESSES SUPPORT FOR RESTORING LINK BETWEEN GEORGIA AND ARMENIA VIA ABKHAZIA
On Tuesday May 28 Yakunin and Prime Minister Tigran Sargsyan inaugurated a newly built railway depot in Gyumri.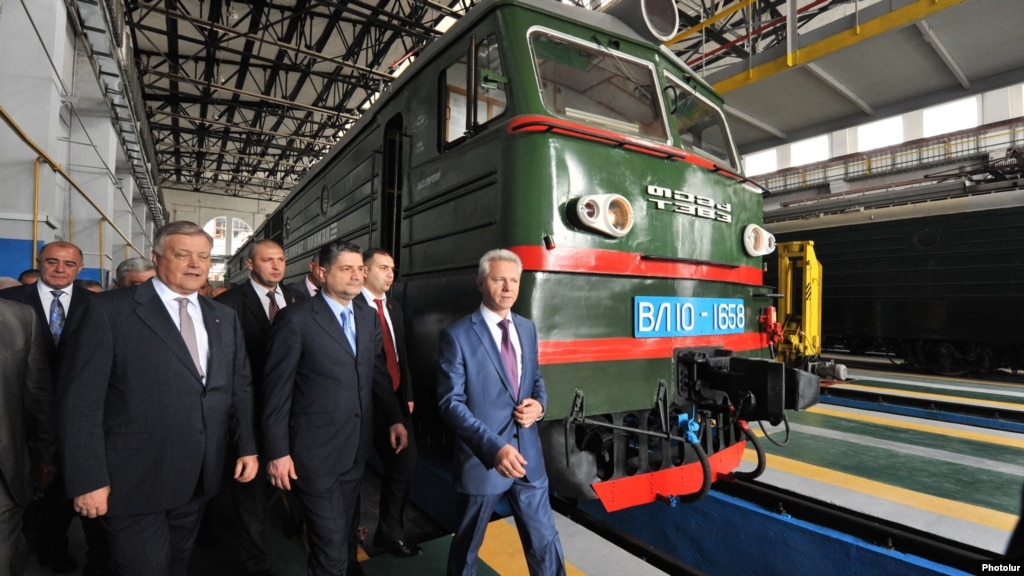 Russia's state-owned national railway on Tuesday expressed support for the idea of restoring a rail link with Georgia and Armenia passing through Abkhazia, which has been floated by the new Georgian government.
"We are very interested in the position of the Georgian leadership in terms of the possibilities of restoring traffic from Russia to Georgia and on to Armenia via Abkhazia. It would open up new opportunities," Vladimir Yakunin, the chief executive of the RZhD network, told journalists in Gyumri.
Yakunin stressed at the same time that the reactivation of the railway, which used to serve as a lifeline road for landlocked Armenia, requires "political decisions" by all interested parties.
The railway has been closed since the outbreak of a bloody secessionist war in Abkhazia in 1992. Visiting Yerevan in January, Georgian Prime Minister Bidzina Ivanishvili said his government supports its rehabilitation in principle.
The Armenian government welcomed that announcement. The relaunch of cargo train service across Abkhazia would lower transportation costs in Armenia's import and export operations that are mainly carried out through Georgian territory.
Other Georgian officials cautioned afterwards, however, that the new authorities in Tbilisi will be treading carefully on the issue despite their desire to improve Russian-Georgian ties. "It is too early to speak about the rehabilitation [of the railway,]" Foreign Minister Maia Panjikidze told RFE/RL's Armenian service (Azatutyun.am) in Yerevan in April.
Renewed rail traffic between Georgia and Russia would have a direct bearing on RZhD operations also because the Russian transport company, the third largest in the world, manages Armenia's rail network. Yakunin spoke to reporters on Tuesday after he and Prime Minister Sargsyan inaugurated a newly built railway depot in Gyumri.
DOES ANYONE RECALL HAVING SEEN A ROAD NAMED AFTER THE BUTCHER OF THE JEWS ADOLF HITLER?
IN PAPHOS - CYPRUS WE HAVE A ROAD NAMED AFTER TALAAT PASHA !

Your comments on Gibrahayer Facebook

In Sardarabad on 28 May 2013
Video : click here
YEREVAN (RFE/RL)–Armenians marked on Friday the 92nd anniversary of the establishment of their first short-lived independent republic that emerged from the ashes of the Russian Empire at the end of World War I.
The main ceremonies marking the public holiday in Armenia again took place at the Sardarabad memorial, erected in 1968 in Armenia's Armavir provice. The memorial, which opened on the 50th anniversary of the 1918 Battle of Sardarabad, was built on the field of the historic battle where Armenian volunteers successfully repelled an invading Turkish army.
DEFENSE MINISTER SEYRAN OHANYAN: "We do not want war, but if it erupts, we will fight for our Homeland with dignity."
The 1918 May victories in Sardarapat, Bash Aparan, Gharakilisa gave spiritual strength to our people for further fights, achievements and victories, Armenia's Defense Minister Seyran Ohanyan said speaking to reporters at Sardarapat memorial.
"We should fight jointly in case of aggression against our country, attempt of disrupting our peace, the peace of our people, of course with the participation of the Armed Forces, economy, people's readiness, foreign and domestic policy," he said.
The Minister said the secret of today's success of the Armed Forces is the history. "Today's Armed Forces have history. This history is the fight in Artsakh liberation war and the exam the Armed Forces have passed during the war and pass everyday by keeping our border, ensuring security of Artsakh people," he said.
Ohanyan noted that the leadership of Armenia's Armed Forces is working for the high-quality preparedness of each soldier, his high moral-psychological level.
The Minister said that the Armenian army is everyday getting ready for the imposed war. "We do not want war, but if it erupts, we will fight for our Homeland with dignity," he said.
Referring to the statement of Russian FM Sergei Lavrov who spoke about the necessity of changing the status quo in the Karabakh issue, the Minister said, "I think the process initiated by the Armenian leadership is a right one. We are all speaking in favor of it and the process carried on by the OSCE Minsk group co-chairs has ensured its mission. I think that till now the conflicting parties have not used all their strength and are trying to demonstrate constructive approach for the peaceful settlement of the conflict," he said.
ARTSAKH 25 YEARS CELEBRATED

BY AYF JUNIOR CHAPTER IN NICOSIA
For more Images of the event please click here
ARMENIAN GENOCIDE MUSEUM DIRECTOR
HAYK DEMOYAN EXIBITS A RARE ARTIFACT
A flag pole top of the Turkish Army
left behind at the battle of Sardarabad
Yasasin !
BORN ON MAY 28, A BABY GIRL SOSSIE TO TENNIS SUPERSTAR DAVID NALBANDIAN

Combined tennis sources: Former Wimbledon runner-up and a former player of Homenetmen of Argentina, David Nalbandian on Tuesday thanked fans for their messages of congratulation after his wife gave birth to a baby girl, Sossie.
"I am delighted. Last night, Sossie was born. Both the baby and Vicky are in tip-top condition," said the 31-year-old from Cordoba.
"I would like to thank all my fans for their affection at this special moment of my life," he tweeted, after becoming the latest star in the men's game to become a father, joining the likes of Roger Federer, who has twin girls.
Nalbandian isn't playing at the ongoing French Open because of a rib injury.
However on November 23, at 4pm local time, David Nalbandian and Rafael Nadal will play an exhibition match at La Rural in Buenos Aires, where a stadium with 15,000 seats will be erected for the event.
TENNIS LEGEND ANDRE AGASSI VISITS SOURP GARABED ARMENIAN CHURCH IN LAS VEGAS
Tennis legend Andre Agassi visited Las Vegas St. Garabed Armenian Church where Parish Priest Father Avedis Torossian and Parish Council President Andy Armenian presented him with a traditional Armenian Khachkar.
Calendar of events:
► Saturday 1 June at 7:30 pm - 95th anniversary of Armenian Independence of the First Republic at NAREG school Nicosia Hall. Keynote speaker Gibrahayer e-magazine Editor Simon Aynedjian. Cultural program with the participation of Hamazkayin's SIPAN Dance Ensemble and ARF Dashnaktsoutiun's Artsakh Junior Chapter.
Dinner will be followed at Homenetmen - AYMA on Saturday 1 June, right after the "May 28" celebrations at Nareg School.
Strict reservation is required so please reserve your table by either calling or by sending an sms with the names to 99680944, latest by Thursday 30 May

► Saturday, June 8, 2013 at 6 pm - Armenian Evangelical Church Service, in Greek Evangelical Church, 20 Gladstonos street, Nicosia.
Guest Speaker: Mihran Jizmejian.
► Saturday 19 October - KRAVADZ OR - Sourp Asdvadzadzin Choir (daregan hantes)
► Saturday 9th November 2013 – KRAVADZ OR – Office of the Armenian Representative.
Contributions to Gibrahayer e-magazine
100 euros - Anonymous from the U.K. (K.H)
50 euros - from Lucy and Raffi Odabashian on the occassion of their grand-daughter, Lucia's 2nd Birthday

"NANOR" ARMENIAN CENTRE TO START OPERATIONS IN SEPTEMBER
150 ARMENIANS TAKE PART IN THE
PILGRIMAGE TO TURKISH-OCCUPIED
MAGARAVANK LAST SUNDAY

The Office of the Representative of the Armenian Community, Vartkes Mahdessian, in co-operation with the Armenian Prelature of Cyprus, organised the sixth visit-pilgrimage to the Sourp Magar Monastery on Sunday 19 May, 2013.
Around 150 Armenian Cypriots visited the monastery on Sunday, some of whom came especially from abroad.
The monastery was founded by Copts around the year 1000 AD and in 1425 it was inherited by the Armenians.
It is dedicated to Saint Makarios the Hermit of Alexandria and it is located in the eastern part of the Turkish-occupied Pendadhaktylos mountain at an altitude of 530 metres and a small distance from Halevga, within the Plataniotissa forest.
The vast land of the monastery, which is about 8.500 donums, includes 30.000 olive and carob trees, extends up to the sea and is known to be picturesque and idyllic.
From the monastery one can see right opposite the Taurus mountain range in Cilicia.
The Armenian Monastery had been for centuries a popular pilgrimage for Armenians and non-Armenians and a place of recuperation for Catholicoi (Patriarchs) and other Armenian clergymen from Cilicia and Jerusalem, as well as a popular centre for local and foreign travellers and for pilgrims en route to the Holy Land.
Furthermore, the monastery was used as a summer resort, where Armenian scouts and students would camp, including students of the Melkonian Educational Institute, many of whom were orphans of the Armenian Genocide.
A large number of exquisite and priceless manuscripts, dating back to 1202, as well as other valuable ecclesiastical relics were housed there.
Fortunately, in 1947 some of them were saved when they were transferred to the "Cilicia" Museum of the Catholicosate of the Great House of Cilicia.
The Magaravank is the only Armenian monastery in Cyprus and together with the church of the Virgin Mary in occupied Nicosia, are the most important Armenian monuments on the island.
It was occupied in August 1974 during the Turkish invasion and ever since it remains at the mercy of nature, silent, ruined, desecrated and deserted, awaiting for its rightful owners to return.
Album 1 Facebook images click here:
Magaravank Youtube video 1: click here
Magaravank Youtube video 2: click here
Magaravank Youtube video 3: click here
Magaravank Youtube video 4: click here
Magaravank Youtube video 5: click here

ARMENIAN RELIEF SOCIETY HOM CYPRUS SOSSE CHAPTER'S TEA FUND-RAISER
For more images click here:
https://www.facebook.com/media/set/?set=a.481867115216614.1073741831.455351317868194&type=1
HAY TAD EVENT ABOUT CILICIA
AND WESTERN ARMENIA
BY LINDA AINTABLIAN
On Wednesday, 22nd May at 7.30pm Armenian Cypriot Linda Aintablian presented of a new, second trip to Cilicia and Western Armenia.
The event was organised by the Armenian National Committee of Cyprus, at the Utidjian Hall of the Armenian Prelature.
The presentation was accompanied by photographs from Sis, Dikranagerd, Urfa, Adana, Mersin, Tarsus and many other villages and towns of Cilicia and Western Armenia.
more images here:
KRIKOR FERAHIAN'S WIN AT
THE MIXED MARTIAL ARTS FIGHT LAST SATURDAY IN LIMASSOL
more on Gibrahayer Facebook
ARMENIAN INTERNET PORTAL FEATURES SIPAN'S GEORGIAN DANCE (LEZKINKA) WHICH DRAWS
ALMOST 5,000 VIEWS IN A DAY
click here to watch the Dance
Join us for a sports scholarships presentations at J.W. Fulbright Centre in Nicosia at the following dates:

Part 1: Introduction to Sports Scholarships in the United States - 4 June at 2:00 pm
Part 2: Tips and Strategies for Sports Scholarships in the United States, 11 June at 7:00 pm