ARMENIANS IN CYPRUS DEMONSTRATE ON THE
98th ANNIVERSARY
OF THE ARMENIAN GENOCIDE
click here for more images from the April 24 demonstrations in Cyprus for the commemoration of the 98th anniversary of the Armenian Genocide
click here for more images from the April 24 demonstrations in Cyprus for the commemoration of the 98th anniversary of the Armenian Genocide
click here for more images from the April 24 demonstrations in Cyprus for the commemoration of the 98th anniversary of the Armenian Genocide
click here for more images from the April 24 demonstrations in Cyprus for the commemoration of the 98th anniversary of the Armenian Genocide
click here for more images from the April 24 demonstrations in Cyprus for the commemoration of the 98th anniversary of the Armenian Genocide
Blood Drive: More images on Gibrahayer Facebook
click here for more photos
click here for more photos
next event on Gibrahayer calendar
SIPAN ENSEMBLE PERFORMNCE
THIS SATURDAY 11 MAY AT STROVOLOS MUNICIPAL HALL
10-BILLION DOLLAR LIQUID NATURAL
GAS TERMINAL SET FOR 2019
Liquid Natural Gas (LNG) terminal providing for the processing and transport of natural gas is set to be completed in 2019 and will be the largest investment in the island's history, said Commerce Minister George Lakkotrypis in a speech in Tel Aviv.
The 10-billion dollar LNG project development is in partnership with Noble Energy, and has an initial production capacity of five million tons (MT) per year. It will grow to a capacity of 15 MT per year, said Lakkotrypis. There would be a pipeline running from Israel's Leviathan gas field to Vasiliko, along the Larnaca-Limassol coastline.
The discovery of sizeable natural gas fields in the sea between Israel and Cyprus is very timely, because the EU's own gas production will be in decline as of 2020, said the Minister. This creates the right circumstances for export from the Eastern Mediterranean to the EU, with Cyprus' proximity to the Suez Canal being an added benefit.
Blocks two, three and nine are to be explored by Italy and South Korea's Eni-Kogas consortium, while Block 12 is being exploited by US-Israel consortium Noble Energy (70%), Delek Drilling (15%) and Avner Oil Exploration (15%). Blocks 10 and 11 are 100% controlled by France's Total. There are still six concession fields remaining, Blocks one, four, five, six, seven and eight, according to the Minister's speech.
The Minister confirmed that Noble Energy will be commencing its 'appraisal well', to determine whether the 7-9 trillion cubic feet (tcf) of natural gas in Block 12 is a commercial field.
Meanwhile, President Nicos Anastasiades met with President Shimon Peres in Israel, who said that "we are joined in many ways. Without Cyprus, Israel lies far away from Europe." He added that "we worked together and we will continue to work together. We regard Cyprus as a close friend both politically and geographically."
TURKISH MAN FIRES SHOTS IN FRONT
OF AN ARMENIAN CHURCH IN BOLIS
Todays Zaman - An unknown assailant opened fire into the air outside a small Armenian church in İstanbul on Sunday, while an Orthodox sermon was being delivered inside.
No one was hurt in the incident, but it has made the Armenian community extremely uneasy as it came only a day after an anti-Armenian organization burned a copy of an Armenian newspaper in Iğdır province.
The church where the incident happened is in Gedikpaşa, not far from the official Armenian Patriarchate. Garo Paylan, who was attending the event, said that someone fired seven shots into the air while standing in front of the church's gate. He said that the congregation panicked and ran outside. Paylan also added that he believed the reason why this happened in front of the smaller church is because there are fewer security cameras around it, as opposed to the street where the Patriarchate is located.
He said police had arrived at the scene and started investigations to identify the shooter. They were also to review footage from nearby cameras.
meanwhile in Igdir
Paylan noted that an extreme right organization that calls itself the International Association to Fight Unfounded Armenian Allegations (ASİM-DER) had burned a copy of the Turkish-Armenian weekly Agos in Iğdır on Saturday, adding that he did not believe it was a coincidence that the shooting came a day after the ASİM-DER incident.
Paylan also said that the Armenian community and Agos could file "all the complaints in the world" but the rest of the country should stand up against such acts of racism.
ASİM-DER, an organization founded in 2002, denies that it is racist or that it has links to coup-plotting organizations that have been found to have devised plots targeting non-Muslim establishments and community leaders.
Agos' previous editor-in-chief Hrant Dink was killed by an ultra-nationalist teenager in 2007. The court said that the man had acted alone but a higher court is currently reviewing the case and its prosecutor has said that the presence of an organized network in Dink's murder is evident.
Dink's lawyers also presented evidence during the initial trial indicating that there were active efforts by some in the police and gendarmerie forces to obscure evidence, cover up the killing and protect the hit man and other individuals believed to have solicited him for the murder.
ARMENIANS CELEBRATE MAY 9
In Berlin 1945
https://www.youtube.com/watch?v=Ob28S3AvyDE&feature=player_embedded
In Artsakh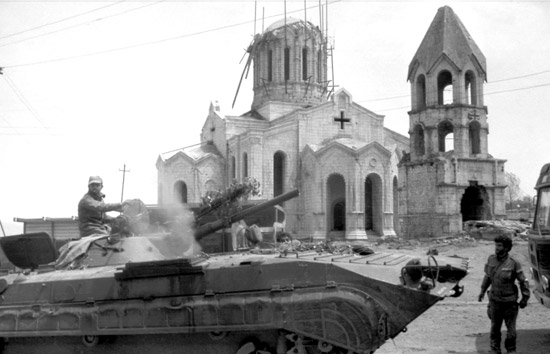 The anticipation that had been building on May 8 turned into jubilant pandemonium on May 9.
SHOUSHI WAS TRIUMPHANTLY LIBERATED.
The people of the Nagorno-Karabakh Republic (Artsakh) in and around Stepanakert had endured gruelling daily barrage of fire from Azeri forces, which had taken their positions in Shoushi and were relentlessly bombing the civilian population. The operation, whose military precision had delivered an exacting blow to Azeri forces, irreversibly stifled their attacks and paved the way for the eventual liberation of Lachin (Kashatagh) and the establishment of the vital land corridor to Armenia—a lifeline. It also was the spark that ensured victory in the Karabakh Liberation Struggle.
It would be an understatement to say that the events of and leading up to May 9, 1992 had a far greater importance for the soldiers of the Nagorno-Karabakh Republic Liberation Army and the general population of Karabakh. The liberation of Shoushi not only had crucial strategic significance, it also brought back the ancient Armenian capital that for so long had served as a centre for cultural reawakening and intellectual renaissance.
The significance of Shoushi's liberation still resonates as loudly as it did 21 years ago, as it is not merely a symbol but a constant reminder of the people's expression of self-determination and courage, will and resilience.
Today, the Azeri Army, which 21 years ago retreated in disgrace and embarrassment, is regularly provoking military skirmishes around the border and threatening the fragile peace that has been safeguarded. The Azeri leadership is not only threatening war to reclaim Karabakh, but has amplified its racist posturing toward Armenians, calling all Armenians enemies of the state. The international mediators refuse to properly assess the situation and, through convoluted statements, are attempting to remain neutral. And Karabakh is still not at the negotiating table as a party to the conflict.
What is clear to the people of Karabakh, and the entire Armenian nation, is that the liberation of Shoushi embedded an irreversible course for our national liberation movement that is immune to threats and compromises. The people who conceived and carried out the remarkably unthinkable operation to liberate Shoushi will protect it to death.
The Azeris believe that by spending millions of filthy petro-dollars into a propaganda machine that perpetuates their lies, will temper and fray the resilience and determination of the Armenian people, when, in reality, Shoushi was just the beginning of the realization of the Armenian Liberation Struggle toward JUSTICE.
ARMENIAN INDEPENDENCE CELEBRATIONS IN CYPRUS
In Yerevan on 24 April 2013
Cypriot Europarlamentarian Dr. Eleni Theocharous and French MP Valerie Boyer at Dzidzernagapert Armenian Genocide Memorial Monument on 24 April 2013
MELKONIAN MEMORY LANE 1974
HAY TAD INTERVIEW WITH EURO MP
DR. ELENI THEOCHAROUS
Part 1: www.youtube.com/watch?feature=player_embedded&v=PIygw2n_7Qk
Part 2: www.youtube.com/watch?v=A6k6zjHxPMU
IN ARMENIA THIS SUMMER
SUPPORT THE ARMENIAN CAUSE
Apply to any of the members of the Armenian National Committee of Cyprus, or its Chairman Hagop Kazandjian, Tel: 99394414.
In these hard times for our community organizations, all those who can, should stretch their hand...to keep them going.
In Turkish-occupied Famagusta
Ganchvor Sourp Asdvadzadzin is the Armenian Apostolic church in Turkish-occupied Famagusta, Cyprus.
The church is located in the north-west side of the walled city of Famagusta, opposite the Carmelite church. It is a fortress-like building built in 1346 by Armenian refugees from Cilicia. It was built in a typical Armenian fashion but with Cypriot masonry and was part of an important monastic and cultural centre, where Saint Nerses Lampronatsi is said to have studied.
Unused since 1571, it was preserved by the Department of Antiquities in 1907 and in 1936 it was leased to the Armenian community of Famagusta for a period of 99 years. After repairs between 1937-1944, the first Liturgy was held on 14 January 1945 by Archimandrite Krikor Bahlavouni (Topal Vartabed), but it was partially burnt by extremist Turkish-Cypriots in March 1957. After been repaired, it was used as a church until 1962. During the 1963-1964 intercommunal troubles, it was taken over by extremist Turkish-Cypriots and then in August 1974 by the Turkish military. Even after the partial lifting of movement restrictions by the Turkish-occupying regime in 2003, it was still inaccessible, as it was located within a "military area". It is now accessible, since late 2005.
LIMASSOL ARMENIAN CLUB FOOD BAZAAR

click here for more images from the event at Sourp Kevork Church yard
Calendar of events:
► 98th Anniversary Armenian Genocide events: Please read article above for details.
► Saturday 11 May at 7:00 pm - SIPAN & NANOR Dance Group's performance at Strovolos Municipal Theatre. Organised by Hamazkayin's Cultural and Educational Association's Cyprus "Oshagan" Chapter, followed by dinner at Homenetmen - AYMA.
► Friday 17 May - Armenian Evangelical Church- Cyprus. Public Lecture in Utidjian Hall, Nicosia, at 8:00 pm. Details to follow.
► Saturday 18 May at 6 pm at Homenetmen - AYMA: Commemorative Event organised by ARF Dashnaktsoutiun's Artsakh Badanegan Miyoutyoun of Cyprus, dedicated to the 25th anniversary of the liberation of Artsakh.
► Sunday 19 May - Pilgrimage St. Magar Monastery organised by the Office of Armenian Representative.
► Wednesday, 22nd May, 7.30pm - Presentation of a new, second trip to Cilicia and Western Armenia by Armenian-Cypriot Linda Aintablian, organised by the Armenian National Committee of Cyprus, at the Utidjian Hall of the Armenian Prelature - Armenia Street, Nicosia. The presentation will be accompanied by photographs from Sis, Dickranagerd, Urfa, Adana, Mersin, Tarsus and many other villages and towns of Cilicia and Western Armenia.
► Friday 24 May- KRAVADZ OR - Mayrerou Or organised by the Ladies Committee of Sourp Asdvadzadzin Church - Details to follow.
► Sunday 26 May at 6:00 pm - Fund-raising Tea Bazaar by "Sosse" Cyprus Chapter of The Armenian Relief Society (HOM) at Homenetmen - AYMA.
► Saturday 1 June at 7:30 pm - 95th anniversary of Armenian Independence of the First Republic at NAREG school Nicosia Hall. Keynote speaker Simon Aynedjian. Cultural program with the participation of Hamazkayin's SIPAN Dance Ensemble and ARF Dashnaktsoutiun's Artsakh Junior Chapter Choir.
The event will be followed by a khrakhjank at Homenetmen - AYMA.
To sign up please contact any member of the committee.
► Saturday 19 October - KRAVADZ OR - Sourp Asdvadzadzin Choir (daregan hantes)
► Saturday 9th November 2013 – KRAVADZ OR – Office of the Armenian Representative.
Contributions to Gibrahayer e-magazine
Anonymous from the U.K. (K.H) 100 euros
"NANOR" ARMENIAN CENTRE TO START OPERATIONS IN SEPTEMBER
PILGRIMAGE TO TURKISH-OCCUPIED MAGARAVANK TO TAKE PLACE ON SUNDAY 19 MAY, 2013
Images from last year: click here