TURKISH PRESS SAYS THAT TURKOLOGY CENTRE PLANNED FOR OPENING AT OCCUPIED SOURP ASDVADZADZIN CHURCH WILL NOT BE MATERIALISED
Friday, 4 January 2013 - CULTURAL HERITAGE: "Centre for Turkish Studies will not be opened at the Armenian Church" – Evkaf Administration of Cyprus announced (Yeni Duzen)

Yeni Duzen (cover page & p. 2) continues its coverage of the Armenian Church and Monastery. Yeni Duzen reporter Osman Kalfaoglu writes that Mustafa Kemal Kaymakamzade, who is the General Manager of the Evkaf Administration of Cyprus, has announced that "a Centre for Turkish Studies will not be opened at the Sourp Asdvadzadzin Armenian Church or in any building around it."
Responding to the recent news about the Church published in the same newspaper, Kaymakamzade stated that "the building will be used as a cultural heritage monument, which is open to everyone – regardless of the religious congregation they belong to anyone will be free to visit the Church and light a candle". Additionally, Kaymakamzade emphasized that the Near East University, which has won the bidding process to rent the Church, would have to apply to the Evkaf Administration one month in advance if NEU wants to hold an event or organize an activity at the premises. Kaymakamzade added that "following the receipt of the letter from NEU, the Evkaf Administration will get in touch with the Armenian community to seek their consent and if only the Armenian community approves the application, the Evkaf will allow the event to take place. However if there is anything that might cause disturbance among the Armenian community, we will take that into consideration. We do not want to do anything that will disturb the Armenian congregation. We actually envisioned doing activities that would reflect Turkish Cypriot culture and cultures of other communities. On the issue of mass ceremonies, there is no Armenian congregation living in north Cyprus. Perhaps that could be a reason for not granting a permit for mass ceremonies however members of the Armenian community can any time go to the church to pray and to light a candle." Kaymakamzade continued on stating that "overuse might wear down the building. But no one should believe that just because the Greek Cypriots do not allow the Turkish Cypriots to use the mosques in the south, the Armenian people would not be allowed to use the church in the north."
Additionally, Dr. Talip Atalay, head of the Religious Affairs Office gave a statement to Yeni Duzen stating that "in terms of faith issues, once the official procedures are completed, we do not approve preventing religious congregations from holding religious services at buildings deemed significant by them unless there is an issue with security. I don't believe that there would be any problem in Armenian congregation being given the permit to hold a religious service. I don't know if there are other political issues that I am not aware of but with the existence of legal procedure and regular communication, there is no reason for not giving the Armenian community the permit to hold a religious ceremony." Atalay concluded by stating that "if the authorities were to consult us and seek an official opinion of the Religious Affairs office on granting a permit to the Armenian community to hold a religious service, we are ready to comply and present authorities with our views".
SOURP ASDVADZADZIN CHURCH CHOIR SETS THE CHRISTMAS MOOD WITH AN IMPRESSIVE CONCERT
Azad Khosk Article images and video - Click here:
www.azadkhosk.com/gibrahay2002.html
EU AND ARMENIA SIGN
VISA FACILITATION DEAL
Armenian Foreign Minister Edward Nalbandian, his Cypriot counterpart Erato Kozakou-Marcoullis and EU Commissioner for Home Affairs sign a visa facilitation agreement in Brussels on 17 December 2012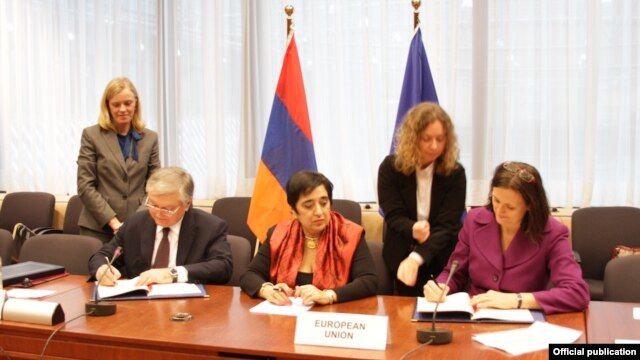 Elina Chilingarian - 17.12.2012 - The European Union and Armenia took a further step towards a wide-ranging "association" accord on Monday, when they signed a deal to ease visa requirements for Armenians planning to visit EU countries.
Foreign Minister Edward Nalbandian, his Cypriot counterpart Erato Kozakou-Marcoullis and EU Commissioner for Home Affairs Cecilia Malmstrom signed the agreement in Brussels during a session of the EU-Armenia Cooperation Council.
The agreement is meant to give Armenian nationals access to the so-called Schengen zone encompassing much of Europe with fewer documents and at a lower cost. Also, some categories of travelers such as university students, academics and state officials will now be eligible for long-term and multiple-entry Schengen visas.
The deal was initialed in Brussels two months ago shortly after Yerevan unilaterally lifted its visa requirements for EU nationals. Starting from next year, they will be allowed to stay in Armenia visa-free for up to 90 days.
The EU's Enlargement and Neighborhood Policy Commissioner Stefan Fuele, who chaired the Cooperation Council meeting together with Nalbandian and Kozakou-Marcoullis, described the document as a "visible and tangible result of our close partnership." Nalbandian, for his part, called its signing "an important step."
Visa facilitation is one of the incentives for political and economic reform offered by the EU to Armenia and five other ex-Soviet states as part of its Eastern Partnership program. All of those states are also eligible for Association Agreements with the 27-nation bloc.
Fuele said the EU's ongoing association talks with the Armenian government "have progressed well" this year. "For a successful outcome which allows EU-Armenia relations to reach their full potential, we will need sustained reform efforts next year," he said, singling out the proper conduct of a presidential election slated for next February.
"We welcome Armenia's efforts in the area of good governance and human rights. Important challenges remain, including ensuring independence of the judiciary and pursuing systemic anti-corruption measures," Fuele told a joint news conference with the Armenian and Cypriot Ministers.
The Armenian authorities have repeatedly assured EU officials that they will spare no effort to make the February election the most democratic in the country's history. Nalbandian on Monday also reiterated Yerevan's hopes to have the Association Agreement finalized by November 2013.
PATRICK DEVEDJIAN ELECTED AGAIN IN FRENCH PARLIAMENT
19 December, 2012 - YEREVAN, DECEMBER 19, ARMENPRESS: Patrick Devedjian, President of the Council of the Hauts-de-Seine for the second time, was elected MP in the French Parliament.
Devedjian of the Popular Movement UMP received 60.03% percent of votes while his opponent Julien Landfrid scored 39.97%.
He was Minister under the Prime Minister in charge of the Implementation of the Recovery Plan, a special Ministerial post created for two years after the global financial crisis of 2008.
ARONIAN WINS GOLD FOR ARMENIA
IN WORLD BLINDFOLD CHESS GAMES
BEIJING - World Chess Champion Levon Aronian won the blindfold chess championship Wednesday in Beijing, where the World Mind Games have been taking place since December 12.
In the final day of the tournament Aronian played a draw with Teimour Radjabov of Azerbaijan and Peter Leko of Hungary and defeated Wang Hao of China.
In a final standings that won his the gold, Aronian scored 5.5 points followed by Hikaru Nakamura of the United States. Azerbaijani Shakhriyar Mamedyarov came third.
In the ladies' competition, Armenian Grandmaster Elina Danielan scored 3.5 points and came in 11th. China's Hour Yifang won the title.
Blindfold chess (also known as sans voir) is a form of chess play wherein the players do not see the positions of the pieces or touch them. This forces players to maintain a mental model of the positions of the pieces. Moves are communicated via a recognized chess notation.
ARMENIA ANNOUNCES
NEW ARMS ACQUISITIONS
YEREVAN (RFE/RL) - The Armenian military on Monday reported "significant" arms acquisitions in 2012 and said it will continue to modernize its forces with precision weaponry in the coming years.
"At the beginning of this year we declared that we have acquired new rocket systems capable of neutralizing active [armor] protection of enemy tanks," said Artsrun Hovannisian, the spokesman for Armenia's Defense Ministry. "This is just one example new-generation precision-guided weapons."
"Naturally, we do not declare some things immediately. But those acquisitions are significant and they will be unveiled little by little," Hovannisian told a news conference.
"The focus remains on extremely precise means of firepower that have serious preemptive functions," he said of the army's plans for 2013. "It's an ongoing process. You will have a chance to see all that later on."
The mostly secret acquisitions stem from a five-year plan to modernize Armenia's armed forces with long-range weapons and other hardware that was approved President Serzh Sargsyan's administration two years ago. Defense Minister Seyran Ohanyan said early this year that the plan is being successfully put into action. Prime Minister Tigran Sargsyan likewise spoke of an on ongoing military buildup shortly afterwards.

Some of the long-range weapons possessed by Armenia were demonstrated for the first time during a military parade in Yerevan in September, 2011. Those included Russian-made Scud-B and Tochka-U missiles capable of hitting strategic targets deep inside Azerbaijani territory.
The Armenian military said in October this year that it has simulated missile strikes on military targets as well as oil and gas installations in Azerbaijan during major exercises held in Armenia and Nagorno-Karabakh throughout that month. It implied that those facilities will be struck in the event of a new Armenian-Azerbaijani war.
Azerbaijan condemned those threats and said its army is strong enough to protect Azerbaijani oil infrastructure and hit any target in Armenia. Over the past decade, Baku has spent billions of dollars in oil and gas revenues on a military buildup which it hopes will eventually enable it to win back Karabakh and other Armenian-controlled territories surrounding the disputed enclave.
The Armenian army also appears to have been reinforced with more advanced versions of Russian-made S-300 air-defense systems. IMINT and Analysis, a U.S. defense newsletter using open-source satellite imagery, reported in October that such systems have been deployed in the last two years in Armenia's southeastern Syunik province adjacent to Karabakh. The online publication said their sophisticated surface-to-air missiles not only cover the entire Karabakh airspace but can also thwart air travel between Azerbaijan and its Nakhichevan exclave.
Incidentally, President Sargsyan visited a new air-defense base near the reported location of the S-300PS batteries in late October. Official Armenian sources reported no details of its weaponry.
Armenia is able to stay in an intensifying arms race with oil-rich Azerbaijan mainly because of close military ties with Russia that entitle it to receiving Russian weapons at discount prices or even free of charge. A new Russian-Armenian defense agreement signed in August 2010 commits Moscow to helping Yerevan obtain "modern and compatible weaponry and special military hardware."
AKHTAMAR ARMENIAN MONASTERY TO BE REPAIRED WITH ITALIAN LIMESTONE
17.12.12 - A semi-dilapidated monastery on the island of Akhtamar in Van, is going to be repaired with Italian limestone imported to the country for that particular purpose.
According to the Turkish website Sondakika.com, the construction activities are expected to last six months. Additionally, it is planned to install video cameras on the territory to keep the island under permanent surveillance.
The reconstruction of Akhtamar complex was launched in May 2005. The church re-opened as a museum in 2007.
The reconstruction work, together with the improvement of the surrounding area, has cost around 2 million dollars.
TURKISH EDUCATION MINISTER VISITS ARMENIAN SCHOOL
Hurriyetdailynews - 21.12.2012 - Turkish Education Minister Ömer Dinçer conducted a historic visit to Mkhitaryan Armenian School in Sisli's Pangaltı neighborhood, becoming the first Minister from the department to visit an Armenian school in the history of the Turkish Republic, the Hurriyet Daily News reports.
The occasion was in return for a visit last year in which students from the school came to Dinçer's office to request that hostile references to Armenians be removed from textbooks.
Speaking to the Hurriyet Daily News before Dinçer's visit, the school's principal, Karekin Barsamyan, said they were very pleased to host such a historic visit.
"Minorities think they are the only ones who are subjected to problems, but this is not the case," Dinçer said during the event, which included a cocktail. "In the past, not only the minorities and Alevis, but Sunnis were also victimized by authoritarian rulings and violations of rights and liberties. We aim to spread [practices in accordance with] human rights and liberties. The only way to create a peaceful atmosphere in society is democracy."
The Minister also touched on elective courses on mother tongues that began this school year. "We are taking our actions by considering that each child is an independent individual," Dinçer said.
The Ministry drew reaction after stipulating that such classes would only be opened after 10 students expressed a demand to take the lessons.
Addressing recent discussions over the insertion of religious questions onto the University entrance exam, the Minister said: "The subject was unfortunately misrepresented to the public. The lessons have been given and the questions have been asked under the category of 'Education for Religion and Ethics' for years. It is not about a specific religion. [Students from] minority schools will be asked other questions in accordance with their curriculum."
ALAIN DELON VISITS ETCHMIADZIN
His Holiness Karekin II, Supreme Patriarch and Catholicos of All Armenians, hosted world-known French actor Alain Delon at the Mother See of Holy Etchmiadzin.
The Catholicos briefed the guest on the historic mission of the Holy Armenian Apostolic Church and the Mother See in the life of the Armenian people. Reference was made to the centuries-old friendship between the Armenian and French peoples
...
and the role of the French Armenian community in the reinforcement of that friendship.
Underlining that Armenians have always watched Alain Delon's films with great love, His Holiness hailed his services to humanity.
Following the meeting the actor visited the museums of the Mother See and familiarized with the national and religious treasures of the Armenian nation.
ANC (HAY TAD) EUROPE CONVENTION IN BRUSSELS SCHEDULED FOR MARCH 4 & 5
BRUSSELS - The third European Armenian Convention will take place in Brussels, the second part of which in the European Parliament from March 4 to 5, 2013. The Convention will gather distinguished activists, academics, and politicians from Armenia, Europe, the United States of America and elsewhere, alongside Armenian National Committees across Europe and other Armenian organizations in the continent.
The first session on Monday, March 4 will focus on the pan-European challenges facing the Armenians living in Europe, which will be
discussed among representatives of European Armenian Organizations. Other than challenges like identity, culture and language, political issues such as facing the joint Turkish-Azeri lobby in Europe, the Armenian Genocide centenary events and the criminalization of Genocides' denial and negationism, and working towards the recognition of the Nagorno-Karabakh Republic will be discussed, as well. The panel will consist of various representatives from East and West Europe, as well as Armenia.
The next panel, on March 5, in the European Parliament, under the auspices of the largest political group in the European Parliament – the European Popular Party (EPP) – will discuss issues such as the European Union's responsibility to prevent and protect, look into "Genocide and the International Law", will discuss and look for "New Perspectives for the South Caucasus."
At a time when European Union – Republic of Armenia relations are at an all time high, with highest level of visits from both sides, Armenia's approach to European standards rising, the third European Armenian Convention will examine all aspects of the relations, discuss and propose new ways forward at a grass roots level.
Participants to the Convention will be European Union high level staff, representatives of political groups in the European Parliament, Members of the European Parliament, heads of parliamentary delegations and members of political parties and leadership from all spheres of the spectrum from the EU and Armenia.
The conference is organized by the European Armenian Federation for Justice and Democracy (ANC of Europe).
MEMORY LANE: 1985 Beirut - Lebanon:
ARF Dashnaktsoutiun central committee member
Sarkis Aznavourian's funeral
It has become a tradition every year to wish Happy New Year and Merry Christmas to our readers across the world, with a new image given to us by John Guevherian.
This year is no exception.
We wish you health, prosperity and happiness.
Gibrahayer e-magazine
STASSIKRATOUS STREET PARTY
www.facebook.com/media/set/?set=a.475737102469269.109704.185812434795072&type=3
www.facebook.com/media/set/?set=a.475737102469269.109704.185812434795072&type=3
www.facebook.com/media/set/?set=a.475737102469269.109704.185812434795072&type=3
www.facebook.com/media/set/?set=a.475737102469269.109704.185812434795072&type=3
News in Brief
► Three months after extraditing axe-murderer Ramil Safarov to Azerbaijan, where he was pardoned and pronounced a national hero, Hungary opened its first ever trade office in Baku earlier this month in hopes of advancing economic relations with the very government that applauds ethnically motivated murder.
► The "Help Your Brother" campaign launched on September 18 continues assistance programs to Syrian-Armenians and has switched its operation to distribution of cash instead of sending assistance directly to Syria. The Armenian Revolutionary Federation Dashnaktsoutiun-led initiative is also concentrating its efforts on assistance programs to Syrian Armenians who have sought refuge in Armenia and Artsakh.
► The population of Armenia has decreased by more tan 130 thousand as compared to the same period in 2011. The number of births in the republic has decreased by 3%, the number of deaths has reduced by 0.8%. Armenia continues to remain an ageing country.
► Ahmet Altan, Editor-in-chief of the Taraf daily, and Yasemin Çongar, Deputy Editor-in-Chief, have reportedly resigned from their positions at the newspaper, Taraf columnist Kurtuluş Tayiz announced on Friday on his Twitter account that Markar Esayan has been appointed acting Editor-in-Chief.
► Four candidates have been nominated for the election of the Armenian Patriarch of Jerusalem. They are Archbishop Nuran, Archbishop Ares, Archbishop Viguen and Archbishop Babken. Today Archbishop Babken Anushyan stated this in a press conference. The election to the Patriarch will be on 23-25 January 2013.
► The official opening of Swan Lake skating rink took place in Yerevan and was accompanied by a show with the participation of singers and members of figure skating and hockey national teams.
► The Presidents of Armenia and Russia met in Moscow Wednesday evening on the sidelines of a major gathering of several post-Soviet leaders in the Russian capital.
Very few details of the meeting between Serzh Sargsyan and Vladimir Putin have been released by their press offices in Yerevan and Moscow. According to the Armenian presidential press service, the two leaders discussed "Armenian-Russian strategic relations, including issues of deepening cooperation in areas of mutual interest."
► Foreign investments in Armenian economy decreased by 35,2 % in January-September 2012 to total $391,1 mln as compared with the same period of 2011.
According to RA National Statistical Service, foreign direct investment (FDI) dropped by 53,8% to gross $221,3 mln in January-September 2012. 19,46% of the total foreign investments and 34,13% of FDI were aimed at mining industry and operation of minefields, with 22,23% and 10,93% of FDI aimed at telecommunications and real estate sectors.
► The number of the Syrian-Armenians, who have settled in Armenia, has increased and reached 6,500.
The continuity of one of the most widely distributed
e-magazine of the Armenian Diaspora ... is in your hands.
Donations to Gibrahayer e-magazine can be made online by visiting
our website on www.gibrahayer.com and clicking "on donate now" at the top
TURKEY USING PROTOCOLS AS
LEVER TO INFLUENCE KARABAKH
December 19, 2012 - YEREVAN.- Armenia has all ground to withdraw signature from the Armenian-Turkish protocols, ARF Dashnaktsutyun member Giro Manoyan told reporters.
ARF's position on the protocols has not changed – they are not in the interests of Armenia. He believes Turkey is using protocols as a lever to influence the Karabakh peace process.
On the eve of 100th anniversary of the Armenian Genocide, Turkey will take certain steps to show it is trying to normalize relations with Armenia, hiding behind the protocols.
At the same time, Manoyan stressed that withdrawal of signature is not expected before the 2013 presidential elections.
"President of Armenia repeatedly said that by carrying out football diplomacy and signing the protocols, Armenia acquired image of a reliable partner in the eyes of foreign states. This is untrue," he added.
AZERI HACKERS BRING
DOWN WWW.YERKIR.AM
12 December, 2012 - YEREVAN, DECEMBER 12, ARMENPRESS. Azerbaijani hackers attacked www.yerkir.am website on the evening of December 11. In a message left in the homepage of the attack was initiated by a group of hackers, calling themselves anti-armenia.org who managed to delete the whole archive of yerkir.am.
Gibrahayer Calendar:
► Tuesday 25 December at 9:00 pm - Homenetmen AYMA Ball.
https://www.facebook.com/Gibrahayer#!/media/set/?set=a.479845662058413.110403.185812434795072&type=1
► Tuesday 1 January at 4:00 pm - Gaghant Baba visits Homenetmen - AYMA.
► Wednesday 16 January at 8:00 pm - Literary evening at Homenetmen - AYMA, organised by Hamazkayin "Oshagan" Chapter
► Sunday, 27 January 2013 at 18.00 - Concert dedicated to Syrian Armenians at Nicosia Nareg School's Hall organised by the Armenian Prelature and the Office of the Armenian Representative.
► Saturday 16 February - Valentine's Party at Homenetmen - AYMA organised by Hamazkayin's Oshagan Cyprus Chapter.
► Sunday 10 March 2013 at 1:00 pm - Michink Dinner organised by ARS (HOM) Cyprus "Sosse" Chapter at Homenetmen/AYMA. Details to follow.
► Sunday 31 March - Dinner Dance organised by Homenetmen - AYMA
► Saturday 11 May at 7:00 pm - SIPAN & NANOR Dance Group's performance at
Strovolos Municipal Theatre. Organised by Hamazkayin's Cultural and Educational Association's Cyprus "Oshagan" Chapter, followed by dinner at Homenetmen - AYMA.


► Sunday 19th May 2013 – Pilgrimage St. Magar Monastery organised by the office of Armenian Representative
► Saturday 9th November 2013 – KRAVADZ OR – Office Armenian Representative
BACK BY POPULAR DEMAND:
After the 2 SOLD OUT Successful shows at C HOUSE LOUNGE, The Multi Talented Guitar Aficionado GILBERT SIMON is Back with a Live Swingin' Blues & Rock Concert on Thursday the 3rd of January 2013 to start his new tour of the year.
For Reservations: 222 69 600
Are you in The Tennis Zone?
Call us on 99437073 for a placement in one of our classes or membership at our Tennis Club.
Happy New Year and Merry Christmas to you all.
Simon Aynedjian and Stelios Christofides.
www.facebook.com/cyprustenniszone