SIPAN ENSEMBLE
PERFORMS ON MAY 5
UNIQUE TURKISH-ARMENIAN EVENT COMING UP IN NICOSIA
TRAVELLING EXHIBITION
TBLISI – BATUMI – NICOSIA – BERLIN – PARIS
With this travelling exhibition, we want to share the memories of ordinary people from Armenia and Turkey about their
intertwined pasts using their own words. These words, based on oral history interviews conducted in 2009 in both countries, are presented as text and video.

What is unique about this exhibition?
It is the first time that the shared past of the people of Turkey and Armenia is presented together using individual memories.

Goethe-Institut Cyprus
21 Markou Drakou Road,
UN Buffer Zone – Nicosia

Opening :
Friday 11 May at 7 :00 pm
remarks by representatives from the Embassy of Germany
and the project partners

Exhibition:
12 May – 3 June 2012
Monday – Saturday 10 am – 7:00 pm
ARMENIAN GENOCIDE COMMEMORATED IN NICOSIA
VIDEO LINKS:
Armenians march in Cyprus
Armenian MP Vartkes Mahdessian
Archbishop Varoujan Hergelian
click here: www.youtube.com/user/SimonAynedjian
more images and links on Facebook: www.facebook.com/Gibrahayer
more images and links on Facebook: www.facebook.com/Gibrahayer
APRIL 24 COMMEMORATED IN TAKSIM SQUARE IN BOLIS
BOLIS - Two local human rights organizations organised a series of demonstrations and events on April 24 to mark the 97th anniversary of the Armenian Genocide and to denounce racism, reported the Hurriyet Daily News.
"We sum up the rationale behind these activities in a single sentence: The recognition of the Armenian genocide represents the fulfillment of an ethical, legal, political and social responsibility," Ayşe Gunaysu, a member of the Human Rights Association (İHD), recently told the Hurriyet Daily News.
The main demonstration took place in Istanbul's Taksim Square, ironically the site of anti-Armenian protests in February.
The IHD and the "Say 'No' to Racism Initiative," jointly organized the commemoration.
"Lies cannot under any circumstances prevail until eternity, if we are willing to see the truth," said Gunaysu, who is a member of both the IHD's administrative board and its Commission against Racism and Discrimination.
The two NGOs organized simultaneous demonstrations in Istanbul, Ankara and Izmir, as well as in other provinces across Turkey last April 24.
"The acknowledgement of this [past] pain will lead to real democratization in Turkey. Racism and hatred will lose ground, and we will further approach humane [standards of] living," she said.
Gunaysu also drew attention to the death of Sevag Sahin Balıkcı, a Turkish citizen of Armenian descent who was allegedly killed by a stray bullet on April 24, 2011, while performing his military service.
ALIYEV CALLS ARMENIAN LOBBY PUBLIC ENEMY NUMBER ONE
Aliyev Blames Armenian Lobby for Azeri Human Rights Abuses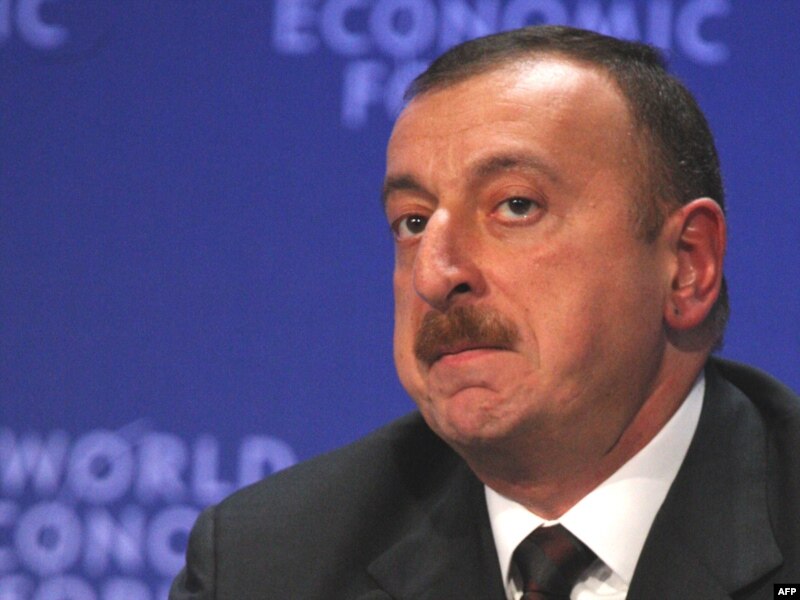 "The day will come when the Azerbaijani flag will fly in Khankandi (Stepanakert) and Shusha (Shoushi)," vows Aliyev
BAKU - Azeri President Ilham Aliyev blamed the Armenian lobby, the scope of whose influence he said "is quite broad" on the continuing international criticism of Azerbaijan's abysmal human rights record.
Aliyev, who last month called "Armenians of the world" the number one enemy of Azerbaijan, told a meeting of his cabinet ministers Monday that "The Armenian lobby is the driving force of negative information about us," reported RFE/RL citing reports in the Azeri news media.
"An information war is waged against us … The Armenian lobby is especially active in that information war. Attempts to badmouth Azerbaijan, to deny Azerbaijan's realities, to present Azerbaijan to the outside world as a backward and undemocratic country primarily result from dirty deeds of the Armenian lobby," Aliyev said in remarks cited by the official Azertag news agency.
"The scope of their influence is quite broad. They [Armenians] are represented in the leading print media outlets of various countries. Sometimes they go under different names and hide their ethnic origin," added Aliyev.
International criticism of Azerbaijan's human rights record has been growing, with international watchdog groups Amnesty International and Human Rights watch echoing the same concerns with the European Parliament and the State Department. Aliyev's government increasingly has been criticized for intolerance toward opposition forces, and jailing and suppressing dissidents. Especially harsh is Azerbaijan's crackdown on journalists and bloggers.

"For us, the number one enemy is the Armenian lobby," Aliyev said, slightly revising his statements from last month. "We must be prepared to fight against it."
ARMENIANS ARE FASCISTS
Aliyev reiterated comments he earlier this month during a session of the Euronest Parliamentary Assembly, during which he called Armenian fascists, blaming them for what he and his government continue to say were massacres carried out in Khojaly at the height of the Karabakh war, reported news.az.
Of course, there was no mention of the brutal Azeri aggression against Armenians beginning in 1988 in Sumgait and continuing thereafter in Kirovabad, Baku, Shahumyan and Getashen.
The 20th anniversary of one of the most savage attacks on Armenians by Azeri forces in Maragha village was marked last week, with the Vice-Speaker of the British House of Lords, Baroness Cox, calling the event an "example of Azeri crimes against humanity."
"Every minute, every day brings us closer to victory. Every day Armenia is declining while Azerbaijan is growing in strength. Every day we are moving closer to the day of victory. The day will come when the Azerbaijani flag will fly in Khankandi (Stepanakert) and Shusha (Shoushi)," vowed Aliyev when describing his policies vis-à-vis the Karabakh conflict.
"At all international events, I have spoken about the Armenian-Azerbaijani conflict over Nagorno-Karabakh, exposing the aggressive policy of Armenia. I continue to expose the aggressive policy of Armenia at all levels," said Aliyev.
"Our military capacity is also increasing. Constant attention is paid to this area and this will continue. We are creating a powerful military industry and at the same time we are buying and will continue to buy a large amount of military equipment, weapons and ammunition," added Aliyev.
"I'm not talking about weapons of defense. We are buying tanks, artillery, combat aircraft, different weapons, all the modern equipment needed for combat. I can say that we also have a diversified policy and do not depend only on one manufacturer. The number of countries willing to cooperate with us in this area is growing, and we have the capacity. Unlike some other countries, we do not get anything for free, we pay with money, and this will continue," explained the Azeri president.
"Azerbaijan already has a strong army. All the armed forces are ready to meet any objective today, to ensure all the interests the country, to restore Azerbaijan's sovereignty over Nagorno-Karabakh and the other occupied territories," said Aliyev.
MAGARAVANK PILGRIMAGE ON MAY 13
Last day to sign up is Monday 7 May 2012
CONNECTING TO THE
PREVIOUS GENERATIONS
Alexander-Michael Hadjilyra - Nicosia -On Sunday, 15 April 2012, the third annual Merelotsi Badarak was celebrated in the Sourp Boghos chapel, located at the ancient Armenian cemetery near Ledra Palace. Compared to the last two years, there were less people there, thus giving us more time to walk around the cemetery during and after the Badarak.
Being there once again, I remembered how much I love this cemetery. One of the reasons I love it, is because it reminds me of why I love Armenians: because of all they went through and found themselves in this "anabad" (this is how many Armenian clergymen mentioned Cyprus), which became an oasis for them amidst the Great Calamity they suffered. When reading the dabanakars of the ones who came after the Genocide, most of them say "I Gibros" (in Cyprus), because for them Cyprus was not their native homeland.
Another reason, and this is about the unique inscription located on top of a cenotaph, is because it is a permanent link between the past (the old, deghatsi families, some of whom are no longer existing in surname) and the present (the kaghtatan families who are now the deghatsi for the newcomers from Hayastan, Lebanon and elsewhere).
If history teaches us one thing on the gibrahay kaghout, it is that change and re-newal is the only constant thing about it. And, of course, how the already established Armenians perceive and are perceived by the newcomers. Just like today's Armenian-Cypriots are not very fond of tersetsi Armenians and at the same time are viewed as "hellenised" and "diluted Armenians" by them, it was the same case about a century ago, when the deghatsi Armenian-Cypriots came face to face with the Ottoman-Armenians or when they encountered Cilician Armenians during the Byzantine, Frankish and Ottoman Era. Change, adaptation and integration are the community's perennial strength.
For more images of Sunday's Hokehankid click here :
SIPAN DANCERS AHEAD
OF MAY PERFORMANCE
Click here for 161 images of SIPAN's dance practices ahead of their performance.
News in Brief by Sevag Devletian
The Anadolu News Agency of Turkey posted on its website an announcement under the heading "Historical Ani awaits its guests," along with several photographs of the Armenian churches in the ancient city of Ani. The advertising also notes that Ani - which was on the ancient Silk Road - used to be one of the most important commercial crossroads and it bears the traces of several civilizations. But the announcement makes no reference to either the Armenians, or to Armenia.
The leader of Turkish nationalist party criticized Turkish Minister of Family and Social Policies Fatma Sahin for her proposal to declare Armenian journalist Hrant Dink a martyr. Devlet Bahceli slammed authorities for their plans to declare civilian a martyr. Earlier, the Minister said that in case Dink's family applies to the province's authorities, Dink may be declared a martyr by the decision of the commission.
French Armenians are shocked by the decision of the Armenian Parliament against recognition of the Genocide of Assyrians perpetrated by the Ottoman Empire in the beginning of the 20th century. The Armenians of France cannot understand the decision of the Armenian Parliament to stop a legitimate request. Several communes of France have recognized the Genocide of Assyrians while the Assyrian community of France participates in the events commemorating the Armenian Genocide.
The World Bank's Board of Executive Directors on Tuesday approved a US$1.82 million grant from the Global Environment Facility (GEF) Trust Fund for the Energy Efficiency Project for Armenia. The project will help to reduce energy consumption of social and other public facilities. This project will support energy efficiency investments in schools, kindergartens, hospitals, administrative buildings, and street lighting and will reduce energy consumption of retrofitted public and social facilities as well as CO2 emissions.
IMAGES OF THE SAYAT NOVA LITERARY
EVENT ORGANISED BY HAMAZKAYIN
Click for more images of the event here :
Community calendar at a glance:
► Saturday 5 May at 7:00 pm - SIPAN Dance Ensemble's annual performance by Hamazkayin Cultural and Educational Association's "Oshagan" Cyprus Chapter at the Strovolos Municipal Theatre in Nicosia.
► Saturday 12 May at 7:00 pm - Dikran Medz - "Tigran the great - King of Armenia", Mono play written, directed and performed by Marie Rose Abousefian, organised by Hamazkayin Cultural Association's "Oshagan" Cyprus Chapter at PASYDY Hall - Nicosia.
► Sunday 13 May - Pilgrimage to St. Magar Monastery organised by the Office of the Armenian Representative.
►
Friday 18 May at 8:00 pm - Lecture entitled "The Genetic Heritage of Cypriots", by Professor Constantinos Deltas of the University of Cyprus, organised by The Kalaydjian Foundation and the AGBU at the AGBU Auditorium in Nicosia.
► Saturday, May 19 at 5:00pm - Armenian Evangelical Church service in Greek Evangelical Church, 20 Gladstonos street, Nicosia. Speaker: Rev. Dr. Vartkes Kassouni from USA. Sermon title: RECONCILIATION and JUSTICE.
► Saturday 6 October - 40th anniversary celebrations of NAREG Armenian Schools. Details to follow.
Donations to Gibrahayer e-magazine can be made online by visiting our website on www.gibrahayer.com and clicking on donate now.
Join Hamazkayin "Oshagan" Cyprus Facebook page by clicking here
Gibrahay Sports by Sevag Devletian
► AGBU - Ararat Futsal are in the finals of the Cyprus Cup. They play Omonia on Friday 11 May.
► After defeating Constantinos Georgagopoulos - world number 161 and seed one of the +50 singles event - Simon Aynedjian is up against Fotis Vazeos of Greece at the International Tennis Federations Seniors tournament that concludes in Larnaca on Saturday 5 May.
To Yerevan:
LOT introduces a special fare to YEREVAN starting from EUR455 return and all inclusive:
Flights every Monday/Wednesday/Saturday
* LO172 LARNACA/WARSAW 0335 0605
* LO727 WARSAW/YEREVAN 2230 0510
For more information please contact us at 22870008/9 or send an email to lot@ctt-travel.com. Price is subject to special conditions and subject to availability.

Sylvia Petersen - Executive Manager
CTT Group - Email sylvia@ctt-travel.com
T +357 22870 000 F +357 22673 924
12-14 P. Katelari Street, Diagoras Building, CY-1097, Nicosia, Cyprus
P.O.Box 21386, CY-1507 Nicosia, Cyprus
W www.ctt-travel.com E info@ctt-travel.com
Donate to Gibrahayer e-magazine through PayPal-click here
The continuity of one of the most widely distributed
e-magazine of the Armenian Diaspora ... is in your hands
Contributions of the week to Gibrahayer e-magazine
Other donations to Gibrahayer e-magazine