You can read the latest issue at www.gibrahayer.com
NEXT COMMUNITY EVENT - ► Wednesday, 18 April at 8pm - 4th literary evening, dedicated to Sayat Nova. Main speaker: Lily Hovsepian. Homenetmen - AYMA accompanied by wine and nibbles.
ALIYEV CALLS ARMENIAN LOBBY PUBLIC ENEMY NUMBER ONE
Aliyev Blames Armenian Lobby for Azeri Human Rights Abuses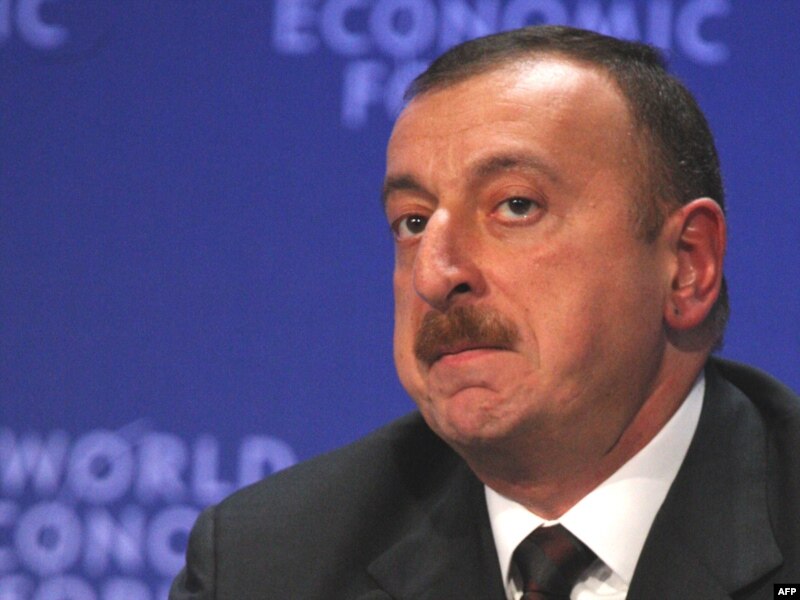 "The day will come when the Azerbaijani flag will fly in Khankandi (Stepanakert) and Shusha (Shoushi)," vows Aliyev
BAKU - Azeri President Ilham Aliyev blamed the Armenian lobby, the scope of whose influence he said "is quite broad" on the continuing international criticism of Azerbaijan's abysmal human rights record.
Aliyev, who last month called "Armenians of the world" the number one enemy of Azerbaijan, told a meeting of his cabinet ministers Monday that "The Armenian lobby is the driving force of negative information about us," reported RFE/RL citing reports in the Azeri news media.
"An information war is waged against us … The Armenian lobby is especially active in that information war. Attempts to badmouth Azerbaijan, to deny Azerbaijan's realities, to present Azerbaijan to the outside world as a backward and undemocratic country primarily result from dirty deeds of the Armenian lobby," Aliyev said in remarks cited by the official Azertag news agency.
"The scope of their influence is quite broad. They [Armenians] are represented in the leading print media outlets of various countries. Sometimes they go under different names and hide their ethnic origin," added Aliyev.
International criticism of Azerbaijan's human rights record has been growing, with international watchdog groups Amnesty International and Human Rights watch echoing the same concerns with the European Parliament and the State Department. Aliyev's government increasingly has been criticized for intolerance toward opposition forces, and jailing and suppressing dissidents. Especially harsh is Azerbaijan's crackdown on journalists and bloggers.

"For us, the number one enemy is the Armenian lobby," Aliyev said, slightly revising his statements from last month. "We must be prepared to fight against it."
ARMENIANS ARE FASCISTS
Aliyev reiterated comments he earlier this month during a session of the Euronest Parliamentary Assembly, during which he called Armenian fascists, blaming them for what he and his government continue to say were massacres carried out in Khojaly at the height of the Karabakh war, reported news.az.
Of course, there was no mention of the brutal Azeri aggression against Armenians beginning in 1988 in Sumgait and continuing thereafter in Kirovabad, Baku, Shahumyan and Getashen.
The 20th anniversary of one of the most savage attacks on Armenians by Azeri forces in Maragha village was marked last week, with the Vice-Speaker of the British House of Lords, Baroness Cox, calling the event an "example of Azeri crimes against humanity."
"Every minute, every day brings us closer to victory. Every day Armenia is declining while Azerbaijan is growing in strength. Every day we are moving closer to the day of victory. The day will come when the Azerbaijani flag will fly in Khankandi (Stepanakert) and Shusha (Shoushi)," vowed Aliyev when describing his policies vis-à-vis the Karabakh conflict.
"At all international events, I have spoken about the Armenian-Azerbaijani conflict over Nagorno-Karabakh, exposing the aggressive policy of Armenia. I continue to expose the aggressive policy of Armenia at all levels," said Aliyev.
"Our military capacity is also increasing. Constant attention is paid to this area and this will continue. We are creating a powerful military industry and at the same time we are buying and will continue to buy a large amount of military equipment, weapons and ammunition," added Aliyev.
"I'm not talking about weapons of defense. We are buying tanks, artillery, combat aircraft, different weapons, all the modern equipment needed for combat. I can say that we also have a diversified policy and do not depend only on one manufacturer. The number of countries willing to cooperate with us in this area is growing, and we have the capacity. Unlike some other countries, we do not get anything for free, we pay with money, and this will continue," explained the Azeri president.
"Azerbaijan already has a strong army. All the armed forces are ready to meet any objective today, to ensure all the interests the country, to restore Azerbaijan's sovereignty over Nagorno-Karabakh and the other occupied territories," said Aliyev.
ARMENIA ON STAGE
Click here for the concert video
HAIGAZIAN UNIVERSITY'S VICTORIES IN CYPRUS
Latest scores and updates on www.facebook.com/Gibrahayer
BOLIS PATRIARCHATE FILES A SUIT FOR THE RETURN OF THE ERZERUM SANASARYAN SCHOOL
BOLIS (Hurriyet Daily News) - The Armenian Patriarchate of Istanbul filed a landmark suit in Ankara for the return of the historical Sansaryan School in the eastern province of Erzerum that was the site of the 1919 Erzurum Congress, an assembly headed by Mustafa Kemal Ataturk.
"Some other foundations belong to [minority] communities, but the Sansaryan Foundation was granted to the Patriarchate by philanthropist Meguerdich Sansaryan in the 1800s. The administration and management of the Sansaryan Foundation legally belongs to the Patriarchate," lawyer Ali Elbeyoglu, who represents the Armenian Patriarchate in court, told the Hürriyet Daily News Sunday.
The Patriarchate also demanded the return of other properties in Sivas formerly owned by the Sansaryan Foundation in the lawsuit it filed on March 14.
"We are not going to content ourselves with the mere return of historical buildings. We are also going to demand compensation from the Foundations General Directorate for all material losses incurred by the Patriarchate since 1936," Elbeyoglu said.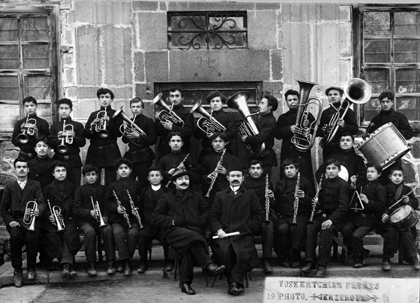 Upon the government's request, Turkey's minority groups in 1936 gave the government declarations detailing their real property. Over the years, however, many of these properties did not remain registered under the minority foundations' names, and some were even sold to third parties.
Turkey's Foundations General Directorate expropriated the Sansaryan Foundation citing the 1936 Declaration, according to Elbeyoglu.
The Istanbul Armenian Patriarchate also filed another suit against the Foundations Directorate General in recent months demanding that the Sansaryan Shopping Center in Istanbul's Eminonu district be returned to the Patriarchate. However, the head of Turkey's Foundations Directorate General has said it will not be returned despite a ruling by an Istanbul court to impose an interim injunction over the building.
"This runs counter to all international legal [norms] as well as the Treaty of Lausanne. The Patriarchate is still in possession of the title deed," Elbeyoglu said.
The Armenian community currently owns three small foundations across the whole of Anatolia. If the Patriarchate wins its lawsuit, it will mark the first time that Turkey's Armenian community has regained control of a foundation in Anatolia.
"If the Armenian community had not hesitated for various reasons, they could have filed this suit in 1936, as they are legally in the right. There is a case dated to 1936, and its files indicate that the Patriarchate officially owns Sansaryan. Our research shows that the best-preserved archival documents are located at the Land Registry Cadastre," Elbeyoglu said.
Elbeyoglu also dismissed suggestions indicating a link between the lawsuit and the Foundations Law that recently came into effect. The Turkish government enacted a measure that went into effect on Aug. 27, 2011, to return properties seized from minority foundations through the 1936 Declaration.
The Foundations Directorate General still classifies Sansaryan as a property left without a manager and whose ownership consequently passed onto the Foundation Directorate General, but for that definition to hold up in court, it would require there to be no citizens of Armenian descent in Turkey, according to Elbeyoglu.
The Sansaryan Foundation was established by Meguerdich Sansaryan, a Russian-Armenian philanthropist. The police used the Sansaryan Shopping Center in Istanbul for a long period during which torture was widespread.
HAIGAZIAN MEN''S & WOMEN''S BASKETBALL & FUTSAL TEAMS
I N C Y P R U S
Haigazian University (HU) sports teams are arriving to Nicosia, Cyprus during Armenian Easter from 4-9 April, 2012 for matches against teams from the University of Nicosia and University of Cyprus. On Thursday April 5, HU teams will compete against teams from the University of Nicosia, and on Friday-Saturday April 6-7, against the University of Cyprus. The Haigazian University delegation comprises of 45 members; 41 student-athletes, 3 coaches and the head of the delegation and will be staying at The Classic Hotel.
During their stay, a get-together is being organised by Homenetmen - A.Y.M.A. between the youth from Lebanon and Cyprus, enabling the youth from both communities to interact and broaden their intra-Armenian network.
Other than sports, HU athletes will also conduct a one-day tour outside Nicosia.
The Sports Department of Haigazian University expresses its gratitude to Homenetmen - A.Y.M.A. Cyprus for their invitation, for arranging the matches with the different universities, for taking care of the details of the accommodation of its students, and for all their efforts in realising this trip.
POLICEMAN WHO POSED WITH HRANT DINK'S ASSASSIN HAS BEEN PROMOTED
Dink assassin Ogun Samast (center) with the newly promoted officer Yakup Kurtaran (left)
BOLIS (Hurriyet Daily News)—A police officer that was photographed posing with Hrant Dink's murderer Ogun Samast behind a Turkish flag immediately after the assassination has been promoted, daily Radikal reported Monday.
Yakup Kurtaran, who was a fourth-class police officer in the Black Sea province of Samsun at the time of the murder, has been appointed as the public security deputy manager in the eastern province of Malatya.
The controversial photo was taken on Jan. 20, 2007, after Samast was detained and taken to the anti-terror office in Samsun.
Kurtaran and other officers were suspended after the photo was revealed; initially, Kurtaran was docked one day's pay for his role in the photo, but the penalty was later rescinded by a Samsun court.
Authorities launched an investigation into the unidentified people who leaked the photo on charges of "breaching an investigation's secrecy by featuring photos and videos in the visual and print media."
Samast was sentenced to more than 22 years in prison last year for the Jan. 19, 2007, murder of Dink, a Turkish-Armenian journalist.
US REPORT CRITICIZES TURKEY
FOR SERIOUS LIMITATIONS
ON RELIGIOUS FREEDOM
By Associated Press, Tuesday, March 20 - WASHINGTON - An annual U.S. government report is adding U.S. ally Turkey as well as Tajikistan to a list of the worst violators of religious rights.
The report released on Tuesday by the U.S. Commission on International Religious Freedom cites Turkey for "systematic and egregious limitations" on religious liberty. Turkey and Tajikistan are among a total of 16 nations listed by the commission as countries of particular concern.
Among other problems, the report criticizes Turkey for regulating non-Muslim groups by restricting how they can train clergy, offer education and own their places of worship.
Congress established the commission in 1998 to compile the reports for use by the President, the Secretary of State, and lawmakers. Aside from Turkey and Tajikistan, the report also listed: Myanmar, North Korea, Egypt, Eritrea, Iran, Iraq, Nigeria, Pakistan, China, Saudi Arabia, Sudan, Turkmenistan, Uzbekistan and Vietnam.
While the commission recommends action the U.S. government should take to encourage improvements in religious freedom in the various countries, the State Department usually narrows down the list to a smaller group it cites for particular concern in its own annual report on religious freedom. Those countries can be subject to sanctions.
As a NATO ally, Turkey stands out among the other countries cited by the commission and is unlikely to incur repercussions from the U.S. government. Indeed, the report seems at odds with the State Department's assessment of Turkey. When the department released its report last year, U.S. Secretary of State Hillary Rodham Clinton praised Turkey for taking "serious steps to improve the climate for religious tolerance."
News in Brief by Sevag Devletian
The Anadolu News Agency of Turkey posted on its website an announcement under the heading "Historical Ani awaits its guests," along with several photographs of the Armenian churches in the ancient city of Ani. The advertising also notes that Ani - which was on the ancient Silk Road - used to be one of the most important commercial crossroads and it bears the traces of several civilizations. But the announcement makes no reference to either the Armenians, or to Armenia.
The leader of Turkish nationalist party criticized Turkish Minister of Family and Social Policies Fatma Sahin for her proposal to declare Armenian journalist Hrant Dink a martyr. Devlet Bahceli slammed authorities for their plans to declare civilian a martyr. Earlier, the Minister said that in case Dink's family applies to the province's authorities, Dink may be declared a martyr by the decision of the commission.
French Armenians are shocked by the decision of the Armenian Parliament against recognition of the Genocide of Assyrians perpetrated by the Ottoman Empire in the beginning of the 20th century. The Armenians of France cannot understand the decision of the Armenian Parliament to stop a legitimate request. Several communes of France have recognized the Genocide of Assyrians while the Assyrian community of France participates in the events commemorating the Armenian Genocide.
The World Bank's Board of Executive Directors on Tuesday approved a US$1.82 million grant from the Global Environment Facility (GEF) Trust Fund for the Energy Efficiency Project for Armenia. The project will help to reduce energy consumption of social and other public facilities. This project will support energy efficiency investments in schools, kindergartens, hospitals, administrative buildings, and street lighting and will reduce energy consumption of retrofitted public and social facilities as well as CO2 emissions.
IMAGES OF THE EVENT ORGANISED
BY HAY TAD IN LIMASSOL
Click for more images here:
Click for more images here:
Click for more images here:
Community calendar at a glance:
► Wednesday, 18 April at 8pm - 4th literary evening, dedicated to Say
at Nova. Main speaker: Lily Hovsepian. Homenetmen - AYMA accompanied by wine and nibbles.
► Tuesday 1 May - Third annual Melkoniantsis and Friends picnic will be held in Cyprus. This is an occasion for Melkoniantsis and friends in Cyprus (and abroad if they wish) to join together and enjoy a picnic in the beautiful countryside. The organising committee will prepare the souvla, kebabs, salads and soft drinks for a small fee. This event is open to all Melkoniantsis and friends. The venue will be announced soon. All are welcome.
► Saturday 5 May - SIPAN Dance Ensemble's annual performance by Hamazkayin Cultural and Educational Association's "Oshagan" Cyprus Chapter. More details to follow.
► Saturday 12 May at 7:00 pm - Dikran Medz - "Tigran the great - King of Armenia", Mono play written, directed and performed by Marie Rose Abousefian, organised by Hamazkayin Cultural Association's "Oshagan" Cyprus Chapter at PASYDY Hall - Nicosia.
► Sunday 13 May - Pilgrimage to St. Magar Monastery organised by the Office of the Armenian Representative.
► Friday 18 May at 8:00 pm - Lecture entitled "The Genetic Heritage of Cypriots", by Professor Constantinos Deltas of the University of Cyprus, organised by The Kalaydjian Foundation and the AGBU at the AGBU Auditorium in Nicosia.
Donations to Gibrahayer e-magazine can be made online by visiting our website on www.gibrahayer.com and clicking on donate now.
Join Hamazkayin "Oshagan" Cyprus Facebook page by clicking here
Gibrahay Sports by Sevag Devletian
AGBU Ararat suffered a 3-4 loss against Parnassos Strovolou in the Cyprus Premier Futsal League which places them 3rd trailing 2 points from Parnassos and 16 points from champions Omonia.
AGBU Ararat U-21's lost against Parnassos Strovolou U-21's and were knocked out of the Cyprus U-21 Futsal Cup.
AGBU Ararat U-17's defeated Livadiakos U-17's 5-4 in the Cyprus U-17 Futsal Cup.
AYMA/HMEM Bowling Team won the 15th round game against Grothies with a 4-0 scoreline. AYMA/HMEM still lead the league table.
14 year-old Edmond Aynedjian lost against under-16 semi-finalist Charilaos-Marios Iacovides 7-6, 6-3 after having three set points in the first set. Teamed up with Tasos Rousos they face the number 2 seeds today (Thursday) in the boys under 16 doubles category.
HAIG ASHDJIAN RECEIVES SPECIAL AWARD FROM THE TENNIS FEDERATION FOR AN EXCEPTIONAL YEAR ON THE SENIORS TOUR
Former Davis Cup star Haig Ashdjian is still shining in the senior tennis tour having achieved a remarkable 6 out o 6 international championship wins in all tournaments he participated in 2012. Consecutive tournaments in Serbia, Romania, Greece, FYROM and two tournaments in Cyprus at The Aldiana Resort and the Larnaca Tennis club open have placed him in a incredible all time high of world ranking of 35 with 260 points.
His efforts were recognised in a special ceremony at The Day of Tennis where Ashdjian received a special award by the Tennis Federation for his unprecedented success.
A fine champion and a true ambassador for Armenians and Cypriots alike, Haig Ashdjian continues to honour the colours of our community and our country.
Congratulations champ !
More images of Haig Ashdjian''s incredible 2012 year on the senior's tennis tour, that took him to a world 30 ranking, click here
Armenian Sports by Sevag Devletian
HANDBALL: The Challenge Trophy 2012 is over in Gabrovo (Bulgaria), with Armenian women''s U23 handball team ranking 7th in this international tournament.
BASKETBALL: The House of Armenia celebrated and officially introduced the Armenian men''s national basketball team to the community and media on March 21. The team, comprised of both Armenian-American, Armenian national and international athletes is led by head coach Carl Bardakian, a Los Angeles based and well-experienced basketball coach.
FIGURE SKATING: The 2012 World Figure Skating Championships kicked off in the French city of Nice on March 26, with 16-year old Slavik Hayrapetyan representing Armenia. Slavik Hayrapetyan will perform a complicated program to Ara Gevorgyan's music.
SAMBO WRESTLING: Tigran Kirakosyan (52 kg), Garik Kosakyan (68 kg) and Arev Antonyan (57 kg) will represent Armenia at the Moscow held Sambo World Cup Stage - Anatoly Kharlampiev Memorial.
CHESS: Armenian grandmaster Vladimir Akopian will face off against Denis Khismatullin (Russia) in the 8th round of European Individual Chess Championship in Plovdiv, Bulgaria. Other board pairings have been announced as follows: Gabriel Sargissian - Jan Smeets (Netherlands), Sergei Movsesian-Levan Pantsulaia (Georgia), Hrant Melkumyan – Baris Esen (Turkey), Hovhannes Gabuzyan- Sanan Sjugirov.
TABLE TENNIS: On March 27, Armenia lost to New Zealand 2:3 in fourth division Group N at 2012 World Team Table Tennis Championships in Dortmund, Germany. Armenian players further scored a 3:1 win over Yemen. Kazakhstan currently leads the group with 8 points. New Zealand comes 2nd with 7 points, while Armenia and Yemen have 6 points each. Furthermore, Armenian men's team defeated Azerbaijan by 3-0 in the fifth round.
WRESTLING: Narek Sanoyan (60kg), David Safaryan (66 kg), Suren Markosyan (74kg), Hajimurad Nurmagometov (84 kg), Edgar Yenokyan (96 kg) and Ruslan Basiyev (120kg) have been named for the first rating tournament, Olympic Greco-Roman qualifier to be held in Sofia, Bulgaria from April 20-22.
FOOTBALL: From March 25-29, Pyunik and Armenia's national team central defender Varazdat Aroyan has held team practice sessions with FC Köln. The German club's leadership has long been following Aroyan's game.
BOXING: Armenia's national boxing team will travel to Trabzon, Turkey, on April 13, where the final ranking tournament prior to the London Olympics will be held.
FOOTBALL: Zwolle striker Dutch-Armenian, Norair Mamedov is likely to join the Armenian team in a friendly against Greece, Armenia's head coach Vardan Minasyan said.
BOXING: Bantamweight champion, Armenian Vic Darchinyan has already achieved success in professional ring being the first to win the title of absolute champion in the lightest weight category. 'Raging Bull' will fight with Japanese Shinsuke Yamanaka on Apr. 6 in Japan for the WBC bantamweight title.
To Yerevan:
LOT introduces a special fare to YEREVAN starting from EUR455 return and all inclusive:
Flights every Monday/Wednesday/Saturday
* LO172 LARNACA/WARSAW 0335 0605
* LO727 WARSAW/YEREVAN 2230 0510
For more information please contact us at 22870008/9 or send an email to lot@ctt-travel.com. Price is subject to special conditions and subject to availability.

Sylvia Petersen - Executive Manager
CTT Group - Email sylvia@ctt-travel.com
T +357 22870 000 F +357 22673 924
12-14 P. Katelari Street, Diagoras Building, CY-1097, Nicosia, Cyprus
P.O.Box 21386, CY-1507 Nicosia, Cyprus
W www.ctt-travel.com E info@ctt-travel.com
A tribute to a winning side: APOEL Nicosia 0 - Real Madrid 3
Donate to Gibrahayer e-magazine through PayPal-click here
The continuity of one of the most widely distributed
e-magazine of the Armenian Diaspora ... is in your hands
Contributions of the week to Gibrahayer e-magazine in lieu of flowers in memory of Nazig Kazandjian
30 euros - Arto and Linda Tellalian
20 euros - Verkine Nahikian
20 euros - John and Isgo Guevherian
Other donations to Gibrahayer e-magazine
100 euros - Alice Avedissian